It's extra exciting to be sharing today's drumstick leaves topped rice pan cake because
You are down for the creative food combo that I dream up.
You are also lovers of wholesome food that has healthy factor in it.
We all like things that are generally weeknight easy to make.
And this drumstick leaves rotti (nuggesoppina rotti) is all off that. Do you remember akki rotti that I posted few months ago which was simply plain and milky white?? I turned the same rotti with the greens topping that too nutrient rice drumstick leaves which are tiny but calcium-Iron-rich.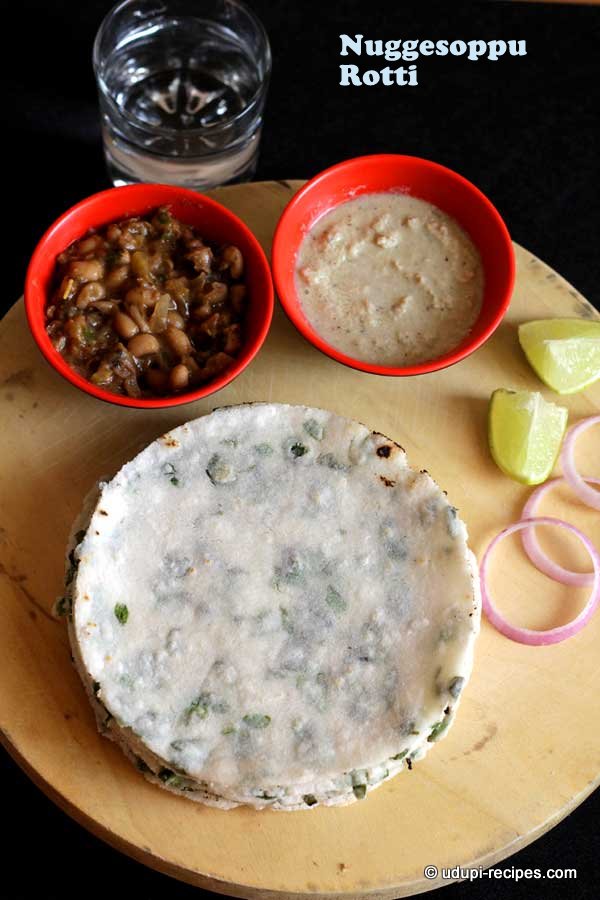 We'are starting with separating those tiny drumstick leaves from their stem which is then combined with rice flour.  Boiled water is then poured little by little to this mixture to get a dough which can rolled to pancakes. The dough itself is so awesome with greens popping out.
The rice-flour dough then divided to equal sized balls. I initially rolled them in to medium thick pan cakes and then using a sharp edge-steel -lid I marked a true round  shaped rotti which is because I am photogenic-food-freek. I love to snap the food which is awesome texturewise and shapewise. So here you have perfectly circular drumstick leaves rotti, a feel good, filling and real food.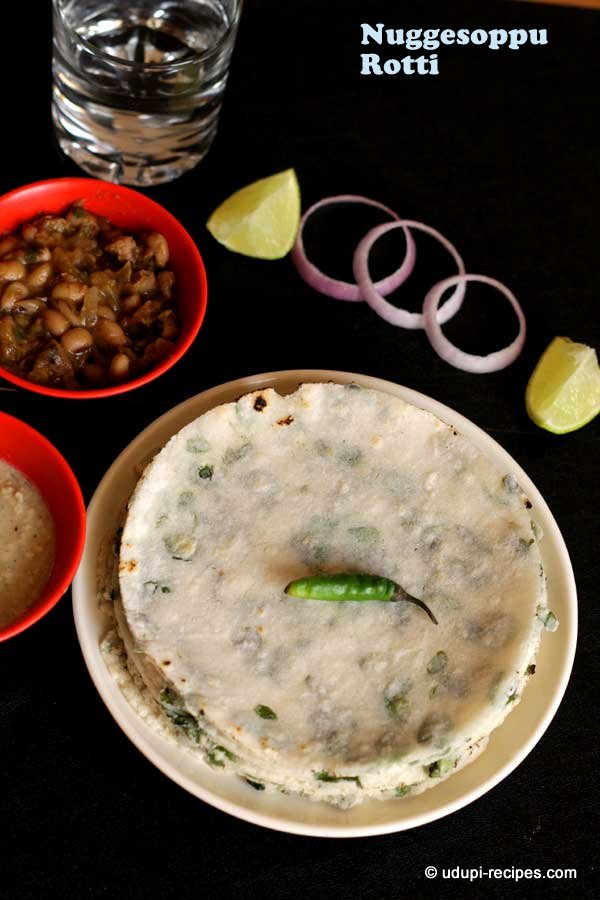 Drunsticks Leaves Rotti | Nuggesoppina Rotti Recipe
Ingredients
Rice powder- 1 cup
salt- 1 tsp
water- 1 cup
Drumstick leaves(Nuggesoppu)- 1 small bunch
Instructions
Preparation

Separate the tiny drumstick leaves from the stem discarding the stem. If you prefer you can chop them too. Sieve the rice flour and transfer it to a wide bowl along with drumstick leaves.

Method

Heat a cup of water with 1 tsp of salt. Let it come to rolling boil. Add this water little by little to rice-flour and drumstick leaves mixture. Combine well with a ladle to medium thick dough. The dough should not be too much runny nor too thick.
Knead the dough well and Make big lemon sized balls out of it.
Dusting enough rice flour slowly and carefully roll a ball in to medium thin circle using a rolling pin. I have used a lid of steel box to make uniform and even sized round pan cakes(rotti). Removing the extra dough surrounding the lid you are left with beautifully round shaped rottis.
Heat a non stick skillet and transfer the rolled pancake(rotti) on it. As the small bubbles appear on it, flip the rotti to other side. Let it cook for a while. Remove the pan cake from skillet and continue rolling the next one.
Soft and smooth drumstick leaves rotti is ready to devour as breakfast or lunch.

Notes

Dough consistency is very important. If it is thick the rotti edges will break. On the other hand it is thin you cannot roll them as it will stick to the rolling pin.
Do not ever add cool water to make the rotti dough. You will end up with hard and chewy rottis.
As the drumstick leaves are tiny, you can add them as is. But still if you prefer you can chop them too.
Choose tender drumstick leaves as they don't taste bitter.
https://udupi-recipes.com/2015/08/drumstick-leaves-rotti-nuggesoppina-rotti-recipe.html
All the content in this website are © Copyrighted to – Udupi-Recipes