Scorching hot hot weather of UAE with temperature rising more than 40 degrees can insist any cook like me to prepare this awesomely soft fenugreek dosa. First things first: Fenugreek seeds have sort of body cooling properties which is why this dosa gets top position in the summer breakfast menu.
Also the most mandatory requirement of 12 good hours of dosa batter fermentation is easily accomplished with room temparature being the modest warm even at the night. I got to eat this fenugreek dosa too often in my summer life of UAE and I love it so much. The tiny golden fenugreek seeds have lot of benefits to offer but the bitter taste makes everyone to dislike it. So I always look forward the ways to incorporate these seeds in most of the curries but this time it is in breakfast, one of my staple morning food dosa.
NOTE: Never attempt this recipe in seasons when temperature is too low to ferment the batter. When fenugreek dosa batter doesn't ferment for 12 hours in warm temperature, this (dosa) pan cake turns hard and tastes bitter for sure.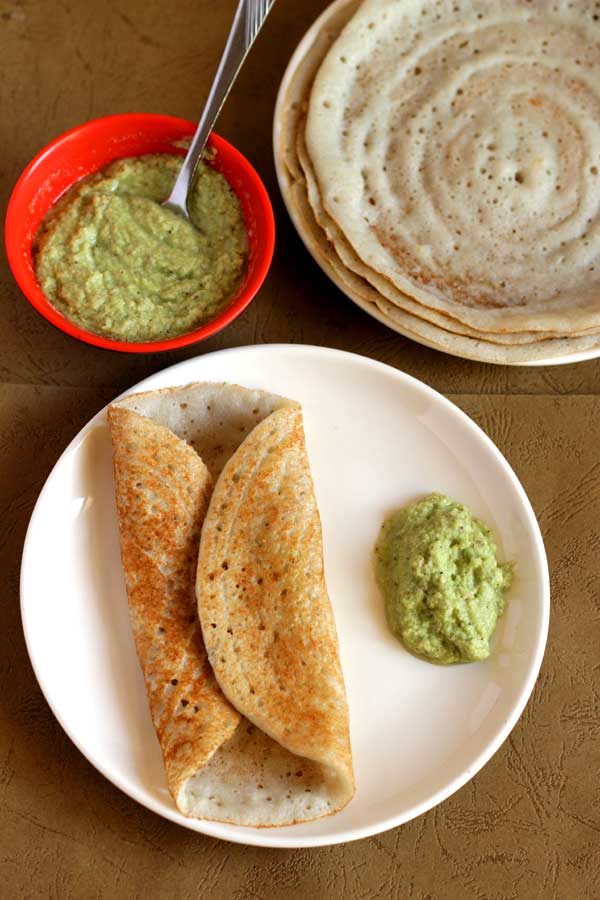 Fenugreek dosa or menthe dose has only two ingredients. Rice and fenugreek seeds which are soaked separately in enough water for more than 3 hours. It is straightforward thought, unless they get really soft and pulpy you cannot mince them to fine paste. It is required to grind the fenugreek seeds first to very fine paste then the soaked rice is  included both of which together form slightly thick batter after grinding with some water. A night after the batter preparation it would have turned porous and thick with nice fermentation.
A wonderful pancake would be ready when you pour the batter and spread like dosa on griddle and cook to golden perfection. Dip it in coconut chutney or tomato chutney and gulp to feel it's wonderfulness to the core.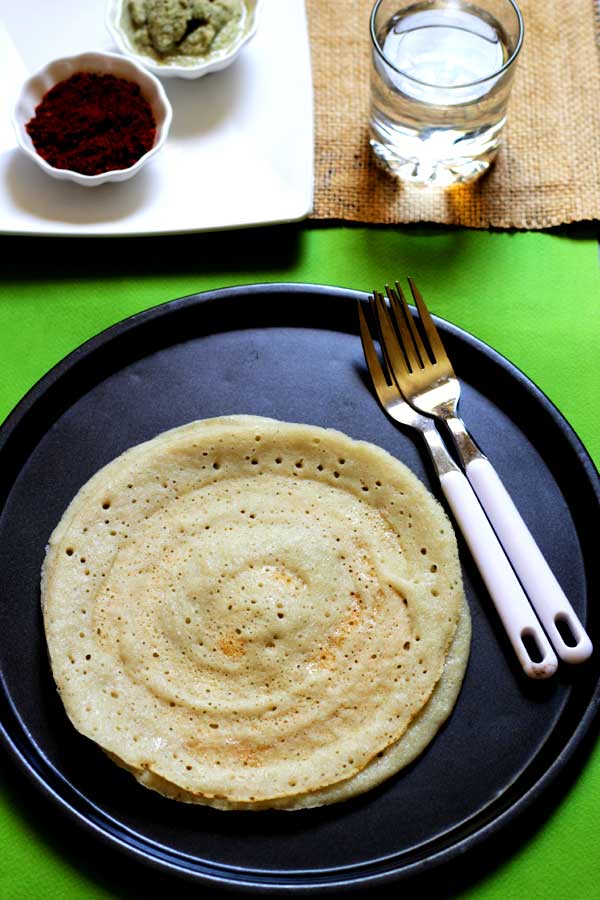 Fenugreek Seeds Dosa | Menthe Dose Recipe
Ingredients
Raw rice- 2 cups
Fenugreek seeds- 6 tsp
Salt- 2 tsp
Instructions
Preparation

Rinse raw rice with enough water and soak it for 4 hours.
Soak fenugreek seeds separately in enough water for about 4 to 5 hours.

Method

After soaking for 4 hours fenugreek seeds would have doubled in volume, add them in to mixer or wet grinder and grind them in to fine paste. Include water as required and grind.
When the fenugreek seeds are finely ground, drain the soaked rice and include it. Adding a cup of water, grind both of them together in to fine batter. Ensure the batter is not very thin. It should be little thicker than normal dosa batter.
Let the batter rest and ferment for at least 12 hours. This batter takes more time to ferment. So give enough time. After fermenting, the batter is porous and thick.
Heat a dosa griddle and smear some oil on it. Take ladle full of fenugreek dosa batter and spread in circular motion in the form of dosa. Let cook for 2 minutes and slowly remove from the griddle using spatula. Repeat the process with rest of the batter.
Porous and soft fenugreek dosa is ready to serve with chutney and tiffin sambar.

Notes

Fenugreek seeds must be soaked for 4 hours minimum otherwise it cannot be ground finely.
Fermenting fenugreek dosa batter for 12 hours at warm place is mandatory in order overcome the bitterness of fenugreek seeds.
The consistency of the this dosa batter should be like idli batter meaning thicker than normal dosa batter.
You can cook both sides of dosa if you like.
Summer is the best season to make fenugreek dosa as the batter gets nicely fermented at good warm temperature.
It is also a practice to soak the fenugreek in buttermilk for the best fermentation.
https://udupi-recipes.com/2015/08/fenugreek-seeds-dosa-menthe-dose-recipe.html
All the content in this website are © Copyrighted to – Udupi-Recipes