I am still hanging on to this festive season deliciousness with one more most authentic Nagarapanchami recipe which has amazing turmeric leaves fragrance and luscious. I want to make a point here saying it has most basic ingredients plus a uniquely fragrant turmeric leaf. The leaf of TURMERIC which is abundant in this monsoon season enhances the taste of this incredible dessert with it's flavor and aroma.
It is actually a rice dumpling with the filling of coconut-jaggery mixture wrapped in turmeric leaf and steam cooked to the perfection. The most common name for this sweet is "Eradye" in Udupi region but I would be calling it as TURMERIC LEAF DUMPLING. It's Y-U-M and super delicious.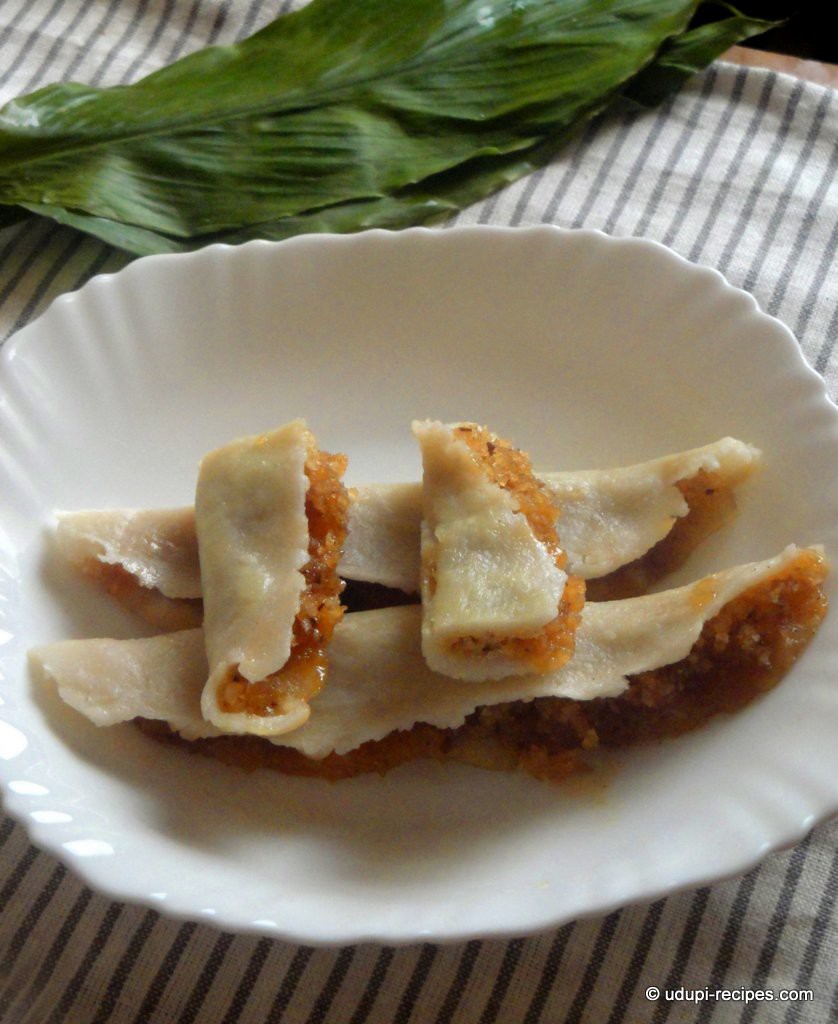 Turmeric leaves dumpling has raw rice, jaggery and coconut and they are most common ingredients in many authentic Udupi desserts. Rice soaked in water for 3 to 4 hours is ground with coconut to very fine puree which is then stirred in low flame to slightly thick dough. On a clean wiped  turmeric leaf, a portion of dough is applied to medium thickness which then gets a layer of sweet jaggery-coconut mixture. Folding this leaf and steam cooking to perfection derives you with flavorful, aromatic turmeric leaves dumpling.
Discarding the turmeric leaf, break a small piece of turmeric leaves dumpling and dip in ghee and devour your tummy full.
Turmeric Leaves Dumpling | Eradye Recipe
Ingredients
Raw rice- 1 cup
Jaggery- 1 cup
Fresh grated coconut- 1 cup
Cardamoms- Few
Turmeric leaves- 8 to 10
Salt- pinch
Instructions
Preparation

Soak rice for about 2 to 3 hours (or overnight).
Wipe the turmeric leaves using a damp cloth and let it dry. Keep them aside till use.

Method

Rinse the soaked rice with enough water and drain it completely. Add it to the mixer grinder along with 1/4 cup coconut, water and grind it to make fine batter.
Meanwhie add jaggery and 1/4 cup of water to a wok and cook it in medium flame. When the jaggery gets dissolved and thickens a bit (Note: no need of checking consistency) include rest of the grated coconut.
Saute the mixture a while including the cardamom powder. This coconut jaggery mixture should not be of running consistency. You should be able to apply the it over as a layer.
Now heat another wok adding rice-coconut paste from step 1 and saute in medium flame. Add salt at this stage. As you stir the mixture it gets in to dumpling form which may take around 5 minutes. Switch off the flame.
Next keep a turmeric leaf on counter top and take a lump of rice dumpling and apply it on leaf as a medium thick layer.
Next take a big tea spoonful of jaggery-coconut mixture and apply it as second layer. Fold the leaf vertically in to half. Continue doing this on all the leaves.
Stalk such ready turmeric leaf dumpling in a idli cooker and steam cook for 15 minutes. Check for done-ness.
Lusciously delicious turmeric dumpling is ready to relish as dessert.

Note

While grinding the rice to batter, you can increase the coconut quantity which will soften the dumpling a bit more.
Rice dumpling should be applied as medium thick layer on turmeric leaf.
Do not let the jaggery-coconut mixture to become too thick or too thin. In either case you cannot apply it over as layer.
Pierce a knife in to dumpling to check for its done-ness.
https://udupi-recipes.com/2015/08/turmeric-leaves-dumpling-eradye-recipe.html
All the content in this website are © Copyrighted to – Udupi-Recipes