Pineapple, a golden yellow juicy fruit covered with soft cactus like skin and spiky, prickly leaves on top is a all season fruit. Cooking with pineapple includes a daunting task of peeling and cutting them in to manageable slices. But worth the effort, once you trim off the tough skin using a sharp knife, you are left with attractive golden color juicy treat. Slicing them in to 1/2 inch rounds or in to bite sized chunks is really a breeze then.
A simple, easy dessert Pineapple Kesari was in my to do list since many days but it actually could materialize now. I bagged a big pineapple from fruit shop last week which was very sweet and I created this magic today. Though recipe seems so simple, it may turn out to be mess if right quantity ingredients are not used.  Rava, sugar and ghee proportions should always be 1:1:1/2. If you use less ghee and sugar the resulting pineapple kesari will be crumbly, unappealing.  The shining, melt in mouth texture is only with ghee and sugar. You bet!!!
Saffron or Kesar is the most expensive spice which when added to this dessert gives eye catchy color, tempting one to eat.  Soak few strands of saffron in some milk before adding them. As I had no stock of saffron, I substituted with food color which is not a match, I know…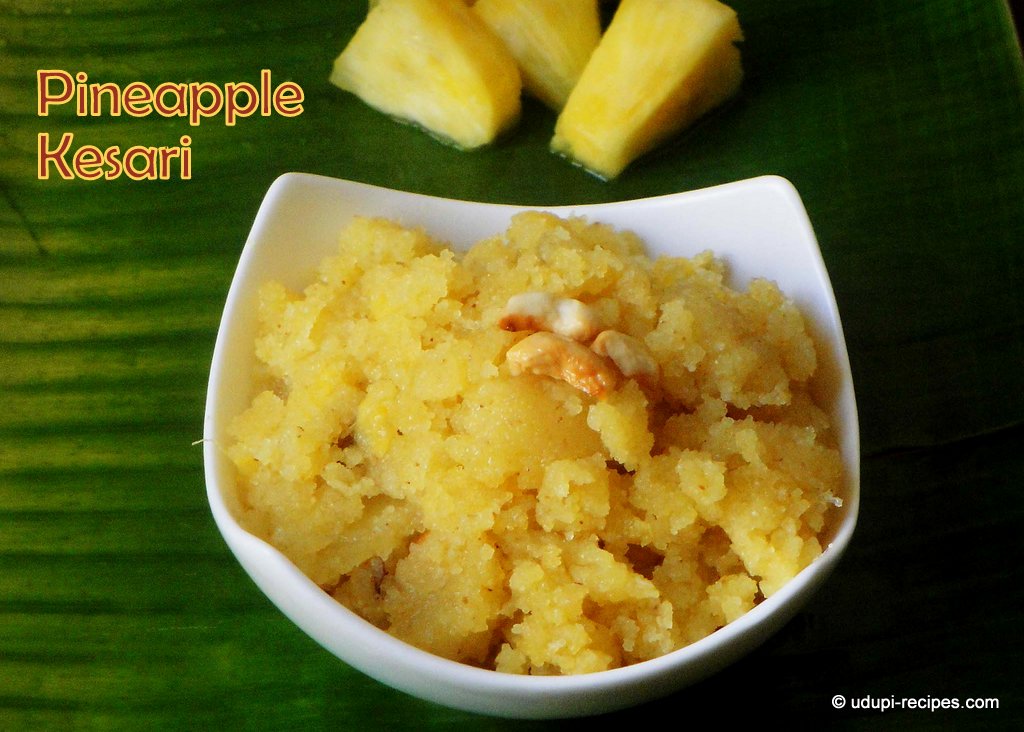 Each spoonful of pineapple kesari delights and surprises you with wonderful tiny, bite sized pineapple, In addition crunch of roasted cashews and juicy raisins with heady aroma of ghee make the dish divine. No waiting, jump on to the recipe now.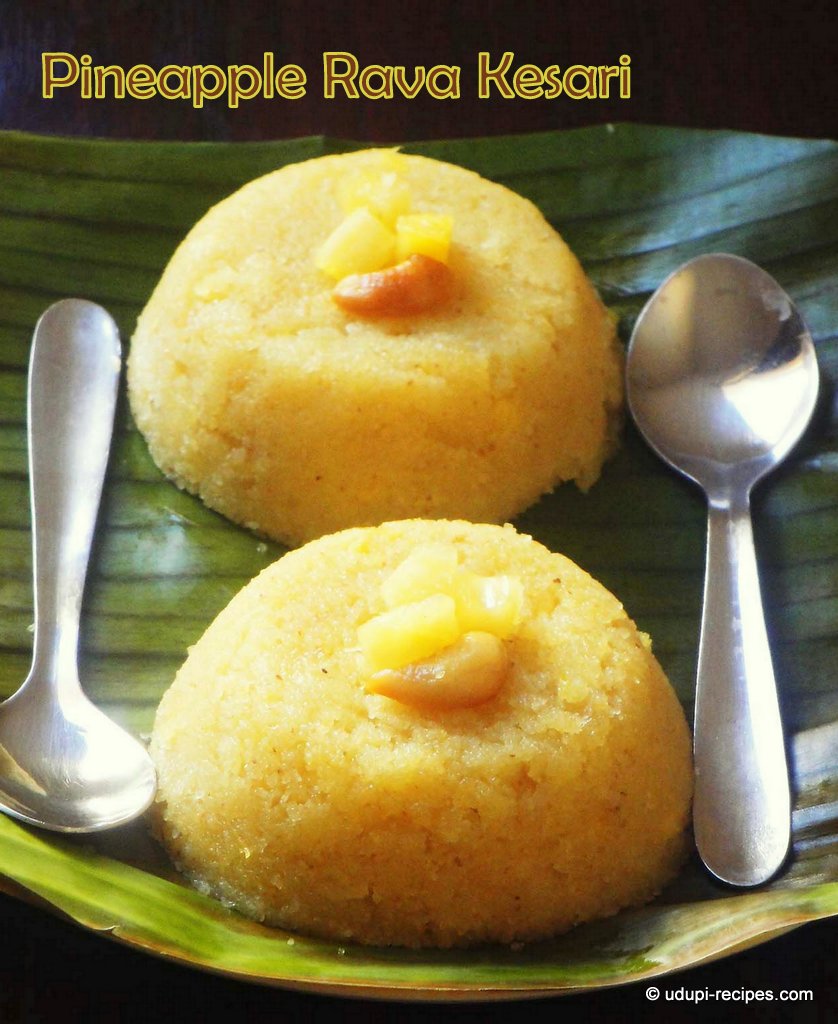 Pineapple Kesari Recipe | Pineapple Sooji Halwa
Ingredients
Medium rava/Semolina- 1 cup
Pineapple cubes- 1/2 cup or 6 to 7 pieces
Sugar- 1/2 cup
Ghee- 1/2 cup
Cardamom- 2 no. or powdered cardamom- 1/2 tsp
Cashews and raisins- few
Food color(Kesar)- A pinch
Instructions
Preparation

Chop pineapple pieces in to very fine chunks. Keep them aside.
De-seed cardamoms and finely powder them.

Method

In a vessel add finely chopped pineapple and 2.5 cups of water. Bring this to boil.
Mean while heat a wok/kadai adding 3 tsp of ghee and cashews. Fry them till they slightly change color, then remove them. In the remaining ghee fry raisins till they puff up. Remove and keep them aside. Include one more tsp of ghee and roast rava/semolina till nice aroma wafts out.
Keeping the flame in minimum, add the cooked pineapple along with water to roasted rava. Be careful at this stage as there are chances of lump formation and the mixture may splutter too. Keep stirring while including water to rava.Add food color and mix well.
Rava gets cooked and forms a lump, at this stage add sugar. Sugar gets diluted giving shiny texture to pineapple kesari.
Mix in rest of the ghee and stir well. Finally add roasted cashews, raisins and cardamom powder. Switch off the flame.
Pineapple kesari is ready. Serve as quick dessert and relish.

Note

Be careful when adding water to roasted rava. When hot water added to hot rava, the mixture will splutter. So keep the flame in minimum or switch it off till you finish adding water, after which you can restart.
Let rava to cook completely and thicken before adding sugar to it. Otherwise the pineapple kesari may become sticky.
Do not compromise with ghee, it is the ghee and sugar that give appealing texture to rava kesari. You can add more than specified but not less.
The rava to water ratio what I follow is 1:2 cup. If you like more gooey texture then water can be increased from 2 to 3 cups.
As pineapple that I used was too sweet, I have reduced sugar to 1/2 cup. Otherwise I recommend it to be 1 cup.
You can replace food color by saffron if you prefer.
https://udupi-recipes.com/2014/06/pineapple-kesari-recipe.html
All the content in this website are © Copyrighted to – Udupi-Recipes
Meet you all with one more interesting recipe. Till then bye.