Roti or rotti literally means PANCAKE is refreshing my childhood memories,  in fact as I type this post, my mind is recollecting rotti related incidents of my life. I have been grown up eating the healthy, vegan and oil free pancakes made up of Sorghum (Jowar) which are the staple food of Northern part of Karnataka.
Today I am not posting about roti that I have been eating for ages but the one that substituted my craving for the same, that is Akki Rotti. Yes, roti made from rice flour could satisfy my hunger pangs to some extent when I genuinely feel to eat jowar rotti. Sorghum (jowar) is a kind of cereal which is not readily available in all grocery stores of all places but RICE is. So rice roti took over and became part of my foodie life.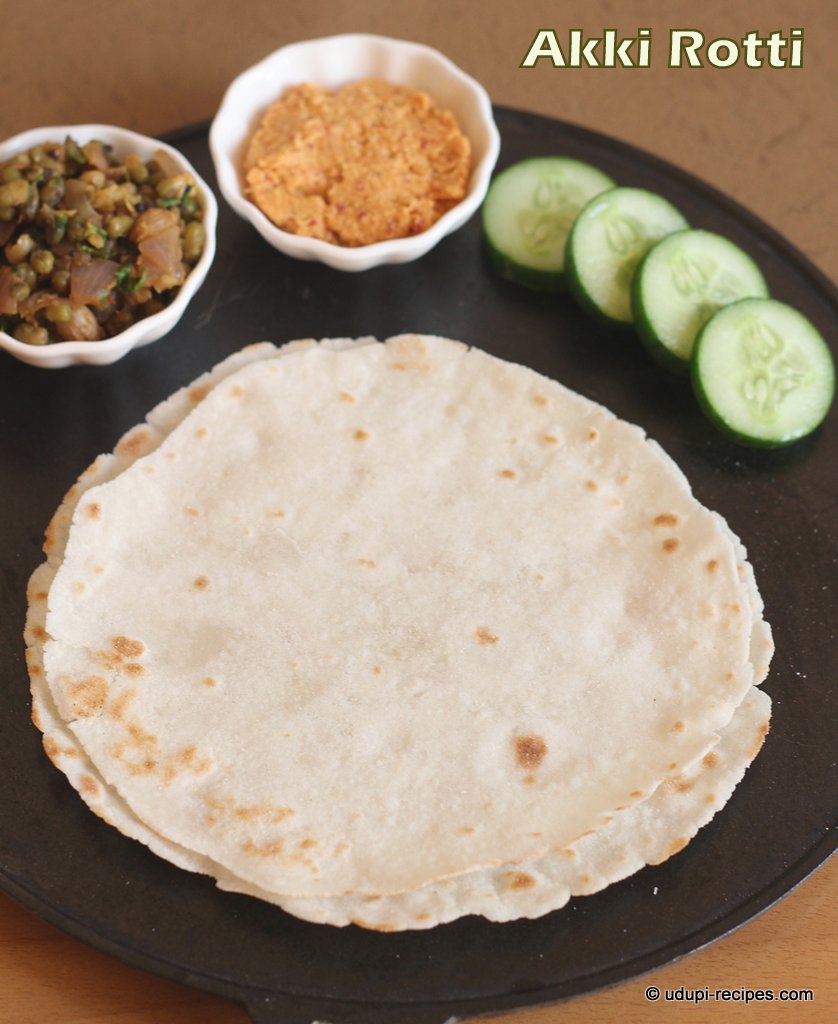 Akki rotti / roti is one such food that has fascinated me and I can live eating it alone, for days. The rotti/roti itself is very bland in taste but when we accompany it with spicy coconut chutney or stir fry, it's amazingly delicious. Milky white akki rotti with beautiful brown spots and two soft layers are so very appetizing and as you dip a small piece in to red coconut chutney and gulp over… it's heaven. I am drooling over as I type. So what next?  Get ready to go in to the kitchen right away.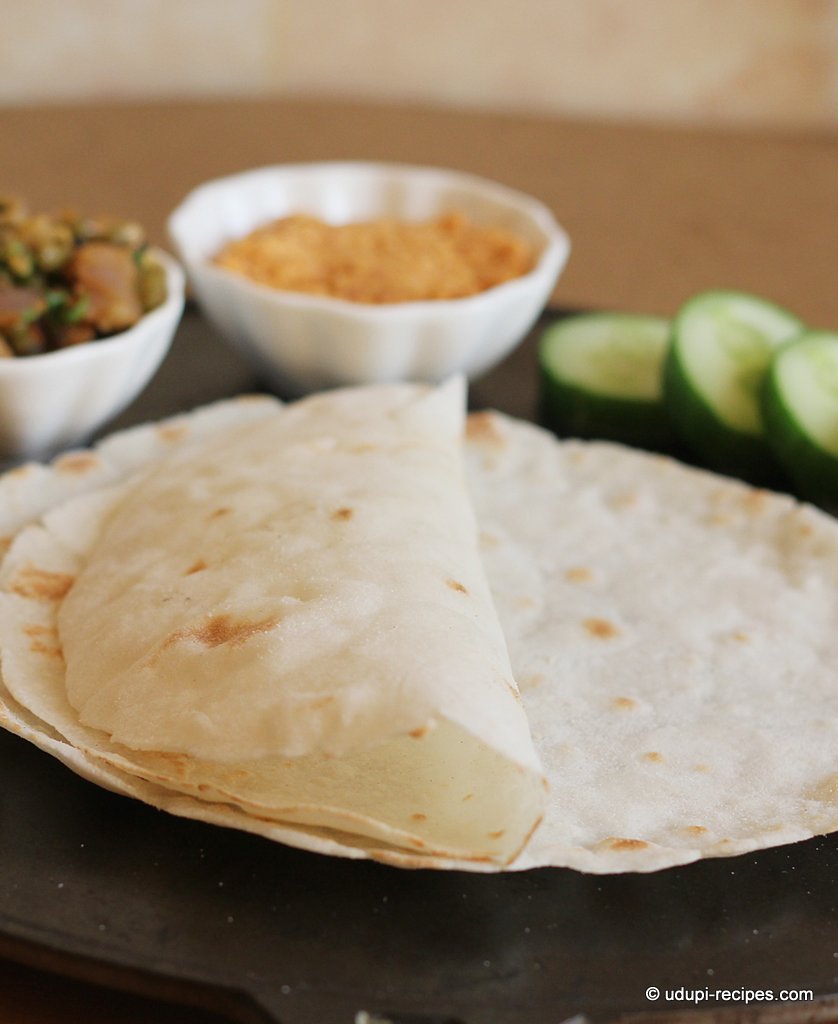 Akki Roti | Akki Rotti Recipe | Rice Pancake
Ingredients
Rice flour- 1/2 cup + 1/4 cup for dusting
Salt- 1/2 tsp
Water- Little less than 1/4 cup
Instructions
Preparation

Sieve the rice flour in to a wide bowl and bring 1/4 cup water to rolling boil.

Method

Combine salt with rice flour so that it is evenly mixed with flour. Now adding hot water little by little gather the rice flour together and form soft dough. Ensure the dough doesn't crack (too dry) or too thin.
Now divide this dough in to 3 equal portions. Take each portion and roll between your palms to form smooth balls.
Take each ball, dust with enough rice flour and using rolling pin roll in to medium thin rotis or pancakes. You need to roll evenly applying mild pressure. Unlike chapati, akki rotti dough is soft and it can break easily.
Now heat a skillet/tawa, carefully transfer the rolled akki roti on to skillet. In a medium flame let it cook. When the bubbles form on top of rotti, turn it to cook other side. Once both sides are cooked and few brown spots appear it's time to remove the roti from skillet.
Repeat the process with rest of the dough. Serve this akki rotti with coconut chutney and green gram stir fry. Heavenly tasting...

Notes

The dough consistency is very important. If it becomes too dry, the rotti turns very hard.
If the dough becomes too soft, then it will be difficult to roll as it breaks.
Akki rotti tastes heavenly with spicy coconut chutney or any stir fry.
https://udupi-recipes.com/2014/12/akki-roti-akki-rotti-recipe-rice-pancake.html
All the content in this website are © Copyrighted to – Udupi-Recipes