It is that time of the year when SUN sets quite early and raises quite late which is basically short energizing days and lengthy sleepy nights. It is that time of year when chill in the air makes water to almost freeze and feel like sticking on to couch with hot coffee mug on hand.
Winter also brings some specific fruits and vegetables like grapes, oranges, gooseberry, hog plum and sweet potatoes which overflow the market. Did I say Hog plum?? Yes, just like mango season I always hunt for these beautiful oval shaped, tangy fruit during winter. It has a huge inedible, fibrous pit covered with thin pulp and skin. Though it resembles tiny mango but taste doesn't match. Hog plums are most used in pickling and making rice accompaniment like chutney, gojju and rasam.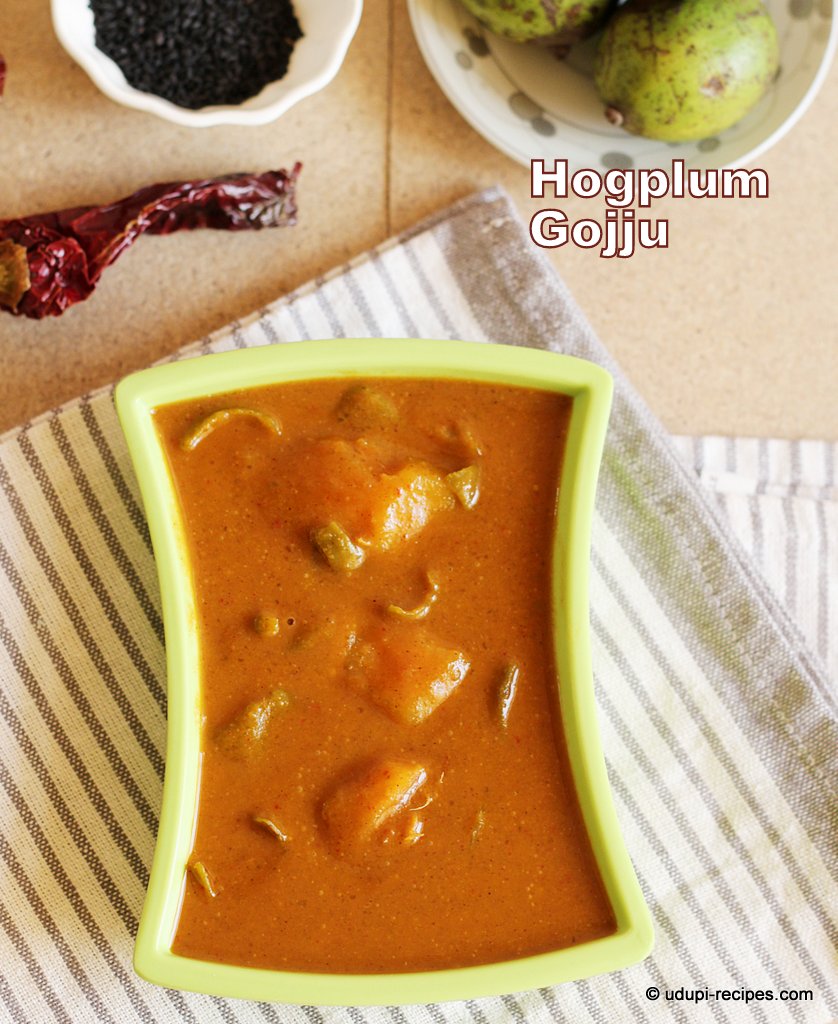 Spicy + sweet + tangy = hog plum gojju is very flavorful, flavors are so strong that a spoonful of this curry is enough to empty a full bowl of rice.  It's a coconut based curry that has few lentils, red chillies and sesame seeds at spice side. All these spices are roasted well and ground to fine paste with fresh coconut. Hog plum gojju is awesome on it's own..It's pieces including pit are cooked well along with jaggery and salt till soft which is then combined with spice paste. As hog plum infuses the spices – best of best winter feelings spread right in to your house.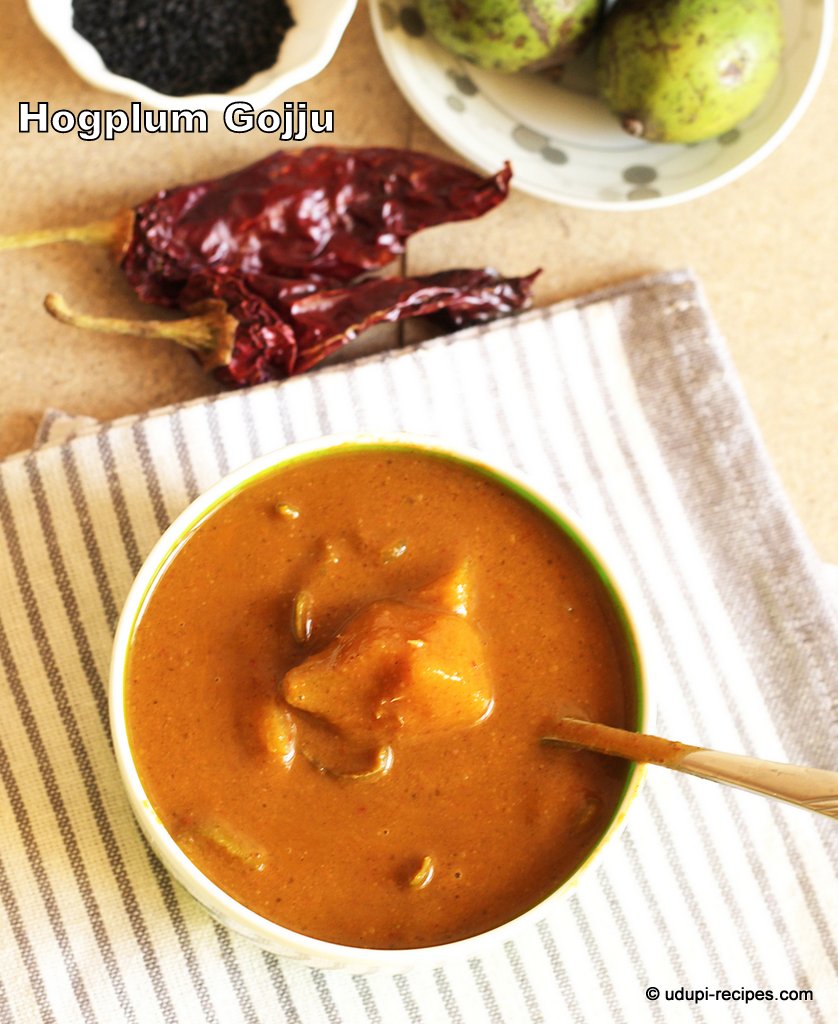 Hog Plum Gojju | Ambade Menaskai Recipe
Ingredients
Big sized hog plums- 3 to 4
Jaggery- Big lemon sized
Salt- 1 to 1.5 tsp

For grinding

Fresh grated coconut- Fistful
Split chickpea lentil (chana dal)- 2 tsp
Split black gram lentil(urad dal)- 2 tsp
Black sesame seeds- 3 tsp
Fenugreek seeds- 1/2 tsp
Red chillies- 2 no.
Cooking oil- 2 tsp
Instructions
Preparation

Wash hog plums with enough water and pat dry them using kitchen towel. Scrape the hog plum pulp along with skin in to small pieces. Reserve the seed too.

Method

Heat a pan and dry roast the sesame seeds till they splutter and transfer it to plate.
Re-heat the same pan adding oil, chana dal and urad dal. Roast the lentils till they turn slightly brown. Transfer them and again roast fenugreek seeds along with red chillies till the fenugreek changes color.
Add all the roasted ingredients in to a mixer jar along with grated coconut and grind together in to fine paste.
Heat a cooking pan / vessel with chopped hog plum pieces and it's seed. Cook it in 1 cup water and jaggery. The hog plum pieces become pale and soft when cooked. It takes very few minutes to cook.
Now add the ground paste in to cooked hog plum, stir it well. Add salt and bring the curry to boil. Switch off the flame.
Sour,sweet hog plum gojju is ready. Serve it with steamed rice, idli and dosa.

Notes

This curry need to be little sweeter side. So add jaggery as per the tanginess of hog plum.
The consistency of the curry must be slightly thicker, so add water accordingly.
It doesn't require seasoning.
https://udupi-recipes.com/2014/12/hog-plum-gojju-ambade-menaskai-recipe.html
All the content in this website are © Copyrighted to – Udupi-Recipes