This 2014 chilly winter happened to be the most healthy and nutritious season for me and my family. Despite the fact that I always make it a point to cook  wholesome and nourishing recipes,  this spell proved to be SUPER HEALTHY one. Ask me why???? Because every other day we are slurping a bowlful of warm, creamy and antioxidant palak soup. Now it's been a regular routine to include soup in my everyday 3 course lunch menu.
Spinach soup awesomeness has made both my kids to declare this green, creamy textured soup to be one of their favourite and my little 3 years old son asks for the soup at any time of the day.  It's that YUMMY!!!!!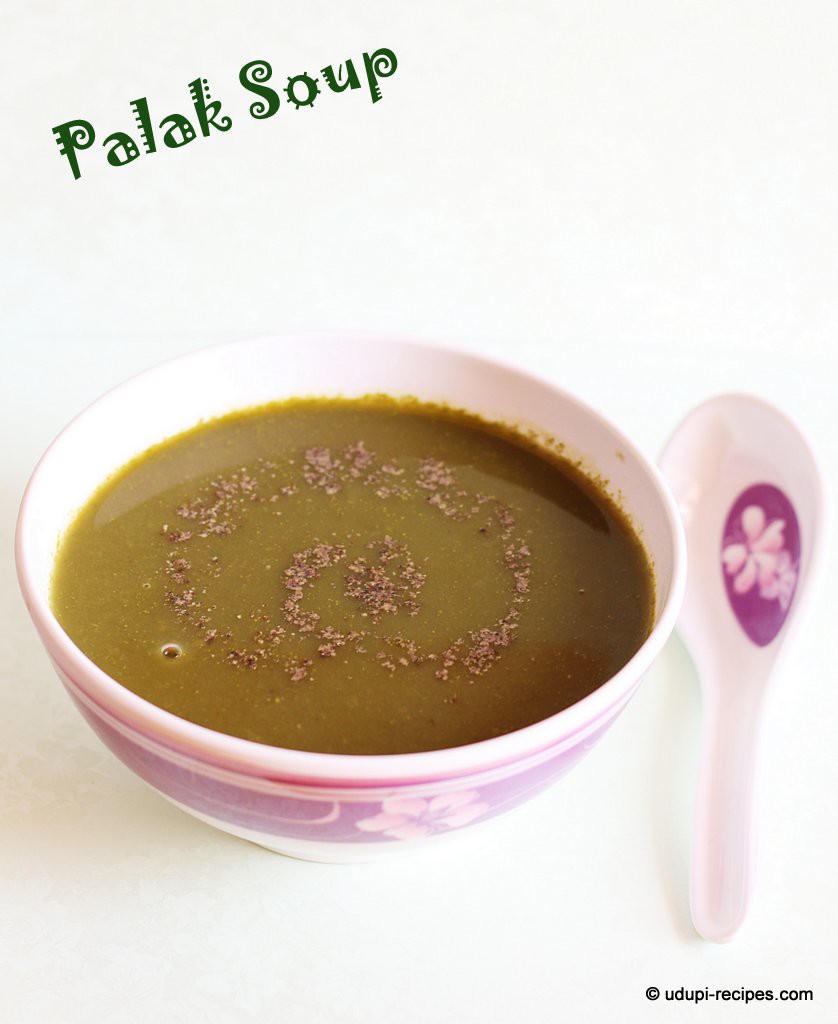 So I don't bother an extra hour in the kitchen to make this healthful and surprisingly big hit recipe of my home. Palak soup recipe is very simple, adaptable and pantry ingredients friendly. Yes …only few ingredients that must already be there in your pantry that make this delicious soup. AWESOME…
The process starts with chopping and then sauteing greens and vegetables in little oil or butter as you prefer. Then it's cooking with enough water till veggies turn soft. NOTE: The cinnamon and cloves included while cooking veggies need to discarded before blending. They are involved just to infuse spice flavors in to the soup. Final step is to boil the pureed soup with salt, pepper and dry mango powder adjusting according to taste.
In a nutshell, this green goodness spinach soup is family friendly, full of awesome flavors and an overwhelming visual delight.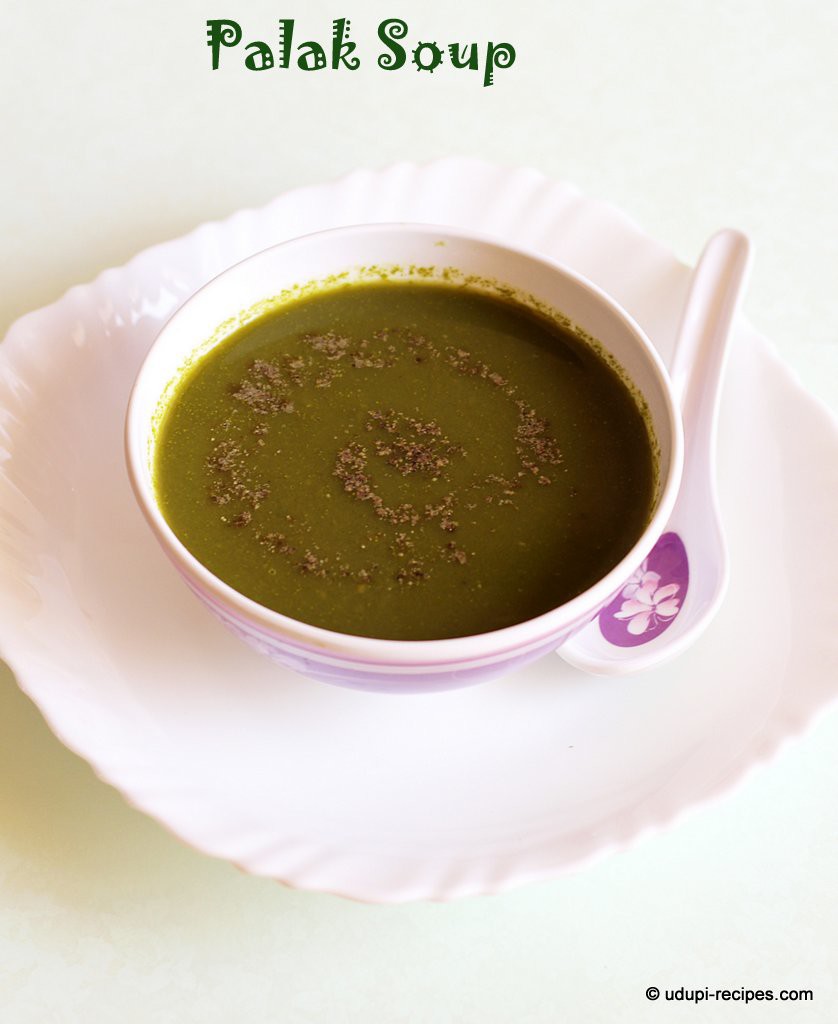 Palak Soup | Spinach Soup Recipe
Ingredients
Palak / Spinach- 1 small bunch
Onion - 1 no.
Tomato- 1 no.
Garlic- 4 to 5 pods
Salt- 1 to 1.5 tsp
Dry mango powder- 3/4 tsp
Black pepper powder- 1/2 to 3/4 tsp
Cinnamon- 2" piece
Cloves- 4 no.
cooking oil/butter- 1 tsp
Instructions
Preparation

Rinse palak leaves very well with enough water and chop them in to big pieces. Include stem too if it is tender.
Similarly chop tomato and onion in to big chunks, garlic in to fine pieces. Keep them aside till use.

Method

Heat oil or butter in a pan add chopped garlic and saute till it is light brown. Then include chopped onions and stir till onion turns translucent. Then include tomato and stir a while.
At last include chopped palak pieces and stir for 2 to 3 minutes or till the palak shrinks.
Add 1 to 1.5 cups of water, cinnamon, cloves and let it cook in medium flame. When the tomato and palak stems are well cooked and softened, switch off the flame. Let this mixture to cool.
Discard the cinnamon and cloves (it will turn bitter otherwise), then transfer the soup mixture in to blender or mixer and puree it till smooth.
Transfer the pureed soup in to pan and re-heat it. Include 1 or 1.5 cups of water depending upon how thick you want the soup to be. Add the spices like salt, pepper and dry mango powder. Combine well. Bring it to boil and simmer it for 2 minutes. Then switch it off.
Nutrients packed palak soup is ready to slurp.

Notes

Palak soup turns thick by itself, so it is not necessary to add any thickening agent like corn flour.
If you prefer little sweetness in your soup you can add some sugar.
Some times I add a small carrot too to the soup that gives some sweet note and extra thickness to the soup.
Adjust pepper and salt as per your taste buds.
It is also a practice to add milk to the soup, but I don't like milky smell in the soup so didn't include.
You can garnish the soup with fresh cream to enhance the look.
https://udupi-recipes.com/2014/12/palak-soup-spinach-soup-recipe.html
All the content in this website are © Copyrighted to – Udupi-Recipes