It's very fair on me to try these sweet appam this week because they are extra delicious, spongy with porous look. It is little sweet, little soft and a little grainy to chew. As they get cooked in appam pan this morning the flavorful awesomeness wafted out and could hardly control my hungry self till I finished cooking.
No cans of anything here- just lots of real and healthy ingredients (OK. FINE there's little ghee) which kind of feels good, smart and comfortable.  The scenario is REAL food + COMFORT food which is always a WINNER.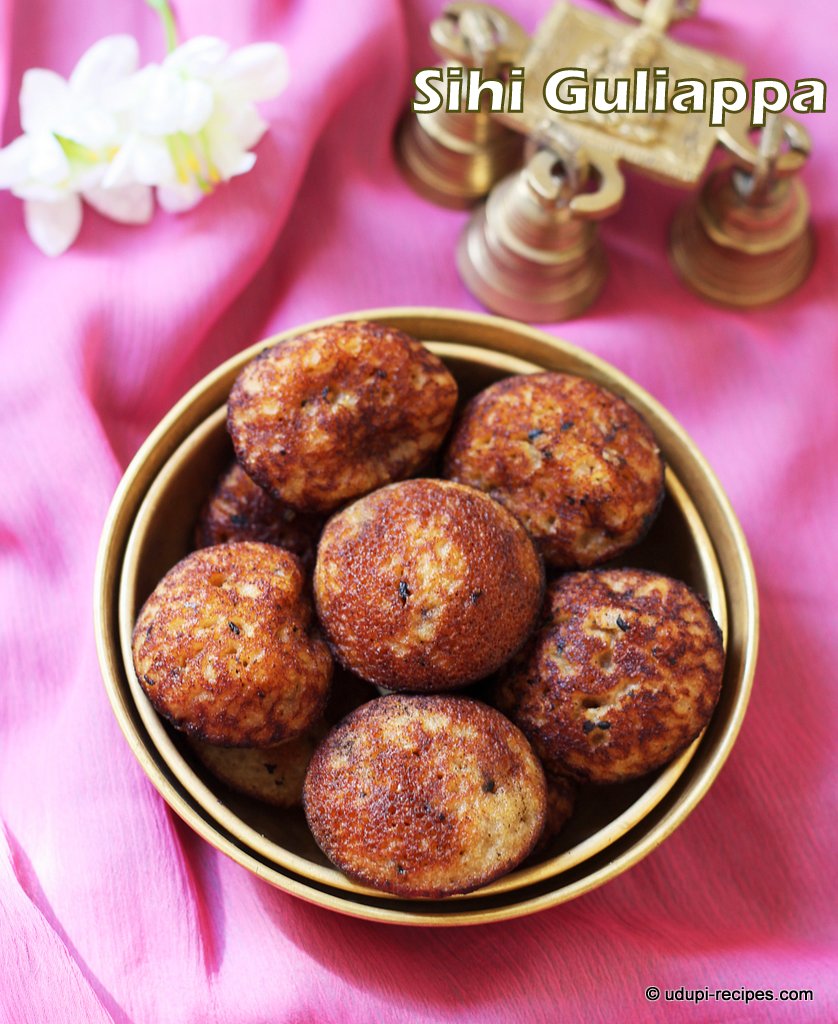 I had heard many debates about these appams saying they turn very hard and chewy when prepared at home. But the appam prepared at my kitchen prove the above debate to be WRONG. I bet if you make sweet appam with equal proportion of raw rice, grated coconut and puffed paddy, they turn extremely soft.  Addition of ripe banana gives the appam a spongy texture inside and the sesame seeds an extra crunch.
Sweet appam is best opted by people who need fast and easy snack because they have chronic lateness or people who like to feel like they're eating dessert all the time. I do fit in both the categories.  I sort of love these sweet appam to snack in between meals.  How about you??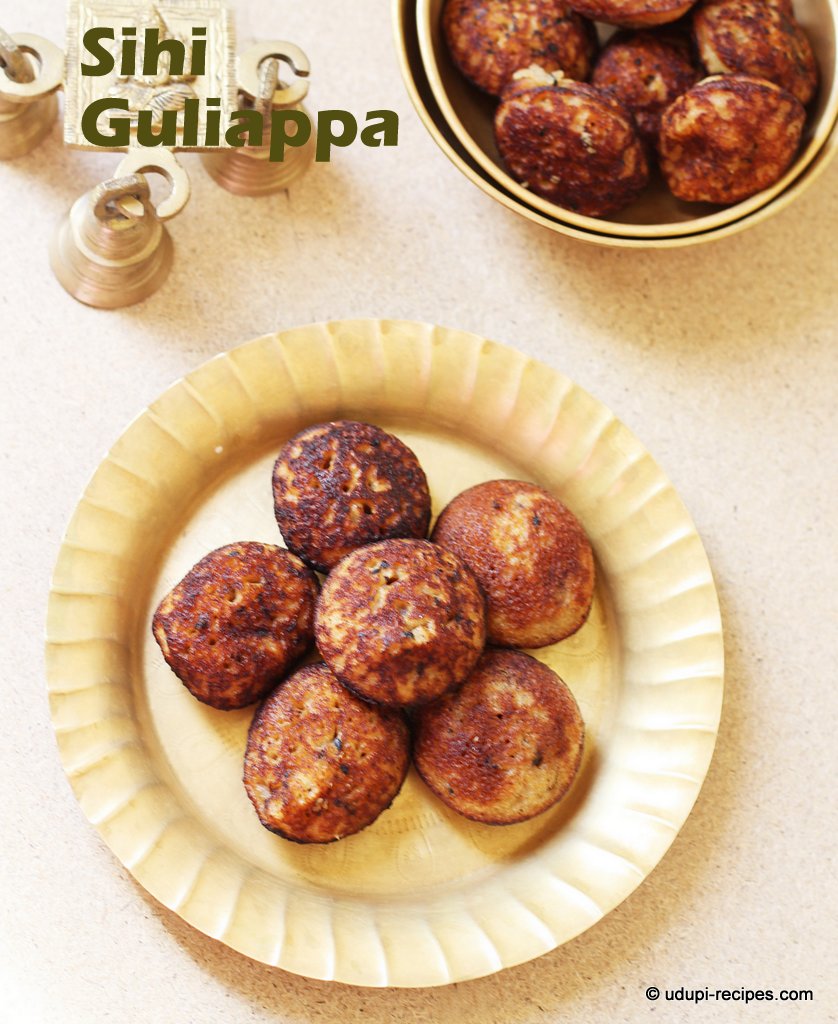 Sweet Appam | Sweet Paniyaram | Sweet Guliappa Recipe
Ingredients
Raw rice- 1 cup
Puffed paddy ( Aralu ) - 1 cup
Grated coconut- 1 cup
Jaggery powder- 3/4 cup
Ripe bananas- 2 no.
Black sesame seeds- 1 tsp
Salt- A pinch
Ghee- Enough for shallow frying
Instructions
Preparation

Soak raw rice for 1.5 to 2 hours in enough water.

Method

Drain the water from raw rice and transfer it in to mixer grinder, along with grated coconut and puffed paddy grind them together to coarse paste. Add water just for ease of grinding.
Include peeled bananas and powdered jaggery with the ground batter and grind again to semi-fine batter. Add water to bring the batter to little thicker consistency than dosa batter.
Mean while heat a seasoning pan and dry roast the sesame seeds, as they splutter transfer them in to sweet appam batter. Include salt and combine well. The batter looks as in the image below.
Heat appam / paniyaram pan greasing some ghee in to each hole, pour prepared batter in to each hole. Cover the pan with lid and cook for few minutes. Once the top gets cooked turn each appam to other side and cook till brown.
Fluffy, porous textured sweet appam is ready to serve.

Note

You can easily remember ingredients ratios as rice, puffed paddy and coconut are in 1:1:1 proportion.
Do not ever grind all the ingredients together, because jaggery may block and you will end up uneven grinding.
Initially rice, coconut and paddy should be ground coarsely then jaggery and banana to be added.
At the end of grinding, you can adjust consistency by adding water if needed.
Use of ghee for cooking appam yields flavorful appams, but if you prefer you can use oil.
https://udupi-recipes.com/2014/12/sweet-appam-sweet-paniyaram-sweet-guliappa-recipe.html
All the content in this website are © Copyrighted to – Udupi-Recipes