Chutney rules  my world of breakfast which is some kind of crepe or dumpling most of the time.  Chutney is a dipping sauce based on wide range of recipes and preparation methods. It can range from a wet to dry or coarse to fine and can be combined with wide variety of foods or used for dipping.
I love playing with chutney recipe and never like hooking on to a monotonous one. It can be made more exciting accompaniment with little change in spices and vegetables used for making the same.
Right now slurping a big bowl of green palak soup,  I am posting this yummy bottle gourd chutney which is my recent addition to chutney series. Do you remember bottle gourd nippattu posted few days ago? A small portion of bottle gourd was still staring at me from the pantry saying USE ME…Hence this bottle gourd chutney got it's birth.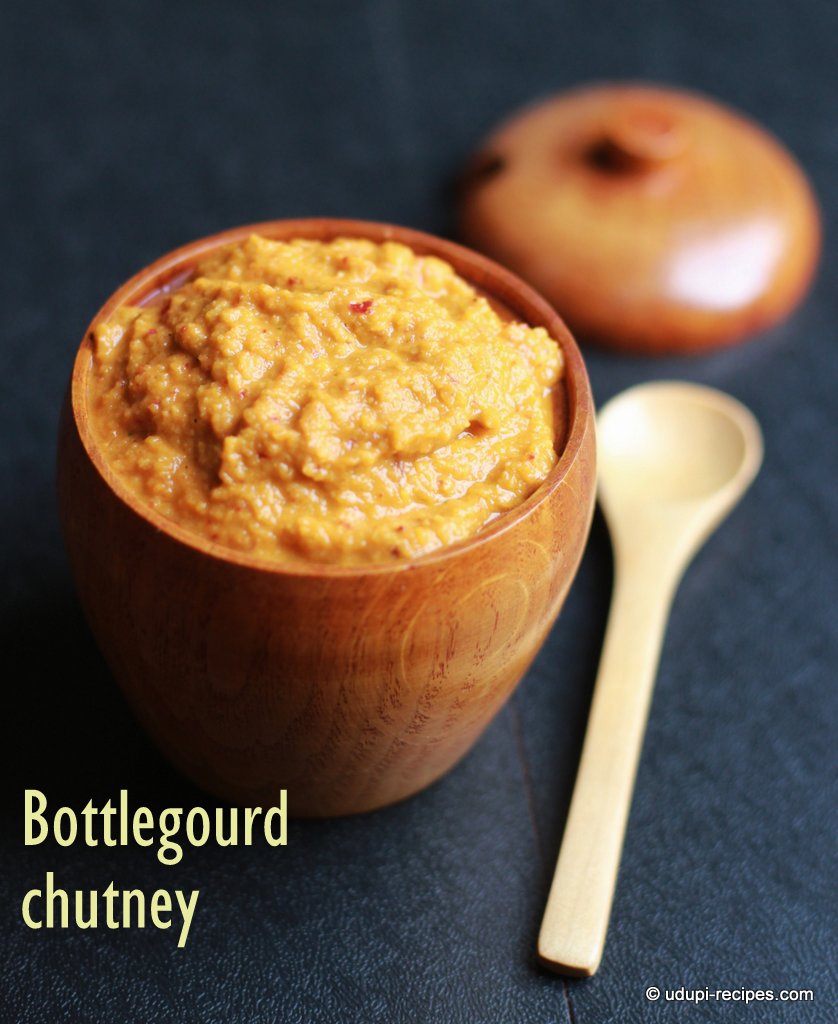 Bottle gourd chutney gets the 'Easiest ever' badge as it can be made in just 15  minutes of time. Peeling and cubing the bottle gourd in to big chunks took me around 5 minutes while cooking them in to tender soft took 5 to 6 minutes.  Roasting and grinding everything together took rest of the time.
Let me tell you the fact…I spent good portion of my afternoon in writing this post than preparing bottle gourd chutney…I mean it..
You guys…already observed?? Yes..I did not beautify the chutney with seasoning, I liked to present it plain on a black background. How is the look?
Anyways move on to the recipe.
Bottle Gourd Chutney | Sorekayi Chutney Recipe
Ingredients
Bottle gourd- Quarter sized or 1 cup pieces
Grated coconut- 1/2 cup
Coriander leaves- Fistful
Split black gram lentil(urad dal)- 1 tsp
Split chickpea lentil(chana dal)- 1 tsp
Red chillies- 2 no.
Salt- 1 tsp
Tamarind- Marble sized
Asafoetida- A pinch
Cooking oil- 2 tsp
Instructions
Preparation

Wash bottle gourd and peel the skin off using a peeler, then cut vertically in to half. Scoop out the seeds and chop bottle gourd kernel in to big chunks.
Add all the bottle gourd pieces in to a pan along with 1/2 cup of water. Cook it in medium flame till the pieces are soft.
Meanwhile heat a skillet or wok adding oil, urad dal, chana dal and red chillies. Fry them together till the lentils turn little brown.
Transfer all the roasted ingredients in to a mixer jar along with grated coconut, salt, asafoetida, coriander leaves and cooked bottle gourd pieces. Grind them together to a semi course paste.
Bottle gourd chutney is ready. You can relish it with steamed rice, idli and dosa.

Notes

You can replace red chillies by green chillies. In that case no need of roasting green chillies.
Do not skip adding coriander leaves while grinding chutney. It adds unique flavor to the chutney.
I skipped seasoning the chutney, you can add.
https://udupi-recipes.com/2014/12/bottle-gourd-chutney-sorekayi-chutney-recipe.html
All the content in this website are © Copyrighted to – Udupi-Recipes