Mixed Vegetable sagu recipe reminds me my pre- marriage days, when I was in my first dream job of teaching polytechnic students. Those were the days when I was creeping in teaching profession and spending my weekends in cooking trials. In those initial trips to kitchen, I learnt how to cook vegetable pulao, sagu and bisi bele bath. My elder sister with whom I stayed, lovingly guided me on how to cook these dishes.  We used to look for some uncommon dishes to cook during weekends and enjoyed relishing them with family.
It is really strange that how the thought of certain food can take you down the memory lane. It's strange how our memory is connected to certain taste that we had experienced long back. It's still really strange how we remember a minute detail of something that happened decades back related to that food.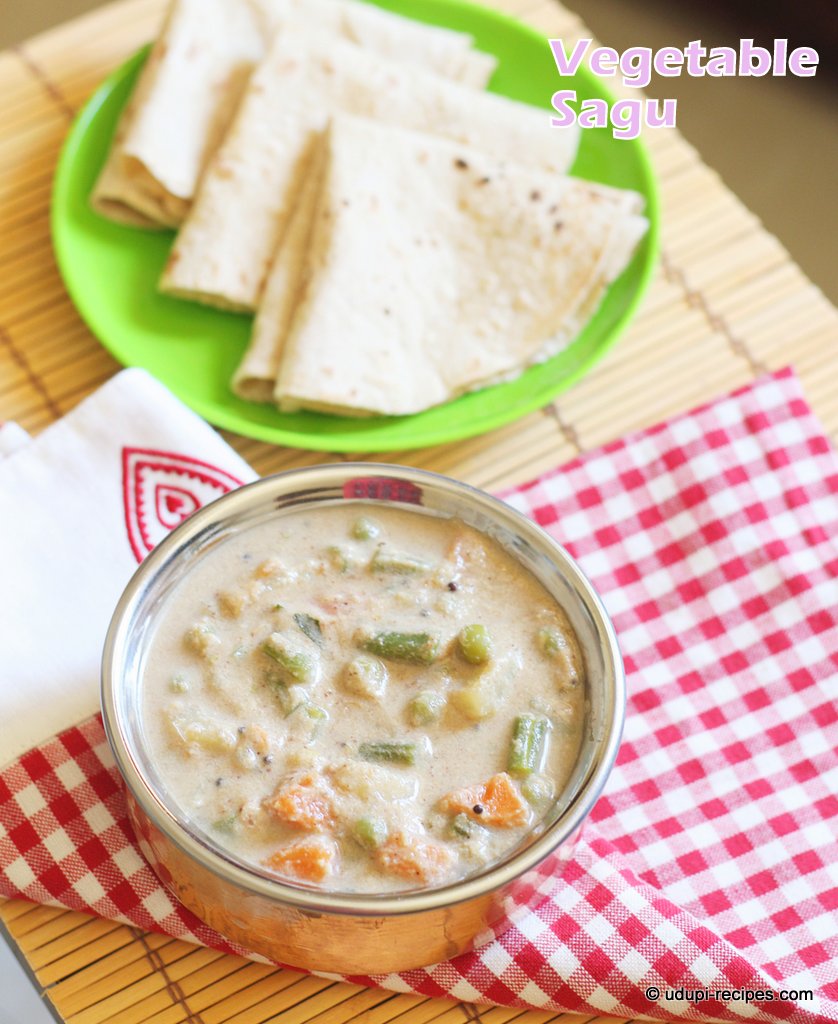 This amazingly delicious chapati side dish vegetable sagu recipe recalled so many incidents at once…It can be made in a jiffy in the morning if you have chopped the veggies the previous day itself. Remember to soak green peas guys….I tend to FORGET often…:)
This vegetable  sagu recipe is NO ONION..NO GARLIC version. NO…I haven't used them.  As a cupful of vegetable cubes cook on stove, you get ready with grinding spices with fresh coconut.  Green chillies and black pepper corns are the source of spiciness in the recipe, so add as per your taste preferences. I added only 4 pepper corns with two green chillies, but it turned little hot. When the ground paste blends with cooked but not mushy vegetable cubes, makes an incredible side dish with chapati, roti or poori.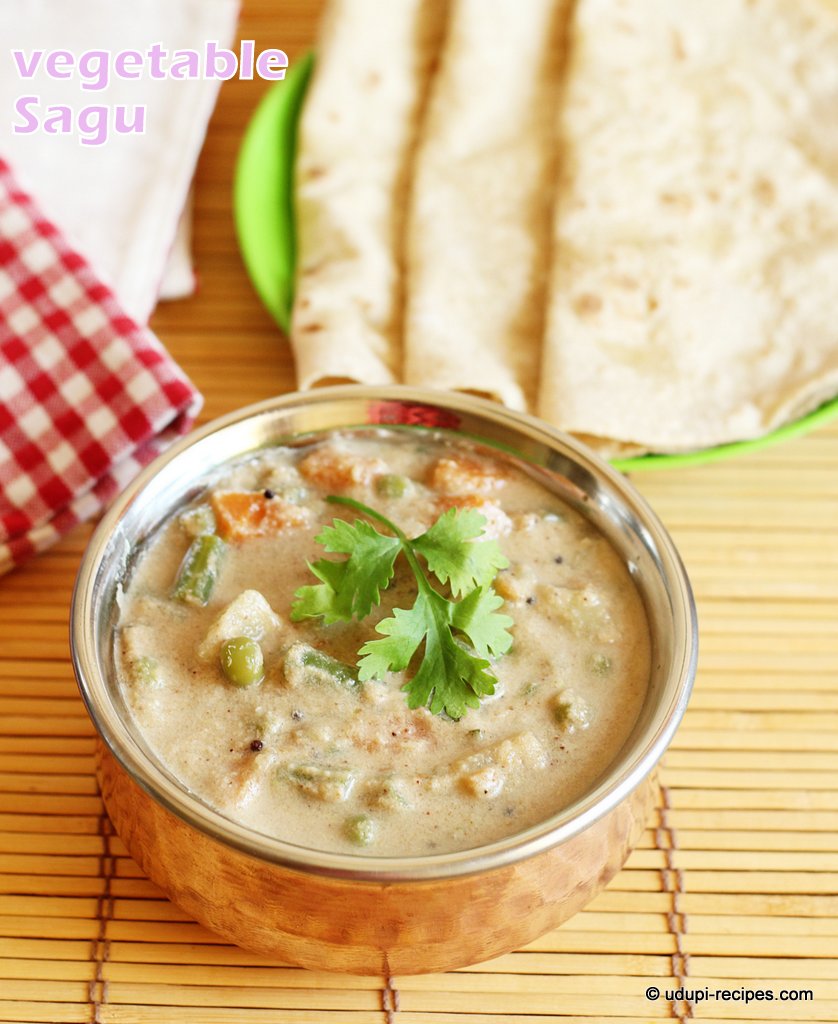 Vegetable Sagu Recipe | No onion, No Garlic
Ingredients
Chopped vegetables (carrot+beans+potato)- 1 to 1.5 cup
Green peas - 1/4 cup
Salt- 3/4 to 1 tsp

For Grinding

Fresh grated coconut- Fistful
Green chillies- 1 or 2
Coriander seeds- 2 tsp
Cumin seeds- 1/2 tsp
Split black gram lentil- 1 tsp
Cinnamon- 2" piece
Cloves- 2 no.
Black pepper corns- 3 to 4 no.

Seasoning ingredients

Cooking oil- 4 tsp
Mustard seeds- 1/2 tsp
Split black gram lentil- 1/2 tsp
Curry leaves- few
Instructions
Preparation

Soak green peas for 4 hours or overnight.

Method

Heat a cooking pan adding all the seasoning ingredients in the order mentioned, once when the mustard seeds crackle include chopped veggies and soaked peas. Add a cup of water,some salt, then cover with lid and let the vegetables cook till soft in simmer. Stir in between for even cooking.
Heat a seasoning pan adding split black gram lentil and dry roast till they turn little brown.
Add all the ingredients under 'for grinding' list in to mixer jar, include dry roasted black gram lentils too. Grind all of them together in to fine paste adding water as required.
When the vegetable cubes are cooked, include ground paste and rest of the salt. Mix well. Bring it to boil and switch off the flame.
Best chapati/poori side dish vegetable sagu is ready.

Notes

You can include other vegetables like cauliflower and turnip cubes too.
Make sure the vegetables are rightly cooked not too mushy nor too hard.
The sagu turned little spicy for kids, reduce green chillies or black pepper to reduce spiciness.
You can use some coriander leaves while grinding to get green colored sagu.
You can use fried cashews for garnishing.
https://udupi-recipes.com/2014/12/vegetable-sagu-recipe-chapati-sidedish.html
All the content in this website are © Copyrighted to – Udupi-Recipes