It happened like this.
udupi-recipes.com was under maintenance since 2 days, like I was upgrading WordPress to it's latest version, some premium plugins which are essential for a blog, which I have not bothered till now was being purchased and installed.
Food blog is not a "SET IT and FORGET" kind of business, apart from feeding it through RECIPES on a regular basis it needs some technical things done. As and when blog demands I have to take up upgrading, installing, tweaking display ads, changing layout or  similar tasks. On such a day,  passing glance on RECIPE INDEX, reminded me that I have not yet posted LEMON RICE which is my most favorite lunch since childhood.  You will never find a feast in Udupi without Lemon rice which is popular as Chitranna in this place.  No more than fistful of lemon rice is served in all the multi-course meals of the region.
The simplest and quickest lunch can me made by pairing lemon rice and curd rice. Both of these don't need an elaborate cooking and it is just the seasoning I must say. When seasoning lemon rice, my personal preference is to soak peanuts for a while say 10 minutes. By doing this, hard peanuts turn soft but they still taste crunchy…I LOVE IT.
And one more caution is never include lemon juice to the hot seasoning. It will taste bitter.  Ensure it is incorporated at the end while mixing the temper with cooked rice. Beautiful yellowish tangy lemon rice along with crunchy peanuts, does it dissatisfy any one? Chances are remote….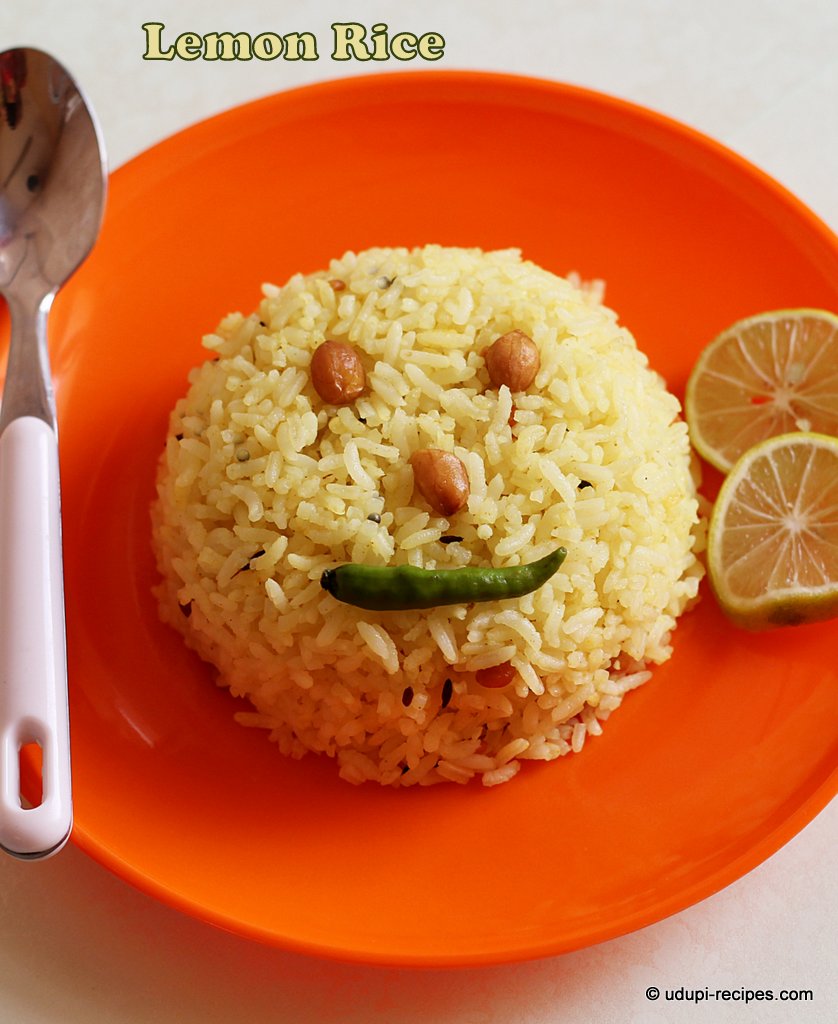 Lemon Rice Recipe | Chitranna Recipe
Ingredients
Raw rice- 1 cup
Peanuts- Fistful
Green chillies- 2 no.
Lemon- Half of big sized
Turmeric powder- 1/4 tsp
Salt- 3.4 tsp
Chopped coriander leaves- Fistful

Seasoning ingredients

Cooking oil- 5 tsp
Cumin seeds- 1 tsp
Split black gram lentil( urad dal)- 1/2 tsp
Split chickpea lentil( chana dal)- 1/2 tsp
Broken red chillies - 2 no.
Curry leaves- Few
Instructions
Preparation

Pressure cook rice as you normally do, but ensure that rice grains are separate not sticky. As the pressure subsides keep the cooked rice outside or spread on a wide bowl for cooling.

Method

Heat a wok/ Kadai adding cooking oil, cumin seeds, urad dal and chana dal. Saute for a while when the lentils turn little brown add red chillies, curry leaves, peanuts and slit green chillies.
When the peanuts are roasted well add turmeric powder and salt. Mix well and switch off the flame.
Transfer this seasoning to cooked rice in the bowl and squeeze lemon too. Mix well using a spatula. Garnish with coriander leaves.
Yummy one pot meal lemon rice is ready. Relish this on lazy days when you are not in a mood to cook elaborate meal.

Notes

You can make many variations by adding onion or grated coconut or cashews to the seasoning.
You can also soak peanuts for sometime and then include. It will give soft and crunchy taste as you bite them.
As the name suggests lemon rice should taste tangy side. So add lemon juice accordingly.
You can make this using left over rice too.
https://udupi-recipes.com/2014/12/lemon-rice-recipe-chitranna-recipe.html
All the content in this website are © Copyrighted to – Udupi-Recipes