This mixed vegetable curry happened accidentally in my kitchen but that accident was so very wonderful and delicious that I always love to see this curry in my weekend lunch menu. Let me recall what was the accident precisely?? Because this post is not ON REAL TIME, you know I am on vacation and the posts are scheduled in advance with recipes that are safely backed up in my hard disk.
I was on conversation with my husband about cooking and recipes during which he recalled a curry that he tasted years back that had lots of vegetables like primarily beans, carrot, onion and potatoes in a coconut gravy that has green chillies instead red ones. So I myself took the challenge to recreate the same magic with no recipe on hand. The challenge was really hard. After a series of trials, with lots of undoing and redoing of spices finally I could come up with mixed vegetable curry that matched the taste closely to the one tasted years back as declared by him.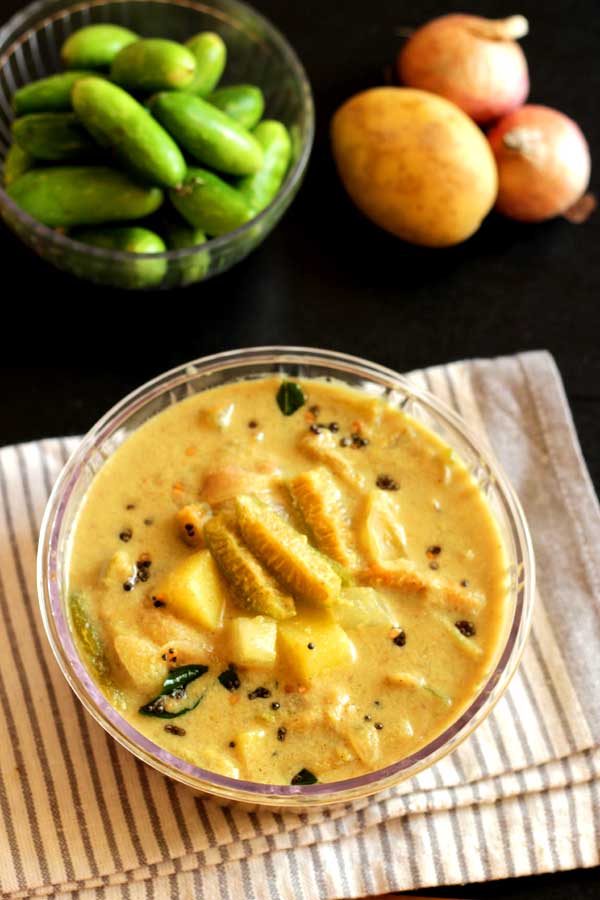 Mixed vegetable curry comes very handy when I have no stock of any single vegetable that can be transformed to a curry. I mean when I have little of tindly (tindora), couple of potatoes, a single onion and few beans or carrot, in such situations I feel the vegetable shop too far  for no reason and I directly switch over to a curry that includes all the vegetables and turns to be a very awesomely delcious rice side dish.
You can creatively use any combination of vegetables that are lying in your fridge with the coconut masala that has few tea spoons coriander seeds, split black gram lentils and few green chillies for spice kick. The vegtables cook pretty soft in tamarind extract which very well drench in creamy coconut sauce to an ultimate mixed vegetable curry that you see below.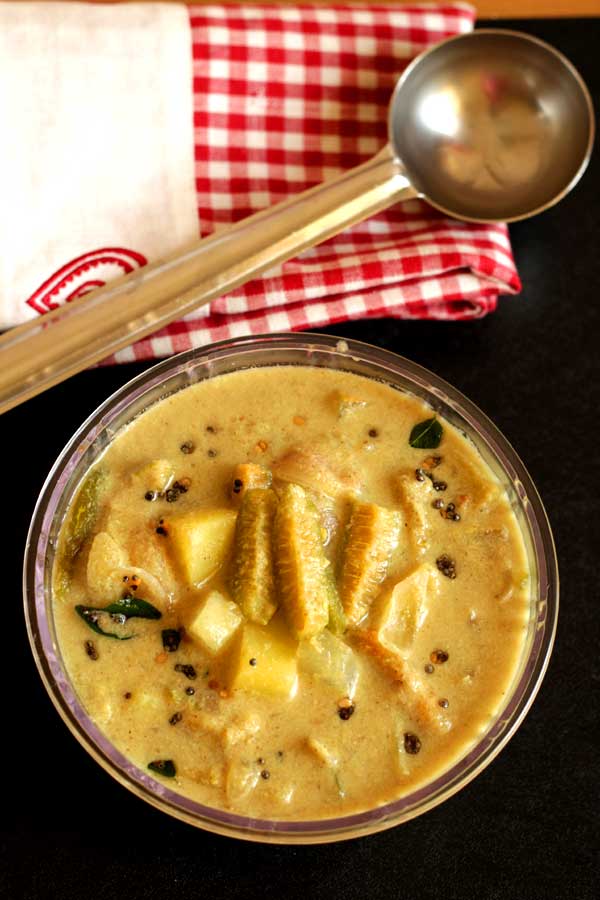 Mixed Vegetable Curry Recipe
Ingredients
Tindly (Tindora)- 250 gm
Mangalore cucumber- Half piece
Onions- 2 nos.
Potatoes- 2 nos.
Tamarind- Small lemon sized
Salt- 1 tsp
Powdered jaggery - 2 tsp
Turmeric powder- 1/2 tsp

To grind

Fresh grated coconut- 1/2 cup
Green chillies- 3 nos.
Coriander seeds- 2 tsp
Split black gram lentils- 1 tsp

Seasoning ingredients

Cooking oil- 2 tsp
Mustard seeds-1 tsp
Curry leaves- Few
Instructions
Preparation

Wash all the vegetables under running water, slit each tindly vertically in to 4 pieces and chop potatoes in to big chunks. Peel off the onions and slice them too. Similarly cut the Mangalore cucumber and scoop out the seeds. Chop it in to big pieces.
Soak tamarind in half cup of water and extract juice discarding the residue.

Method

Put all the chopped vegetables in to a cooking pan along with tamarind juice. Cook it in medium flame along with jaggery and turmeric powder. Let the vegetables turn soft but not mushy.
While the vegetables are still cooking, get the coconut masala ready. Dry roast the split black gram lentils in a seasoning pan till they turn brown. Transfer this to a mixer jar and also add grated coconut, green chillies, coriander seeds and little water. Grind everything together to fine puree.
Ensuring all the vegetables for done-ness add coconut masala from above step to the pan. Finally add salt and water to adjust consistency. Combine and bring the curry to a good boil. Switch off the flame.
Heat a seasoning pan with cooking oil, mustard seeds and curry leaves. As the mustard seeds crackle add the seasoning to curry.
Mixed vegetable curry is ready to serve with rice. It can also be relished with chapati and dosa.

Notes

You can choose more than one variety of vegetables to make this curry. Leftover vegetables can also be used to whip this up.
Do not skip adding onions to this curry as it enhances the taste.
https://udupi-recipes.com/2015/08/mixed-vegetable-curry-recipe.html
All the content in this website are © Copyrighted to – Udupi-Recipes