Hot summer with temperature reaching 45°c at afternoon with humidity up to 55%  is what U.A.E's weather forecast for today. Dust is also expected to envelope the country with winds blowing loose sand and dust from dry surfaces. This is the picture of middle east countries, where we stay indoors with air condition turned on for 24/7 for 5 terrible months of Summer. While AC helps in keeping ourselves cool from outside, it is actually the food that we intake prevents adversities of hot weather. Today's weather forecast has triggered some healthy waves in my mind  and the result is => Raw banana raita.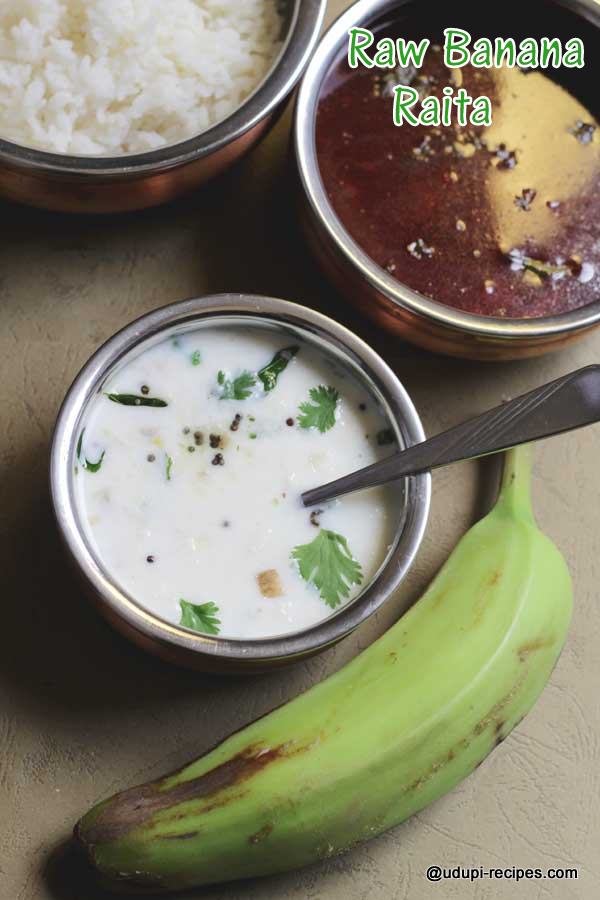 Raw banana or plantain requires to be cooked in order to consume and this raita can be prepared in two ways.
First option : You cook the veggie till mushy, like the peel almost comes out and it is totally soft and mash-able. The good news about this is, you will never notice the presence of plantain while eating the raita. Because yogurt and mashed raw banana blends well to the point where you cannot figure out the veggie in it.
Second option : You cook the plantain just till it turns soft not mushy. The peel doesn't come out easily and you have to remove the skin with your hands, doesn't need a knife though. Once peeled, chop it in to very fine cubes and combine with yogurt. This way you can actually feel and bite the raw banana while eating. If you like some tender bites to munch, this is the way to do it.
Third option : Last option is similar as above, but you can whir up half of  the cooked plantain in a mixer to a  coarse consistency and mix up with yogurt. Remaining half is cubed and added just like that. This way you get the thick sauce like consistency raw banana raita with bites of veggie still being in it.
What I pictured in this post is the second option and I loved the ginger flavored plantain bites with mild spice from green chilly and comforting yogurt.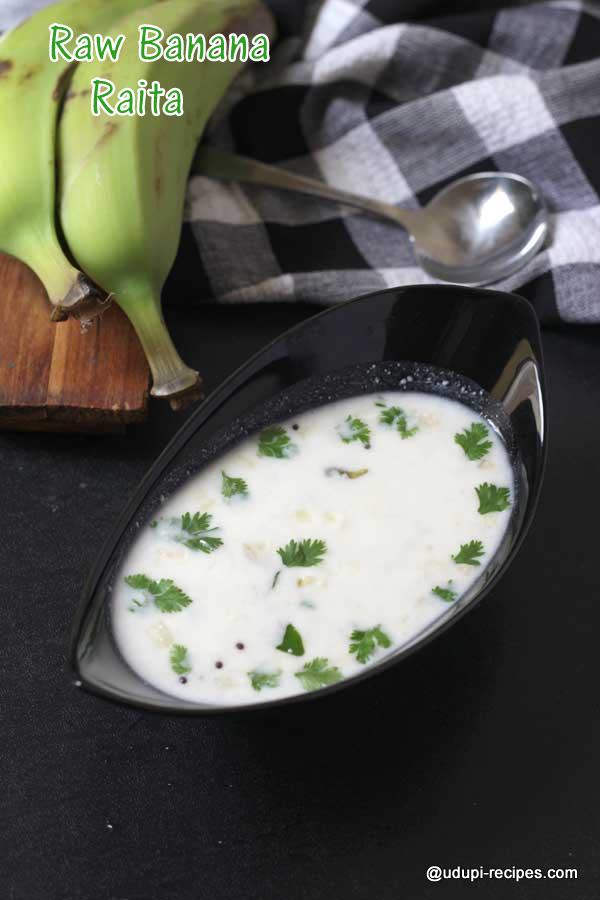 Raw Banana Raita | Plantain Raita
Ingredients
Raw banana (Plantain)- 1 no.
Yoghrt- 1/2 cup
Salt- 3/4 tsp
Green chillies- 2 no.
Finely chopped ginger- 1/2 tsp
Coriander leaves- Garnish

Seasoning ingredients

Cooking oil- 1 tsp
Mustard seeds- 1/2 tsp
Split black gram lentils- 1/2 tsp
Curry leaves- Few
Instructions
Preparation

Chop the green chillies in to fine pieces. Keep it aside till use.

Method

Cut the raw banana in to half without removing it's skin. Pressure cook it for 1 whistle. You can cook on stove top too as it takes less time to cook.
Peel the skin off from banana and chop it in to very very fine cubes. Next whisk the yogurt with little water to desired consistency. To not make too watery.
Include chopped raw banana pieces and salt in to the yogurt. Give a quick mix. Heat a seasoning pan adding mustard seeds, split black lentils, curry leaves, oil, ginger and green chilly. Let the mustard sizzle and pop, transfer it over the raita.
Very comforting summer side dish raw banana raita is ready to serve with plain rice.

Notes

Do not over cook the banana in which case you'll not be able to chop.
Alternatively you can mash the cooked plantain with yogurt too. In this case you can cook the banana till mushy.
Do not skip ginger which gives unique flavor to raita.
You can include a pinch of asafoetida which would also enhance the flavor.
https://udupi-recipes.com/2016/06/raw-banana-raita-plantain-raita.html
All the content in this website are © Copyrighted to – Udupi-Recipes