When you have to treat yourself or your kids in just 25 minutes or so and sit together for something yummy, this milk peda can surely be your friend. The things that go in this peda are mainly milk powder and condensed milk. Both are dairy products and VEGANs must be feeling sad now.  On top of their disappointment I haven't yet discovered a recipe for peda that has vegan products in it.
More recently I have observed sort of milk reluctance in me and don't feel like drinking coffee, tea or herbal drink kashaya. I have grown up drinking one or the other beverages of this kind, but at this stage of life I stand at the other side unwilling to sip them. So whenever I make food for blog using milk as primary ingredient, I ensure it is in the favorites list of my kids. My daughter would be a first taste tester for milky sweets like this and she never says NO to mango vermicelli kheer which is again loaded with dairy milk.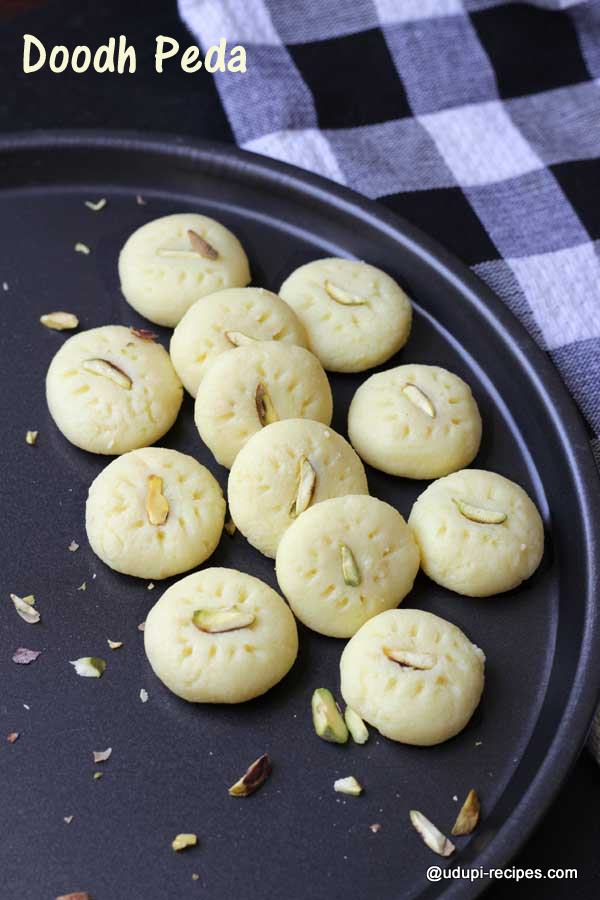 Peda is typically an Indian sweet which is prepared mostly using  dairy products (Remember Dharwad peda?). In a elaborate process of peda, milk and sugar itself is cooked and reduced to solid form with continuous stirring which my father is well versed with. I would surely post his version of peda too in coming days.
This short cut method of milk peda uses condensed milk and milk powder, both of which when combined and cooked turn in to sticky mass like dough. Shaping in to peda form by rolling in between your ghee greased palms would give a nice glowing, soft, melt in mouth dessert of its kind.
Be it a celebration or a festival or you want to satisfy sweet cravings of your kids, then milk peda is really apt. Do it yourself to know.
Milk Peda | Doodh Peda Recipe
Ingredients
Condensed milk- 1/2 cup
Milk powder- 1/2 cup
Ghee- 3 tsp
Cardamom powder- 1/2 tsp
Pistachio slices- Few
Instructions
Method

In a pan add add milk powder, condensed milk and cardamom powder. Give a quick stir so that milk powder combines with condensed milk.
Heat this mixture adding 2 tsp of ghee and cook till it comes together as dough. When it leaves the pan, transfer it on to a plate. At this stage it is quite sticky.
Greasing enough ghee on the palm, take lemon sized dough and shape it in to peda. You can make some impressions using fork and garnish with pistachio.
Quick sweet, milk peda is ready to relish.

Notes

As milk powder and condensed milk are sugar loaded, additional sweetness is not required.
You can add some saffron strands soaked in water to give nice color to the peda.
If you reduce condensed milk, the mixture will thicken soon and it will be sticky to eat.
https://udupi-recipes.com/2016/06/milk-peda-doodh-peda-recipe.html
All the content in this website are © Copyrighted to – Udupi-Recipes