I feel I am creating lovely mango vibes around here through gorgeous mango desserts in this space. Few days back it was Mango kesari that kept me fascinated with and now this overwhelmingly creamy mango vermicelli kheer. Mango is one of the feel-good-about-summer thing that I love to eat, drink and cook in many forms actually.
Vermicelli kheer is a super creamy, diary rich dessert which I was not a big fan of for many years of my life. The reasons are genuine like it has milk and more milk. The milky flavor of desserts doesn't even make appetizing many times. In this food blog life I am hungry for more mouth-rocking-flavors plus texture that I keep overcoming my dislikes in to likes. This delicious mango vermicelli kheer is an evidence for above statement of mine.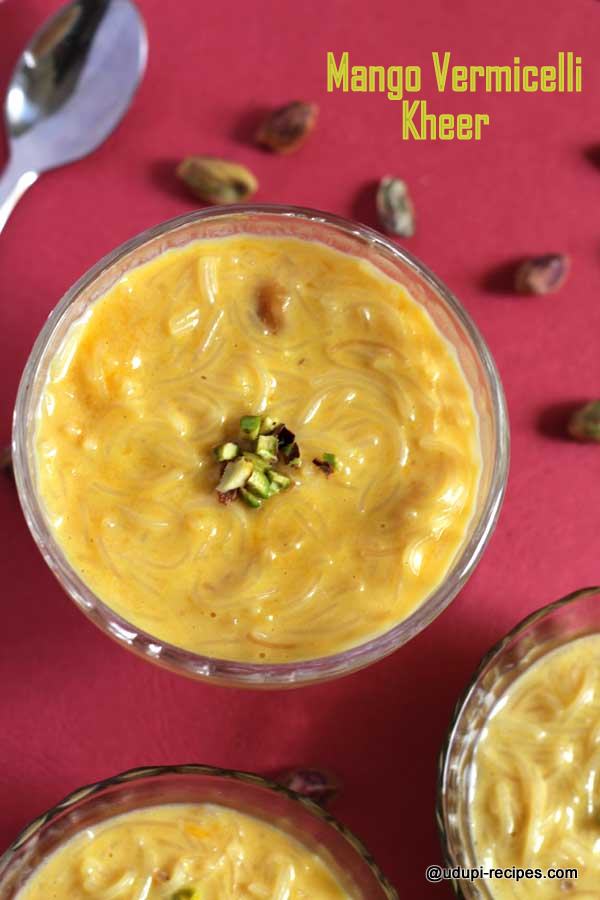 This summer, if you plan making vermicelli kheer as a dessert or as after school snack for children or  as sweet thing offer to guests, I would recommend topping it with awesome mango puree. It takes few minutes more but the end result is uniquely overwhelming. Mango elevates the flavors of kheer to a great extent and over powers the milky-ness.
I like to top my desserts with all possible dry fruits that I can reach out right then. This mango vermicelli kheer has pistachios topping as you can see and it tasted damn good.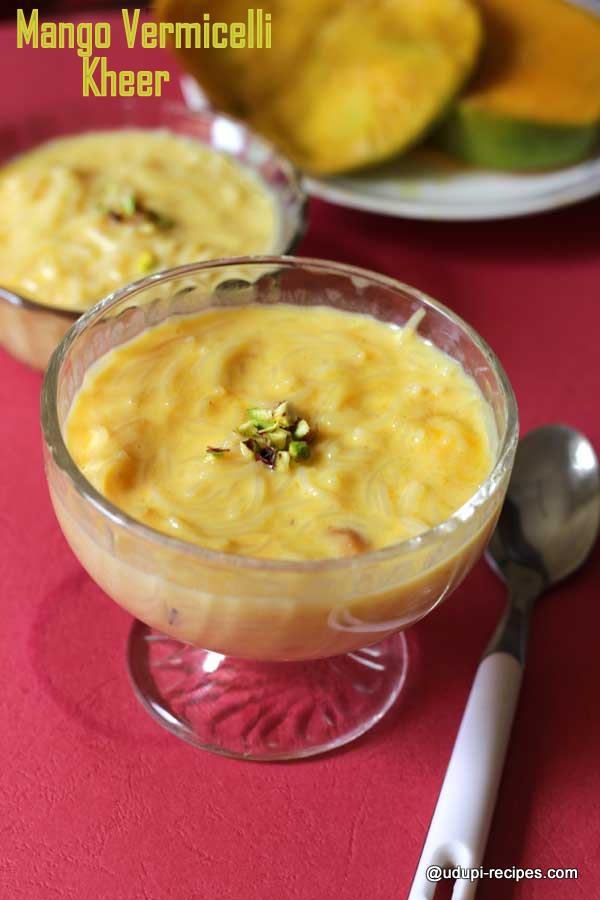 Mango Vermicelli Kheer Recipe
Ingredients
Vermicelli- 1 cup
Sugar- 1/2 cup
Boiled milk- 3 cups
Ripe and sweet mango- 1 no.
Dry fruits(cashews+raisins+pistachios)- Handful
Cardamoms- 3 no.
Ghee-4 tsp
Instructions
Preparation

De-seed cardamoms and powder it finely. Peel off the mango and chop it in to big cubes. Keep them aside till use.

Method

Heat ghee in a cooking pan, as it melts add cashews and roast them till they turn slightly brown. Transfer the cashews on to a plate. Similarly roast the raisins too till they puff up. Add vermicelli to the same pan and roast them in remaining ghee for few minutes.
Next add 2 cups milk and cook the vermicelli till it turns soft. It will take just few more minutes. When you press a vermicelli between index finger and thumb it will break easily, that is when add sugar and cardamom powder. It will turn watery again, continue cooking till the kheer turns little thick.
Add remaining milk and ghee roasted dry fruits. Let it cook in simmer for a while. Switch off the flame. Next take mango pieces in a mixer and puree it such that there are no lumps in it.
Finally when kheer cools down to room temperature, include mango puree and mix well. Luscious mango vermicelli kheer is ready to serve.

Notes

Adjust sugar according to the sweetness of mango. You can increase it up to 3/4 cup.
The kheer tends to thicken with time, so adjust the consistency by adding warm milk or water.
Do not add mango puree when the kheer is still hot or warm. In that case the milk will curdle and makes the kheer a disaster.
Let the kheer cool down completely to room temperature, that is when you can mix up the mango puree.
https://udupi-recipes.com/2016/02/mango-vermicelli-kheer-recipe.html
All the content in this website are © Copyrighted to – Udupi-Recipes