Healthy breakfast can be no better than steaming some nicely minced batter  in either any pretty mould or plate and kick-starting the day with that comfort food.  Today it's such a magic food that is being posted here,  bottle gourd idli which has the goodness of veggie, has no oil and it's steamed to perfection. And it is cut in to beautifully diamond shaped pieces that is easy to hold and dip in plain coconut chutney for spice kick. Most important of all, this idli doesn't need any fermentation of batter. So steam cook the idli instantly as you are done with batter. It's way too easy!!!
Bottle gourd, although very bland in taste has been known as super food which I always tend to use in chutney, but my little son not even touches a bite of anything that is spicy. As I failed feeding him this vegetable in the form of chutney, I discovered a new way of cooking it like say bottle gourd idli. Also I could make it more appetizing in the shape of diamond. And it's a total WIN.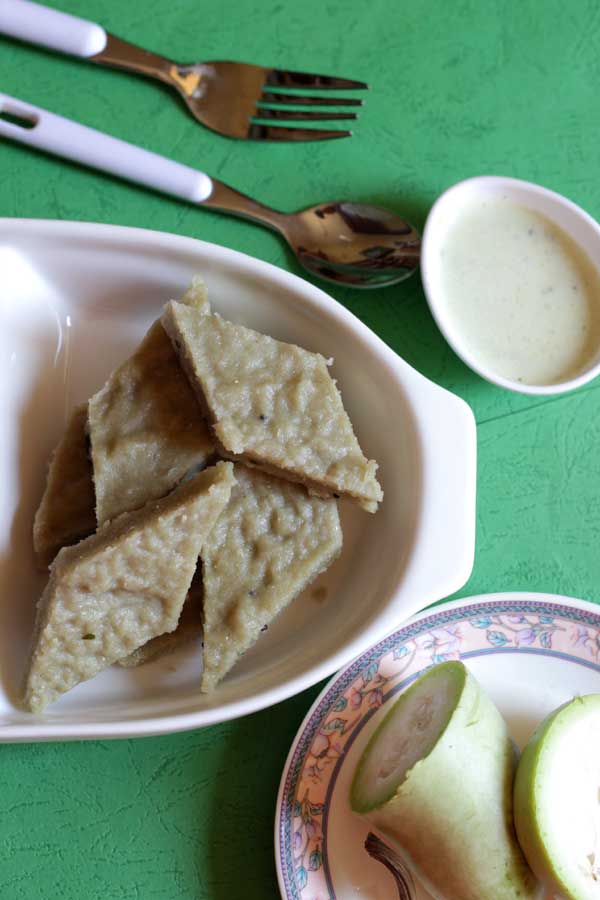 It's probably a situation which every mother goes through in her endless attempt to get her kids fed something healthy and delicious at the same time. Vegetables don't look like vegetables when they are disguised as idli or dosa with attractive shape and filling. Which is why bottle gourd idli and raw banana dosa, both were simply WIN-WIN strategy for a MOM like me. How about you??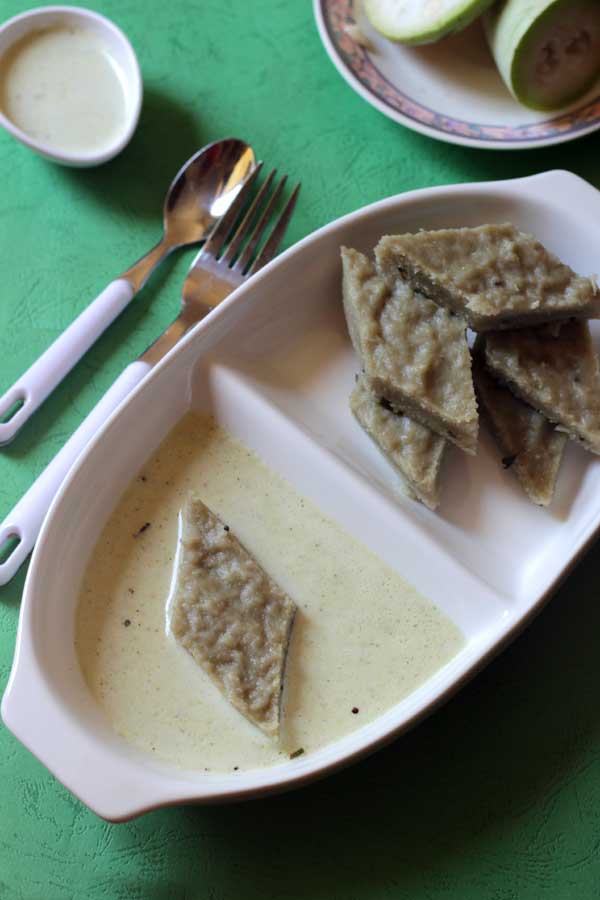 Bottle gourd Idli | Sorekayi Idli Recipe
Ingredients
Dosa rice- 1/2 cup
Bottle goourd- Small piece or 1 cup chopped
Medium rava- 1/2 cup
Salt- 1 tsp
Grated coconut- 1/4 cup

Seasoning ingredients

Oil- 1 tsp
Mustard seeds- 1/2 tsp
Curry leaves- Few
Instructions
Preparation

Wash and soak rice for at least 2 hours.

Method

Peel off the bottle gourd and chop it in to big chunks. Remove the seeds if any.
Take soaked rice, chopped bottle gourd, salt and coconut in a mixer grinder, grind it in to coarse batter. Add half cup of water while grinding.
Next transfer the batter in to a wide bowl and add rava to it. Combine well and adjust consistency to idli batter by adding little water. Prepare seasoning with mustard seeds and curry leaves, add it as well. Pour this batter over a idli plate.
Steam cook the plate idli for about 20 minutes. I have used my pressure cooker itself with first 5 minutes in high flame and rest 15 minutes in simmer. When done, using knife cut in to desired shape.
Bottle gourd idle is ready. Serve it hot with coconut chutney and any sambar.

Notes

Choose tender bottle gourd for this recipe which has no or less seeds.
You don't have to ferment the batter, you can immediately cook the idli.
Seasoning is absolutely optional, you can skip it any way.
If you like savory taste, you can consider adding some green chilli paste too to the batter.
https://udupi-recipes.com/2016/03/bottle-gourd-idli-sorekayi-idli-recipe.html
All the content in this website are © Copyrighted to – Udupi-Recipes