Sometimes I think I probably don't even realize how much of my life revolves around this favorite food group of mine which is awesome in filling morning hungry selves.  Dosa or Indian pancake is one of those recipes that I totally rely on because it assures a nice, relaxed sleep in the night as the batter is ready for the next morning. So my obsession of tweaking, twisting and giving a fancy version to old recipes applies often to dosa than any other.  Raw banana dosa is my new obsession of breakfast that has soft texture, cozy color of golden brown imparted by banana and nice taste.
The beauty of crepes (these ones included) is that they can fold and bend and roll and shape to however you want them to look. And they can hold just about anything. My little son loves to roll them with boiled+mashed potatoes topped generously with tomato ketchup. That is how I pack his tiffin box to the nursery.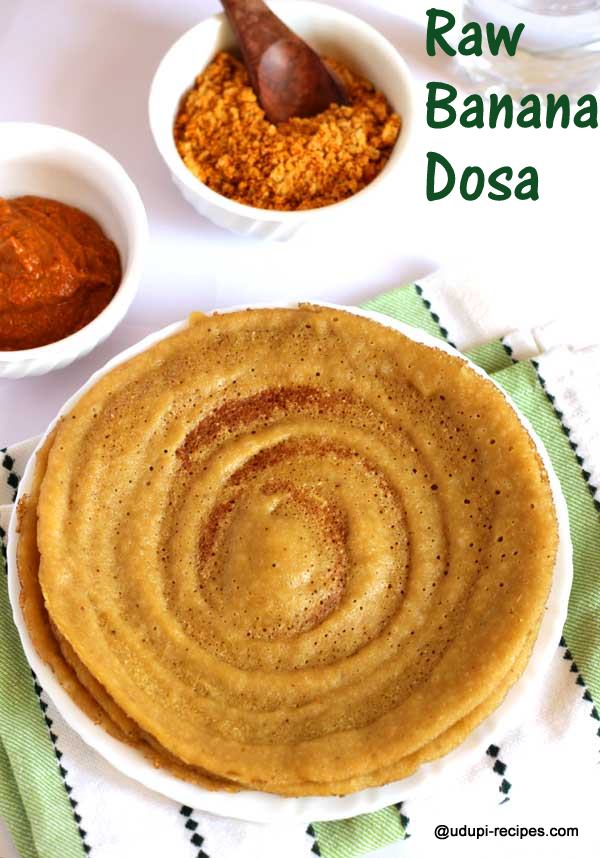 The ease of raw banana dosa is, it never needs FERMENTATION. As you grind soaked rice with coconut and raw banana the batter is ready and you are on your way to instantly spread dosa over griddle. Which is awesome isn't it?? I also make a point here that don't attempt to ferment the raw banana dosa batter anticipating more softer and porous version. You will end up the crepe sticking to the griddle and the spatula wouldn't help in loosening and releasing.
I served raw banana dosa with tomato chutney and peanut chutney powder which was way too delicious but you can pair it with any side dish of your liking.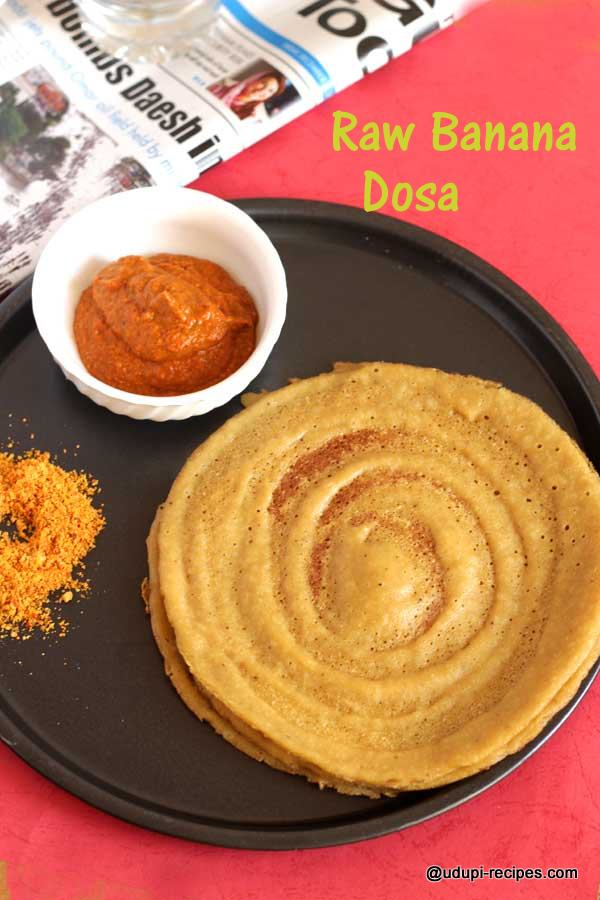 Raw Banana Dosa | Plantain Dosa Recipe
Ingredients
Raw banana (Plantain) large- 2 nos.
Raw rice (dosa rice)- 1 cup
Fresh grated coconut- 1/4 cup
Salt- 1 tsp
Instructions
Preparation

Wash and soak rice in enough water for about 2 hours. Drain the water and keep it ready.

Method

Peel the skin off from raw banana and chop it in to big chunks. Take drained rice, chopped raw banana and coconut in a mixer jar and grind them gether in to fine batter. Add water to obtain the batter of regular dosa batter consistency.
Heat a dosa griddle and pour a ladle full of batter on it. Using the back of ladle spread like dosa and cook it covering with lid. It's not necessary to flipping it over to cook the other side.
When the dosa gets cooked, using flat ladle loosen the edges and remove it from griddle. Continue with rest of the batter.

Notes

The raw banana dosa batter doesn't require fermentation. You can instantly make the dosa.
While grinding the dosa batter, add water in steps and adjust consistency to regular dosa batter.
If you ferment the batter, the dosa would stick to the griddle and removing would be difficult.
I have used Iron griddle to spread the dosa, you can use non-stick too.
https://udupi-recipes.com/2016/01/raw-banana-dosa-plantain-dosa-recipe.html
All the content in this website are © Copyrighted to – Udupi-Recipes