I am in travel mood, just in few days I am leaving to beloved home land to spend vacation. It is that time of the year when Udupi-recipes household is busy running like a headless chicken, excited and thrilled, nevertheless searching, shopping, dusting, cleaning, packing and more packing.  I feel like I am running a long marathon at record speed making sure everything is in order.
Unscheduled power cut at my home town reminded me of posting some side dish that can rescue a housewife and can be a quick fix during busy morning hours. If you have flavorful peanut chutney powder or chutney pudi in stock, then pairing it with Idli or Dosa  and serving the breakfast would relax you from power cut  tension. This chutney podi prepared with peanuts  along with few spices can be stored for a month or two, but trust me it comes very handy when you don't have an accompaniment.  In this peanut chutney powder recipe, though peanuts act as main ingredient, roasted gram, copra, sesame seeds add unique flavor of their own making the pudi a flavorful affair. Jump on to the peanut chutney powder now.
You can check lentil chutney powder recipe too.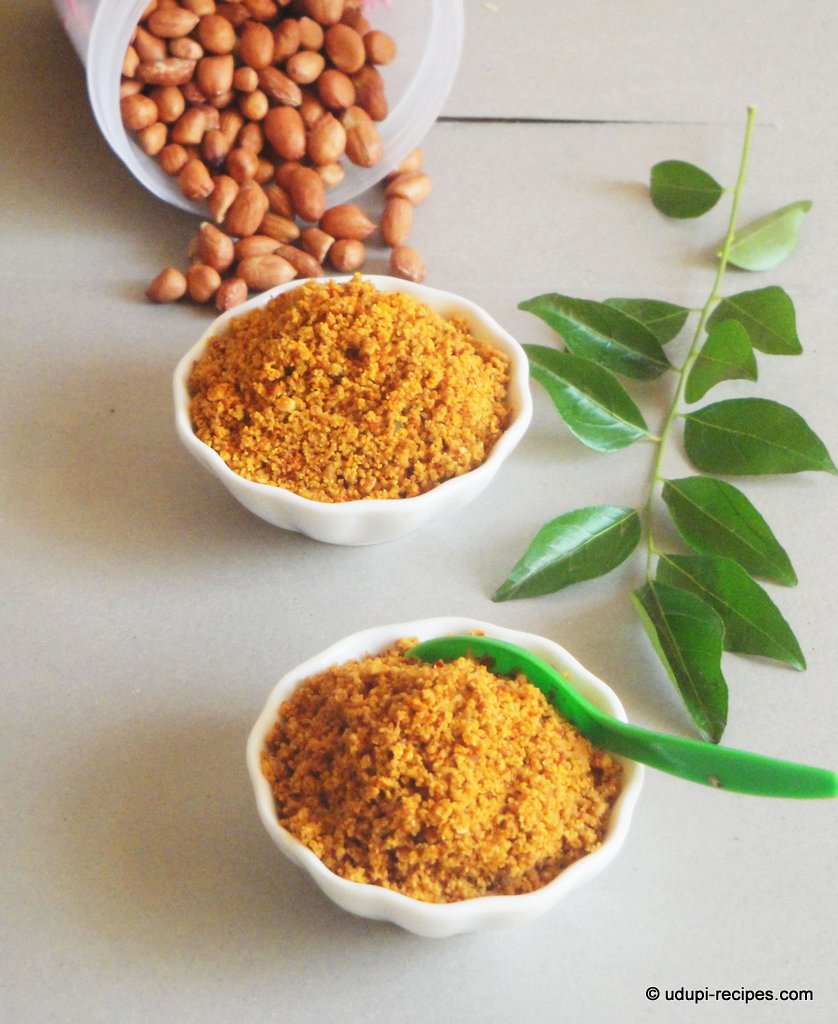 Peanut Chutney Powder Recipe | Idli, Dosa Side Dish
Ingredients
Peanuts- 1 cup
Roasted gram- 1/2 cup
Red chillies- 7 to 8 no.
Sesame seeds- 2 tsp
Grated copra-2 tsp
Tamarind- marble sized
Jaggery- 1 tsp(optional)
Salt- 1 tsp
Curry leaves- few
Cooking oil- 2 tsp
Instructions
Method

Heat a wok and dry roast peanuts till they peel off or till brown spots appear on them. Transfer to a wide plate.
Now in the same wok add roasted gram. Just warm them for a while and remove from heat.
Now add copra and sesame seeds one after the other and roast them till they turn slightly brown. Finally add some oil and roast red chillies along with curry leaves. As the red chillies puff up switch off the flame. Let all the roasted ingredients to cool down.
Include all the roasted ingredients along with jaggery, salt and tamarind in to mixer jar and grind in to fine powder.
Peanut chutney powder is ready, store it in airtight container and serve as a quick side dish with Idli or dosa topped with ghee or oil.

Notes

Many alternatives are possible like replacing copra and sesame seeds by a tea spoon of cumin seeds. Cumin seeds give unique flavor to the chutney powder.
Jaggery is optional, you can make spicy chutney powder without adding it too.
This chutney powder is mildly spiced, you can adjust to your taste by including few more red chillies.
You can store this chutney powder for a month.
https://udupi-recipes.com/2014/06/peanut-chutney-powder-recipe-idli-dosa-side-dish.html
All the content in this website are © Copyrighted to – Udupi-Recipes
Meet you all with one more interesting recipe. Till then bye.