It's too obvious because it's a post-festival meal and it has very basic and very simple menu. According to me simple meal at any time includes rice+rasam+a veggie stir fry and it's a feel good meal for me and my family. The timing of this post is very appropriate as I am basically dying to comfort myself with some vegetable goodness after the last few days of living FESTIVE life.
So which is that vegetable that I am bringing in to??  It is this => huge and white ash gourd. Let me pause for while and think… which was my last ash gourd recipe in this blog space? It ways back to year 2012. Oh my gosh. Let me warmly welcome ash gourd stir fry in to my blog life then.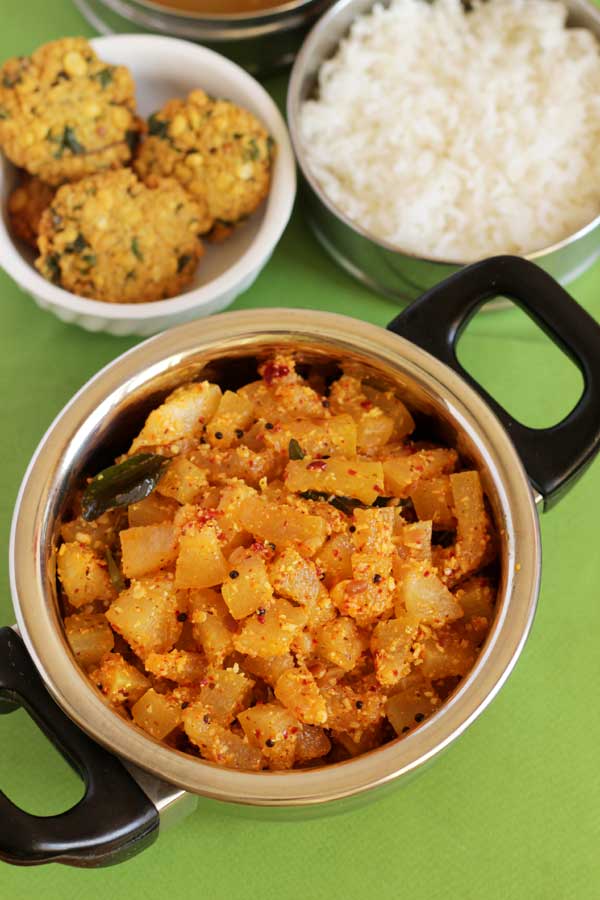 This one is authentic Udupi style recipe that has coconut, mustard seeds and red chilly masala. The peeled, cubed ash gourd is cooked till soft in the normal seasoning with salt and jaggery included. Finally it is topped with coconut masala. The ash gourd stir fry, hence prepared has unique taste and looks gorgeous enough to gulp over.
Though we relished this simple and comforting meal today, in the pictures it's been propped with left over festive snack masala vada that reflects my festive food life.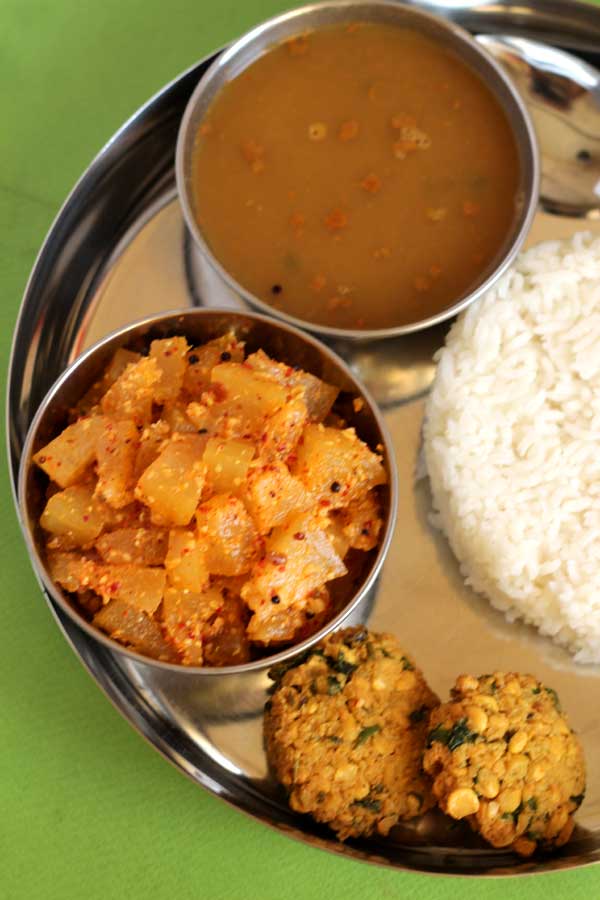 Ashgourd Stir fry | Ashgourd Palya in Udupi Style
Ingredients
Ashgourd - Half piece of big one
Jaggery powder- 2 tsp
Salt- 1 tsp
Green chilly- 1 no.
Coconut- 1/4 cup
Mustard seeds- 1/2 tsp
Red chilly- 1 no.

Seasoning ingredients

Cooking oil- 2 tsp
Mustard seeds- 1/2 tsp
Split black gram lentils- 1/2 tsp
Curry leaves- Few
Instructions
Preparation

Peel off the ashgourd skin, scoop out all the seeds and chop it in to 1" length pieces.
Heat a pan adding oil, mustard seeds, black gram lentils and curry leaves. Saute till the mustard seeds crackle. Then add chopped ashgourd pieces, salt, slit green chilly and jaggery. Stir and add 1/2 cup of water and let it cook in medium flame.
Meanwhile put coconut, mustard seeds and red chilly in to mixer/blender and grind it coarsely without adding water. When the ashgourd pieces turn soft, pulpy include the coconut-mustard masala and combine very well. Put off flame after few minutes.
Ashgourd stir fry is ready to serve as a side dish with rice-rasam combo.

Notes

Do not add too much water to cook the ashgourd pieces, because the veggie also oozes some water.
It is advisable to add coconut masala only when the ashgourd pieces turn soft and pulpy.
Do not add more mustard seeds to coconut masala than recommended. Because it may turn the taste towards bitterness.
https://udupi-recipes.com/2016/01/ashgourd-stir-fry-ashgourd-palya-in-udupi-style.html
All the content in this website are © Copyrighted to – Udupi-Recipes