These big bowls of peas pulao meal can be healthy eating at its easiest and most approachable one I suppose. But in my real life it's too late to discover the said fact. You know when you get a cookbook and the recipes look too delicious but probably you never make any of them. Has it ever happened to you?? No?? Most often this is the truth of my life. In my last vacation to India, I happened to purchase a cook book that has only pot meal recipes but which is some how escaped under so many other cookbooks. Sad fact of life 🙁 .
As I woke up this morning with all the grateful feelings in me for whatever I am blessed with, I walked in to kitchen with some one pot meal recipe in mind. As I opened the refrigerator it's a packet full of fresh green peas that welcomed me, simultaneously back in my mind it was the one pot meal cookbook that flashed up. I thank that moment which ended up searching the book that in turn lead to such a mild and delicious peas pulao recipe recreation.
This fresh peas pulao is very less in spice but it has strong flavors of dry spices without any onion and garlicy smell. I love fresh peas so much that a rice bowl topped with cute green peas all around brought a glow in me with happiness. Next it is your turn to have that glow on your face…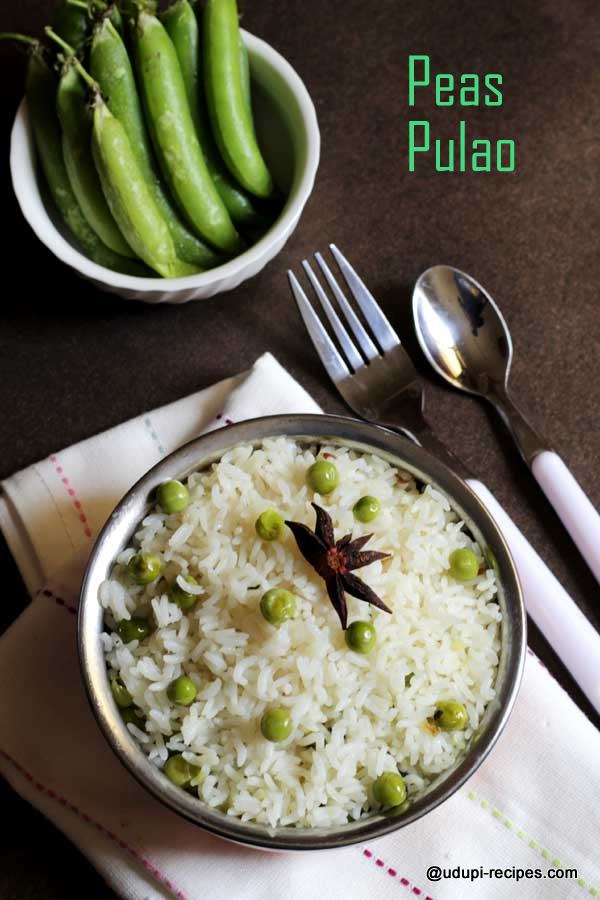 Ingredients
Uncooked rice- 1 cup
Fresh peas- 3/4 cup
Mint leaves- 1/4 cup
Ginger- 1" piece
Green chillies- 2 no.
Salt- 1 tsp

Seasoning ingredients

Cinnamon - 2" long
Cloves- 6 no.
Star anise- 1 no.
Black cardamom- 2 no.
Bay leaf- 2 no.
Cooking oil- 4 tsp
Instructions
Preparation

Soak rice for half an hour and drain the water. Keep aside till use.

Method

Coarsely crush the ginger and green chillies together using mortar and pestle. Chop the mint leaves roughly and keep aside. Heat a pressure cooker adding cooking oil and all the seasoning ingredients.
As the cloves start to puff up, include crushed ginger and green chillies. Saute for a while and throw in chopped mint leaves. As they wilt add fresh peas and stir for a minute.
Next add drained rice, 2 cups of water and salt. Pressure cook for 3 whistles in medium flame and switch off. When the pressure subsides naturally, open the lid and fluff.
Mild spiced peas pulao is ready to serve with any raita of your choice.

Notes

If you like to kick up the spice, you can include black pepper too.
Mint leaves give very nice flavor and taste to this pulao. So do not skip it.
I have used normal Sona massori rice, you can use basmati too. In that case you may need little 1.5 cups of water.
https://udupi-recipes.com/2016/03/peas-pulao-recipe.html
All the content in this website are © Copyrighted to – Udupi-Recipes