Little sweet things of morning joy => Milk powder chocolate fudge. If you are a person who fascinatingly love milk flavored sweet things then this fudge is definitely a boon for you. You don't have to spend 3+ hours of precious kitchen time stirring the ricotta with a sheer enthusiasm to transform it in to something adorable like dharwad peda. Seriously, you can make these yummy fudges in a jiffy, like just within 15 minutes.
This soft milk powder chocolate fudge allowed me my first experience with the mystical ingredient that is MILK POWDER itself. I had never even used it in cooking so far. I could now imagine the texture and flavor it can impart to any sweet in which it is part of.  The essence of cocoa powder in this recipe is to give beautiful color to the fudge which would otherwise turn plain, milky white. You can even double it up for darker shade.
Pistachio sprinkled milk powder chocolate fudge was overwhelmingly delicious, melt in mouth with few bites of nuts actually feeling between the teeth while eating.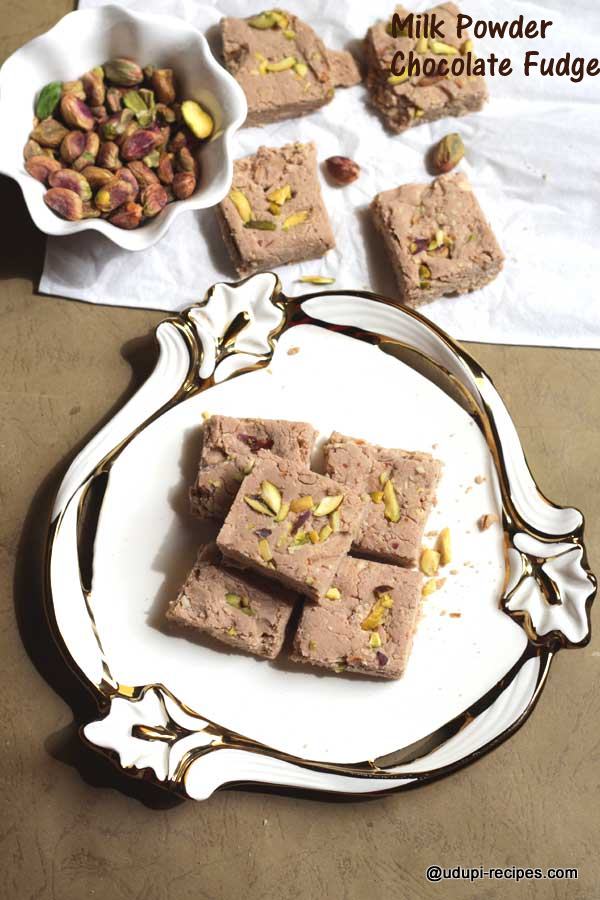 Milk Powder Chocolate Fudge Recipe
Ingredients
Milk powder- 1 cup
Cocoa powder- 1 tsp
Sugar- 1/2 cup
Cashews+Almonds- 1/4 cup
Ghee- 4 tsp
Pistachios - Handful for garnishing
Instructions
Method

Chop the pistachios in to thin slices lengthwise and keep aside. Take cashews and almonds in a mixer jar and grind them together to a coarse powder.
Heat a pan with sugar adding water till the immersing level. Let the sugar dissolve completely and cook till you obtain one string consistency. Swipe your index finger over ladle and check if it forms one string between index finger and thumb. If so, switch off the flame.
Include milk powder, cocoa powder, ghee and powdered cashew plus almonds. Stir vigorously and combine everything well.
Heat this mixture again for few more minutes till it forms mass. Transfer it over ghee greased tray, sprinkle chopped pistachios and level it up using a flat spatula. Then using sharp knife mark pieces and let it cool down completely.
Milky flavored chocolate fudge is ready to relish as an easy sweet thing.

Notes

You can even powder the cashew plus almonds finely. But I like the bits of these dry fruits while eating, so powdered coarsely.
Switch off the stove before mixing all the ingredients with sugar syrup. It ensures uniform mixing of all the ingredients.
You can increase cocoa powder to 2 tsp for little dark colored fudge.
It may last for a week, mine were emptied in two days.
https://udupi-recipes.com/2016/03/milk-powder-chocolate-fudge-recipe.html
All the content in this website are © Copyrighted to – Udupi-Recipes