Black chickpeas have never been so much delicious to me,  it is this gravy that made me realize how amazing these legume can taste even in it's basic form.  Most of the recipes that I post here get made at least twice: once for real life meal and once for the blog. But every once in a while I get a recipe that sticks around for longer than average because it is either A) a little bit more tricky to master, or B) so absolutely life changing that it must be made again and again.
This black chickpeas gravy falls in group B, to be specific I made it total of 5 times in last 10 days for breakfast, lunch and even for dinner. It's that good.
My dear readers, I can read your mind. I and you are in the same boat of "NOT HAVING TIME"  stuff in the morning busy hours to whip up an elaborate side dish with chapati. Black chickpeas gravy does not pull any extra minutes of your schedule and comes very handy.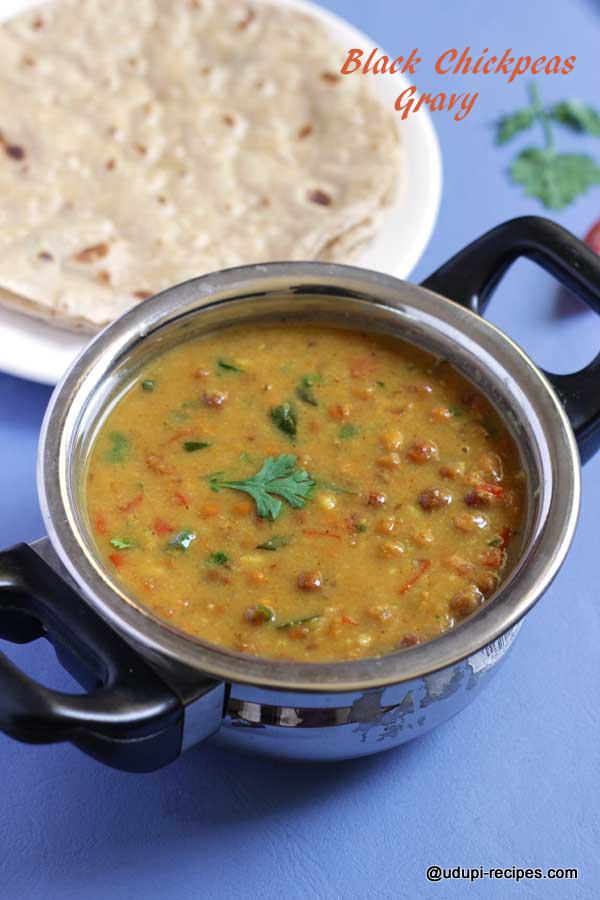 The gravy base is actually gram flour which is sauteed to perfection fading away it's raw smell. And when it is cooked with spices plus water, gravy becomes thicker and thicker  making it more appropriate to pair with chapati.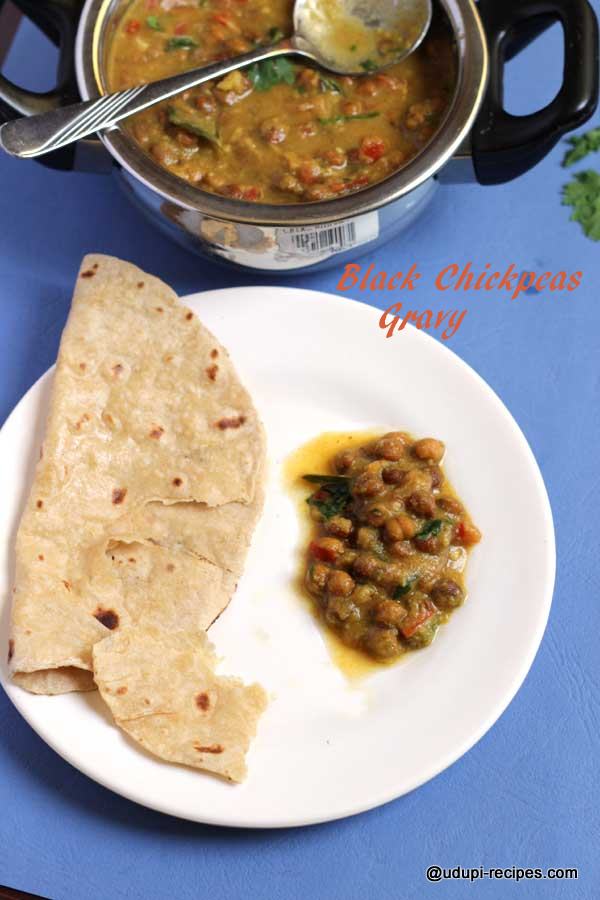 Black Chickpeas Gravy | Kala Chana Gravy | Chapati Side Dish
Ingredients
Soaked Black chickpeas- 3/4 cup
Gram flour (besan)- 6 tsp
Tomato- 1 small sized
Finely chopped ginger- 1 tsp
Red chilly powder- 1 tsp
Turmeric powder- 1/4 tsp
Asafoetida- A pinch
Coriander leaves - Handful for garnishing
Salt- 1 tsp

Seasoning ingredients

Cooking oil- 2 tsp
Cumin seeds- 1 tsp
Curry leaves- Few
Instructions
Preparation

Pressure cook soaked chickpeas till soft. I cooked it for 3 whistles in medium flame and in simmer for about 5 minutes.

Method

Heat a pan adding oil, cumin and curry leaves. As the cumin seeds start sizzling add gram flour and saute it constantly in low flame till the raw smell fades away.
The gram flour would have changed its color by now, include turmeric, salt, asafoetida, ginger and red chilly powder. Combine well. Next pour 1 to 1.5 cups of water and continue stirring the mixture to avoid lump formation.
Chop the tomato in to very fine pieces and add to the gravy. Let it cook and then include pressure cooked chickpeas too. Adjust consistency by adding some more water and continue cooking it for 5 minutes more or till it thickens. Switch off once done. Garnish with chopped coriander leaves.
Very easy and delicious black chickpeas gravy is ready to serve as side dish with chapati and poori.

Notes

Roasting the gram flour till it becomes aromatic and fragrant is very important step. Do not leave unattended at this stage. Because it may get burnt.
Be careful while pouring water, the mixture may splutter. Keep the flame very low with constant stirring.
You can increase the spice by adding few chopped green chilly too.
Do not skip ginger and asafoetida as they add unique flavor.
https://udupi-recipes.com/2016/03/black-chickpeas-gravy-kala-chana-gravy-chapati-side-dish.html
All the content in this website are © Copyrighted to – Udupi-Recipes