This magical stir fry has walked me through the close bond that fenugreek leaves and carrot share with each other, just a while ago. Meaning few days ago. The only way I knew to use the healthy fenugreek leaves in my cooking life till now is either methi rice or dosa. I never even thought of combining the orange beauty with green comfort till now. Seriously it does the magic, carrot fenugreek leaves stir fry is just the right way to whip up a chapati side dish that is sort of dry but it has enough good spice flavors.
This adorable fenugreek leaf is so much fresh, earthy and look so delicious during winter that when I shop vegetables during this time of the year, I go above and beyond my green-leafy-veggie purchase limit. After coming home it's kind of choosing best out of best recipes that match the pile of veggies. Crazy me!!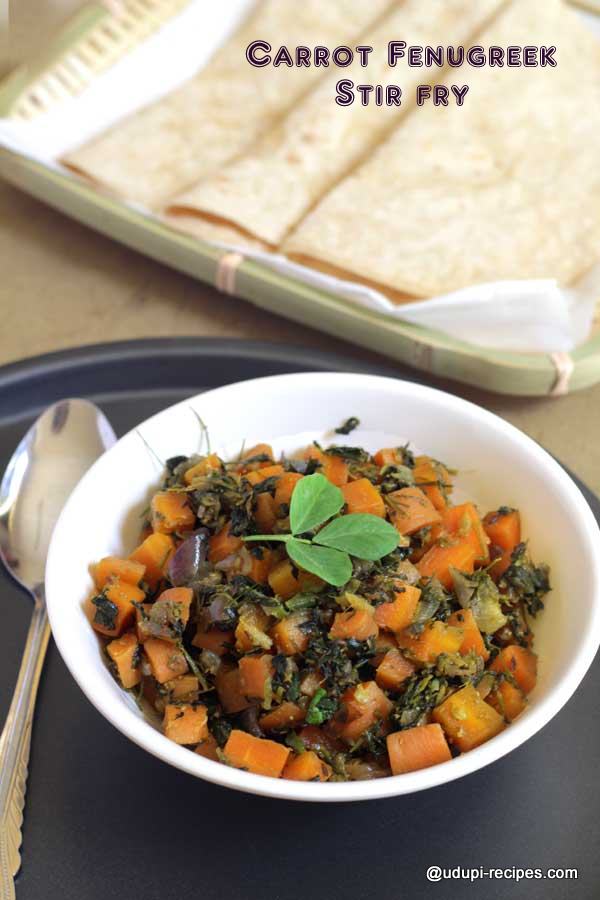 To ensure the harmonious blend of all tastes in carrot fenugreek leaves stir fry, I have coarsely minced ginger and green chillies which is probably too good as we never even have to bite the chilly while eating and feel that hot feeling. The spice powders do add up to the taste but that fenugreek-y flavor is what I loved in this stir fry the most. If you are like me, you too would love it.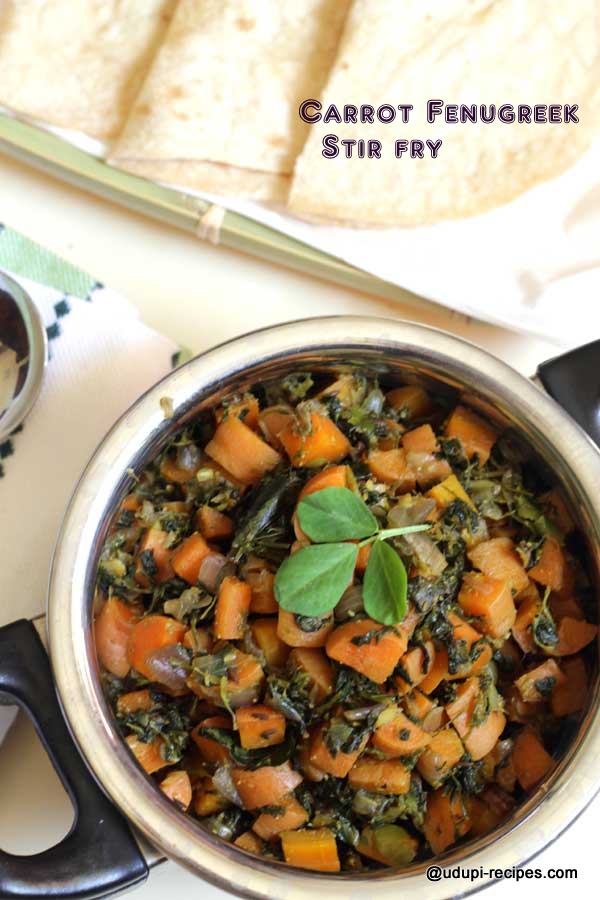 Carrot Fenugreek Leaves Stirfry
Ingredients
Carrot- 4 no.
Fenugreek leaves(separated from stem)- 1 cup
Onion- 1 no.
salt- 1 tsp
Coriander powder- 1 tsp
Cumin powder- 1 tsp
Turmeric powder- 1/4 tsp
Chopped ginger- 1 tsp
Green chillies- 3 no.
Lemon juice- 2 tsp

Seasoning ingredients

Oil- 2 tsp
Cumin seeds- 1 tsp
Curry leaves few
Instructions
Preparation

Wash the carrots under running water and chop them in to medium sized chunks. Chop onion and fenugreek leaves too finely. Prepare coarse paste out of ginger and green chillies. I used mortar and pestle for this purpose.
Heat oil in a pan adding cumin and curry leaves. As the cumin seeds sizzle, include chopped onion, salt and saute till they turn translucent. Then include carrot chunks and ginger plus green chilly paste.
Next, include fenugreek leaves and sprinkle some water. Let it cook in simmer till carrot chunks are soft. Finally add coriander, cumin and turmeric powders. Combine well and switch off.
Healthy carrot fenugreek stir fry is ready to serve as side dish with chapati or roti.

Notes

You can do variations like adding some finely chopped garlic and garam masala powder. But I find this version is apt for my taste.
The fenugreek leaves ooze water while cooking, so do not too much water. That will make carrots overcooked and mushy.
You can increase quantity of fenugreek leaves too to make it more healthier.
https://udupi-recipes.com/2016/02/carrot-fenugreek-leaves-stirfry.html
All the content in this website are © Copyrighted to – Udupi-Recipes