This methi (fenugreek) pulao is all about fragrant basmati rice, fresh tender methi leaves, cashew nuts, fresh home made coconut milk and all the warm spices. A plate of hot, fragrant, comforting one pot meal methi rice along with cool cucumber salad in the middle of summer is a real food magic in your mouth. The fluffy rice gets lots of deep flavor from fenugreek leaves and warm spices at the same time wonderful texture from coconut milk and cashews.
Essentially what this Methi Rice deliciousness is all about starting just 30 minutes early,  then cook it and love it and smell it and simmer it and then heap it on a plate to devour till you are full.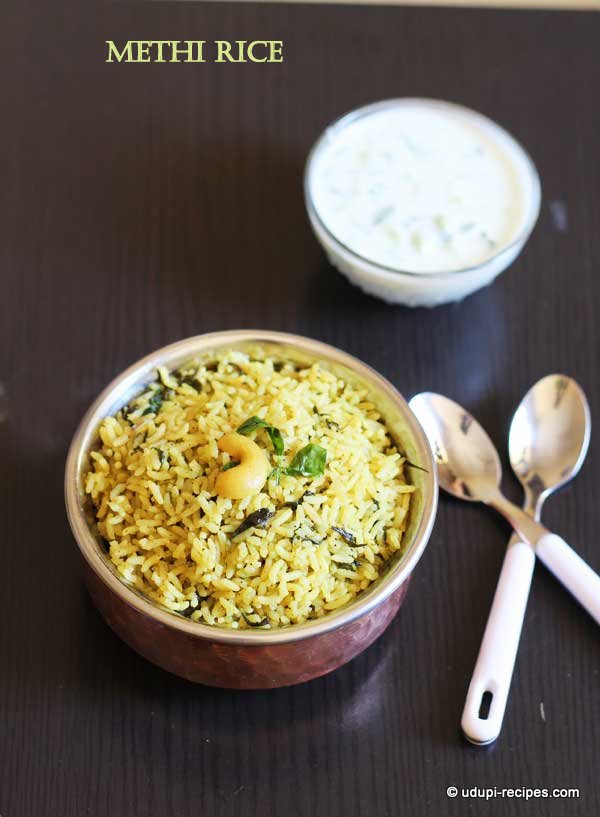 Unlike the traditional vegetable pulao,  methi pulao stands out as it is cooked in coconut milk and the rich taste thus obtained can never be compensated with water alone. The kick of rich taste is also due to pureed cashews along with spices and coriander leaves. In a pressure cooker with some dry spices seasoned, onion sauteed, the fragrant basmati rice is cooked in cashew puree plus coconut milk. That is when aroma of methi pulao just wafts your kitchen.
Save this recipe for weeknight when you have time to bop in and out of the kitchen- a stir here, a simmer there and you will be rewarded with this beautiful, flavorful dinner. You can also pack this in lunch box to working self or to your school going kids. As a travel food also methi rice is a winner. So thumbs up to this recipe.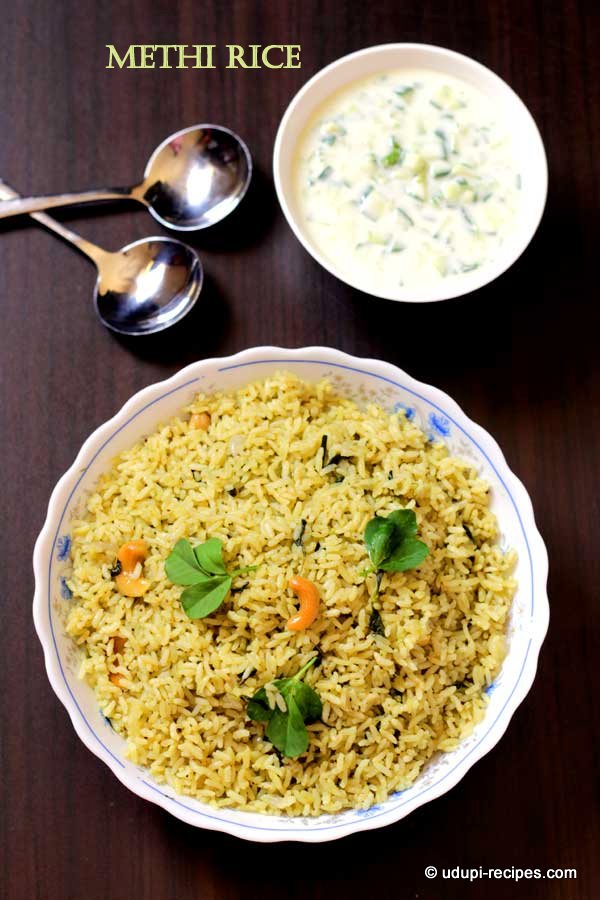 Methi Rice | Methi Pulao Recipe
Ingredients
Basmati rice- 1 cup
Methi (Fenugreek) leaves- 1 bunch
Onions- 2 nos.
Coconut milk- 1 cup
Salt- 1 to 1.5 tsp
Turmeric powder- 1/2 tsp

To grind

Coriander leaves- Handful
Ginger- 2" piece
Garlic cloves- 6 pods
Cashews- 6 nos.
Cinnamon- 2 pieces two inch each
Green chillies- 2 nos.
Cloves- 6 nos.

Seasoning ingredients

Cooking Oil or ghee- 6 tsp
Cinnamon - 2 pieces
Cloves- few
Cashews- Handful(optional)
Bay leaf- 1 no.
Instructions
Preparation

Wash the fenugreek (methi) leaves thoroughly with enough water, chop them and set aside. Peel off the onions and cube them in to medium sized pieces. Keep it ready.

Method

Add all the ingredients under "*To grind*" list in to a blender and puree it adding water as needed.
Wash and drain the rice with enough water and keep this ready. Heat a pressure cooker adding oil followed by cinnamon, cloves, cashews and bay leaf. When the cashews turn little brown then include cubed onions and saute for few minutes. As the onions turn translucent mix in chopped fenugreek leaves and continue sauteing.
As the fenugreek leaves begin to wilt, add the turmeric powder and ground spice puree from step1 and combine it well.
At this stage include the drained rice and mix. Finally add 1 cup coconut milk, 1 cup water and salt.
Close the pressure cooker with lid and let it cook for 3 whistles in medium flame. Switch off and as the pressure releases carefully fluff the methi rice without breaking the grains.
Flavorful and healthy methi rice is ready to serve with any raita.

Notes

Do not use the stems of fenugreek leaves which may give bitter taste to the rice. Fresh, green and tender leaves always result in aromatic rice.
I recommend the use of coconut milk in methi rice which not only gives rich taste but also the good texture.
I have used home made coconut milk but you can use store bought one too.
You can easily remember the ratio of rice to coconut milk to water as 1:1:1.
Fresh peas can also be added to this methi rice to make it more healthy.
https://udupi-recipes.com/2015/05/methi-rice-methi-pulao-recipe.html
All the content in this website are © Copyrighted to – Udupi-Recipes