It's Thursday…A last post prior to weekend which probably should have been posted late evening today is almost delayed by five long hours. My blog post timing usually falls late afternoon when I get rid of all house hold chores, kids feeding and blog cooking. I would get four to five afternoon hours for self during which you would find me facing computer with my so called beautiful space udupi-recipes. Today I couldn't resist myself taking a baby nap in the middle which dragged my blog post till late night.
Khara bath – you can call it as a staple food, a quick feed for a real hungry person or anytime ready to go food. It's loaded with lots of vegetables and full of vangi bath flavors. I know there are many who hate this seasoned rava cooked with or without vegetables. Khara bath or upma haters are all around. But in my world, this can happen at any day of week or at any time of the day.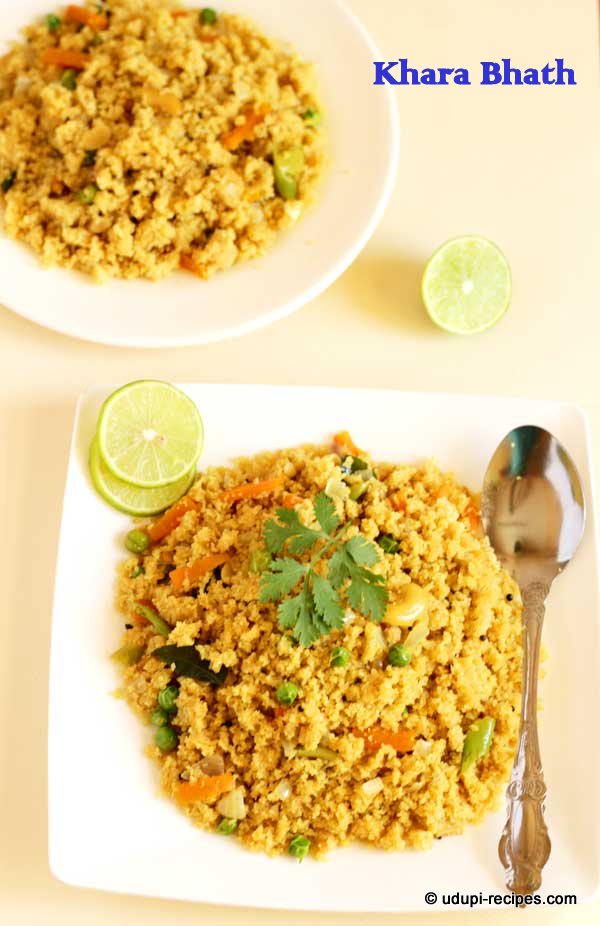 We are truly upma lovers here, whenever I run out of dosa, idli batter, or find shortage of rice for dinner my quick fix would be this awesome khara bath. No one in my family has ever raised any issues against this quick fix.
Khara bath is a simple seasoned sooji/rava cooked with lots of oil and lots of vegetables. Did I mention lots of OIL?? Hm…It's bit healthy and bit unhealthy too. Unless you use enough oil while cooking this upma you will end up sticky and gooey khara bath. The texture and the fluffiness depends heavily on how much oil you use and how perfectly you roast the sooji. Lets head ourselves towards the recipe: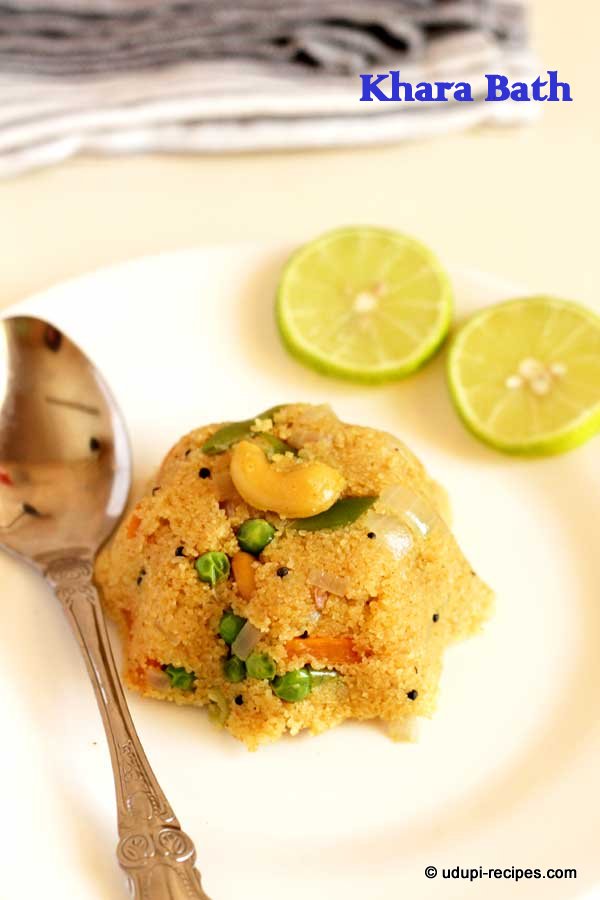 Khara Bath | Khara Bhath Recipe
Ingredients
Medium rava or Bansi Rava- 2 cups
Onions- 1 no.
Carrot- 1 no.
Beans- 5 to 6 nos.
Fresh green peas- Handful
Salt- 2 tsp or to taste
Turmeric powder- 1/2 tsp
Vangi Bhath powder- 4 to 5 tsp
Lemon- 1 no.

Seasoning ingredients

Cooking oil- 8 tsp
Mustard seeds- 1 tsp
Split black gram lentils- 1 tsp
Split chickpea lentils- 1 tsp
Curry leaves- Few
Cashews- Few (optional)
Instructions
Preparation

Wash the vegetables with enough water. Chop carrot and beans in to half inch long pieces. Peel off the onion and cube it in to medium sized pieces.

Method

Heat a pan and dry roast the rava/sooji for 5 minutes or till the rava gets warmed up and becomes aromatic. Ensure sooji is not burnt. Transfer roasted rava/sooji in to a container and keep the pan back on fire. Add cooking oil to the pan, as oil gets heated add mustard seeds, both lentils and curry leaves. Saute till the mustard seeds pop and lentils turn brown.
At this stage add cashews and chopped onions and continue sauteing. As the onion turns translucent, it's time to add chopped carrot, beans and peas.
As the veggies get roasted add 4 cups of water. Now include salt, turmeric powder and vangi bath powder. Let it boil and vegetables get cooked.
When water is boiling, include roasted sooji/rava carefully because rava tend to splutter. Mix well and continue cooking till rava absorbs all water. Finally squeeze lemon juice on khara bath and switch off the flame.
Healthy and vegetables loaded khara bath is ready. Serve it as breakfast or dinner.

Notes

Roasting sooji/rava is an important step which needs to be carried out in medium to low flame stirring continuously. The sooji should be aromatic but never over do it as rava gets burnt.
Chop the vegetables lengthwise and thin so that they get cooked soon.
I always follow 1:2 ratio of rava and water. It may vary with quality of rava, so adjust accordingly.
Do not compromise with amount of oil which turns the khara bath gooey and sticky. Khara bath always demands more oil, no harm even if you use more than suggested.
https://udupi-recipes.com/2015/05/khara-bath-khara-bhath-recipe.html
All the content in this website are © Copyrighted to – Udupi-Recipes