It's time for me to post an awesome quick recipe using another Summer Fruit that is juicy and watery Watermelon. Essentially this is not a recipe that uses pulpy watermelon all in all, instead it uses only the rind part of it. You might have brought home a huge, heavy melon this summer to relish it's sweet, pulpy flesh discarding the rind and skin. Have you ever thought that you can whip up some awesomely quick curries and snacks that incorporates all essentials of rind as well as skin. Certainly it's possible. So never waste the watermelon rind and skin hence forth.
This weekend it was Watermelon day at home, meaning kids enjoyed eating sweet watermelon flesh whereas I put together watermelon rind saasmi which is a comforting, yogurt based curry to devour with rice. Watermelon has taken over my life this summer and inline with that my food magic turned the rind and peel to something delicious.
Watermelon rind saasmi needs you to grate the rind and cook it till soft which may take few minutes, I mean just few minutes.  It is then to grind coconut with mustard seeds and green chillies in to fine puree which in turn gets combined with grated rind, salt plus yogurt. You are there => watermelon rind curry and a deep satisfaction of using something which usually finds it's way to dustbin.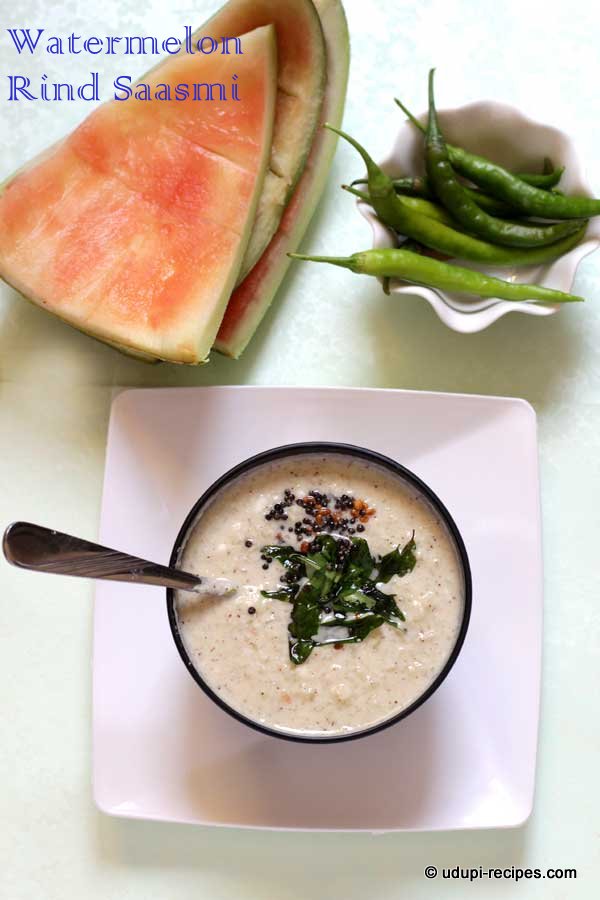 Watermelon Rind Saasmi | Watermelon Rind Yogurt Curry
Ingredients
Grated watermelon rind- 1 cup
Grated coconut- 1/2 cup
Fresh yogurt- 1/2 cup
Mustard seeds- 1/2 tsp
Salt- 1 tsp
Green chillies- 2 to 3 nos.

Seasoning ingredients

Cooking oil- 1 tsp
Mustard seeds- 1/2 tsp
Split black gram lentils- 1/2 tsp
Curry leaves- Few
Instructions
Preparation

After cutting the juicy flesh of watermelon, the thick rind should be grated using a vegetable grater. You need one cup of grated rind for the recipe. Keep this ready.

Method

Transfer the grated rind in to a vessel and cook it in medium flame until done. Let it cool.
Meanwhile grind coconut along with mustard seeds, salt, green chillies and little water to a fine paste. Include cooked watermelon rind to this coconut mixture and run the mixer for a second.
Transfer the mixer content to a boil. Add yogurt to it. Combine everything well.
Heat a seasoning pan add oil followed by mustard seeds, split black gram lentils and curry leaves. As the mustard seeds pop up transfer it to the ready watermelon rind saasmi. You can relish this saasmi with steamed rice.

Notes

Grated water melon after cooking can be added directly to coconut mixture. You can skip grinding it with coconut mixture.
Do not use sour yogurt / curds which may turn the taste towards tangy side.
https://udupi-recipes.com/2015/05/watermelon-rind-saasmi-watermelon-rind-yogurt-curry.html
All the content in this website are © Copyrighted to – Udupi-Recipes