Hello friends… who doesn't like a truly exciting twist in regular, day-to-day cooking which can surprise all family members by taste, texture and color? Nevertheless I always, often, every time would love to do such surprises in my cooking. One such attempt on last weekend resulted in me serving these golden green colored palak puris for lunch to my dear and near ones. My little pre-schooler son was super excited to see them on lunch plate which was a real gift to myself as I didn't have to feed him that day.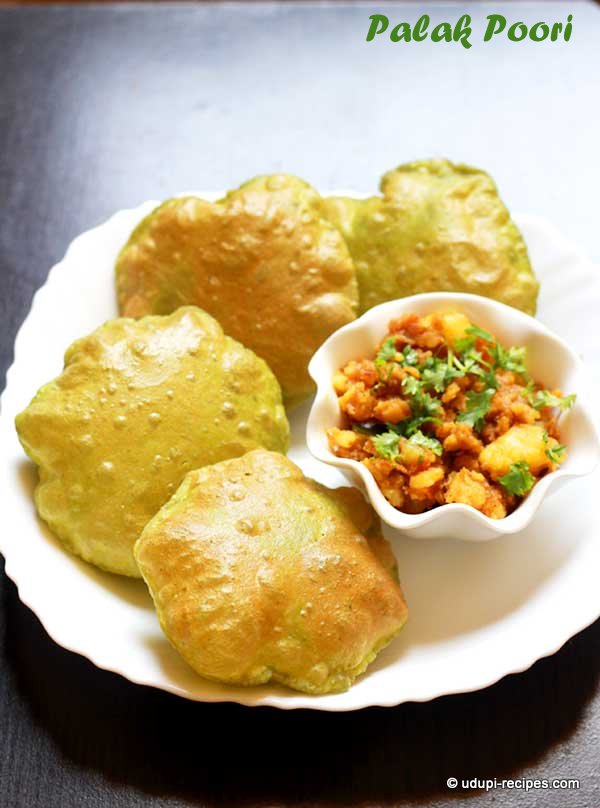 I can state this palak puri as halfway healthy. Healthy because it has nutrients rich spinach (palak) in it, halfway healthy because it is deep fried in oil.  The sauteed palak leaves are pureed then used along with flour of the normal puri making. Actually it is also possible to chop the palak leaves finely discarding the stem and then combining it with puri dough. In both the ways the palak puri looks gorgeous and tasty too.
You can turn spinach puri to HOT and Spicy by adding few green chillies while pureeing the palak. It would be an awesome treat to spice lovers but I was bit hesitant to use green chillies as kids don't prefer eating spice. Breakfast-Lunch and even as snack this palak puri WINS for sure.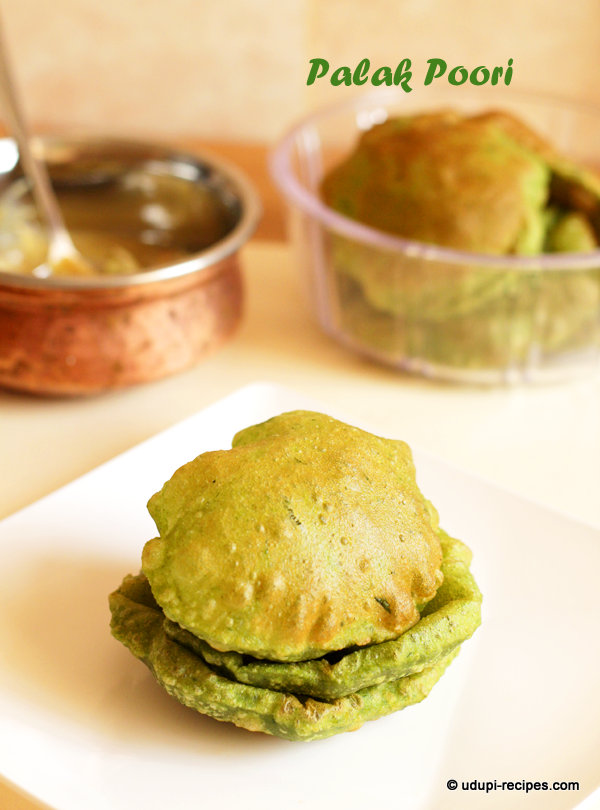 Palak Puri | Spinach Puri Recipe
Ingredients
Wheat flour- 1 cup
Palak (Spinach) leaves- A small bunch
Salt- 3/4 tsp
Cooking oil- enough to deep fry
Instructions
Preparation

Wash the palak leaves under running water and discard the thick stem. Chop these leaves including tender stem and set aside. Heat a pan and add the chopped palak leaves, saute for few minutes till the leaves wilt and shrink. Switch off the flame.

Method

Add the sauteed palak leaves in to a blender and puree them. Transfer the puree in to a wide bowl, add salt and give a quick mix. Then include wheat flour. Combine everything well with your hand, adding water little by little prepare the dough. The dough should be soft and pliable. Let the dough rest for at least 15 minutes.
After resting the dough, knead it again and pull lemon sized dough and shape them in to round ball.
Now take a dough ball and apply little oil. Using rolling pin, roll it in to medium thick discs of 5 cm diameter. Continue rolling the batch of dough balls and arrange them on a plate without overlapping.
Heat a cooking pan with enough oil in it. Check the oil if it's rightly heated by dropping a small pinch of dough. If the dough raises to the surface, then it is right temperature to drop the rolled puri. As you drop the puri it puffs up and then you can turn it to cook other side using slotted ladle. As the puri changes color to brown, remove it from oil and drain on kitchen tissue paper. Continue deep frying all the rolled puris in this manner.
Puffy palak puri is ready to relish as breakfast or evening snack.

Notes

You can add few green chillies also to saute with palak to make spicy palak puri. I skipped it for kids sake.
If you don't prefer the pureed palak, then you can chop the leaves finely and then include it with dough directly without cooking.
I have used oil to roll the puris easily, you can use flour too but the flour makes the oil to discolor while deep frying.
Deep frying the puri doesn't require much time, so I would recommend to roll the puris in batches and then start frying.
https://udupi-recipes.com/2015/05/palak-puri-spinach-puri-recipe.html
All the content in this website are © Copyrighted to – Udupi-Recipes