Green is back. Good green tambli is back on this space which is extra nutritious with all the goodness of drumstick leaves this time. I am a kind of person who always crave for tambli or tambuli as part of summer meal. Summer and this cool, cool rice side dish go inline, I mean it makes your lunch surprisingly delicious when burning heat from SUN is intolerable. And it is MAY now, when SUN is getting HOT-n-HOT day after day. Obviously drumstick leaves tambli gets warm welcome in any household.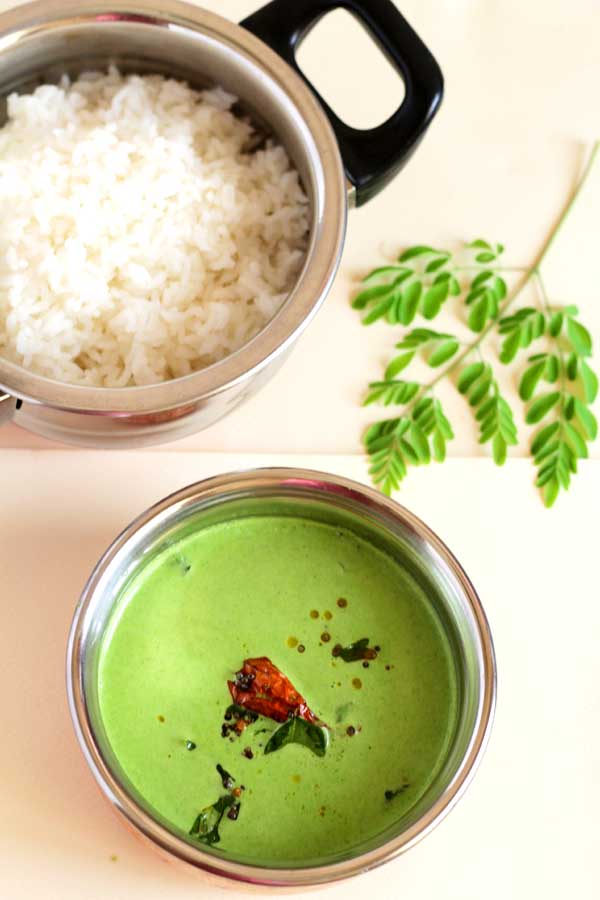 I am quite so lucky to get these drumstick leaves next to my neighbouring house who has grown this plant right in front of  their compound. The fresh, tender drumstick leaves inspired me to cook this tambli for lunch today and I am totally obsessed. It's mild, comforting, cumin flavored and with vibrant green color kids easily get attracted to.
Drumstick leaves tambli – requires minimal ingredients, takes less than 10 minutes and it's healthy. The tiny leaves have proteins  plus vitamins and I have turned them in to an awesome summer specific rice side dish. Recreate this recipe at your kitchen, when it is still SUMMER and relish the benefits.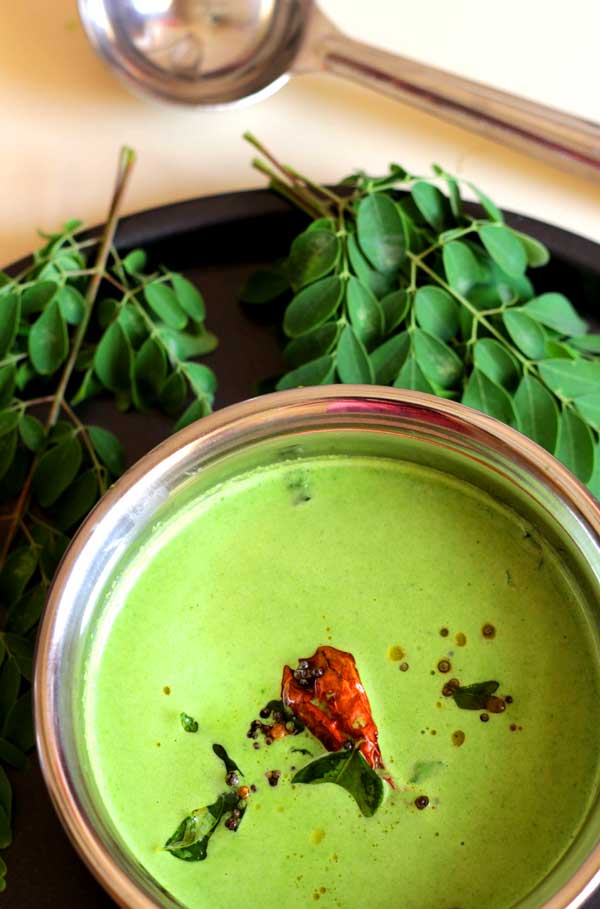 Drumstick Leaves Tambli Recipe
Ingredients
Drumstick leaves - 2 Fistful
Fresh grated coconut- Fistful
Cumin seeds- 1/2 tsp
Buttermilk- 3/4 cup
Green chilly- 1 no.
Salt-3/4 tsp
cooking oil- 1 tsp

Seasoning ingredients

Cooking oil- 1 tsp
Mustard seeds- 1/4 tsp
Split black gram lentil (urad dal)- 1/4 tsp
Curry leaves- Few
Broken red chilly- 1 no.
Instructions
Preparation

Rinse and wash the drumstick leaves until clean. Remove the leaves from thick stem and keep it ready.

Method

Heat a pan with a tea spoon of oil and cumin seeds. As they splutter include drumstick leaves and saute till the leaves wilt. Throw a green chilly in to the pan and switch off.
In a mixer jar add coconut, salt and all sauteed ingredients from above step. Grind all of them together to fine paste adding little water. Transfer the ground paste in to a bowl and combine with buttermilk.
Heat a seasoning pan adding oil, mustard seeds, lentil, curry leaves and red chilly. As the mustard seeds pop transfer the seasoning to tambli.
Nutritious drumstick leaves tambli is ready. Serve it with steamed rice and relish during summer.

Notes

Do not use sour butter milk. Fresh buttermilk always yields good taste.
If you don't have buttermilk, you can use whisked curds too.
You can substitute green chilly by red chilly or few pepper seeds for a change.
https://udupi-recipes.com/2015/05/drumstick-leaves-tambli-recipe.html
All the content in this website are © Copyrighted to – Udupi-Recipes