Summer recipes in a row…hm..that either need any of seasonal fruit like Mango (Remember Mango Lassi) or scorching heat from SUN (Remember Rice Flake Fryums) or just help you to keep yourself cool and hydrated (Remember Tambli).
For all fryum lovers of the world, swirly, milky white fryums that need RICE as the primary ingredient is awaiting to capture your attention. Rice fryums seem so similar to dry, moisture-less lump of rice noodles but as you drop them in hot oil, they bloom up like flower. I am totally a sendige (fryum) lover when it comes to pairing my staple food Rice-Rasam and these rice fryums have won my taste-buds to a great extent.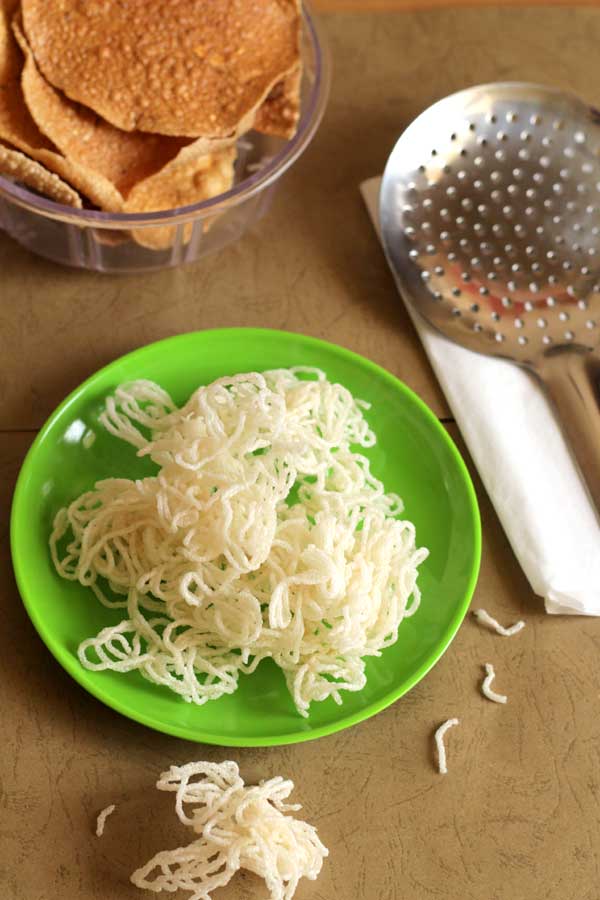 Rice sendige or akki sendige as it is traditionally called is less labour intensive which is one of the reason to be my favorite. It's always good point to start making fryums that call for less work and less time. It hardly takes 30 to 45 minutes minus the soaking time.
The key point to remember is ratio of rice and water which is 1:2. As you grind the soaked rice in to smooth batter and start cooking it, make sure you add water twice the amount of rice. Do not let the pan unattended till the batter turns in to thick dough.  This dough then can be pressed as small lump of swirls on a cotton cloth. Sun drying such swirls of rice for at least 3 days or until brittle can bring you long lasting rice fryums which you can stock for a year and enjoy.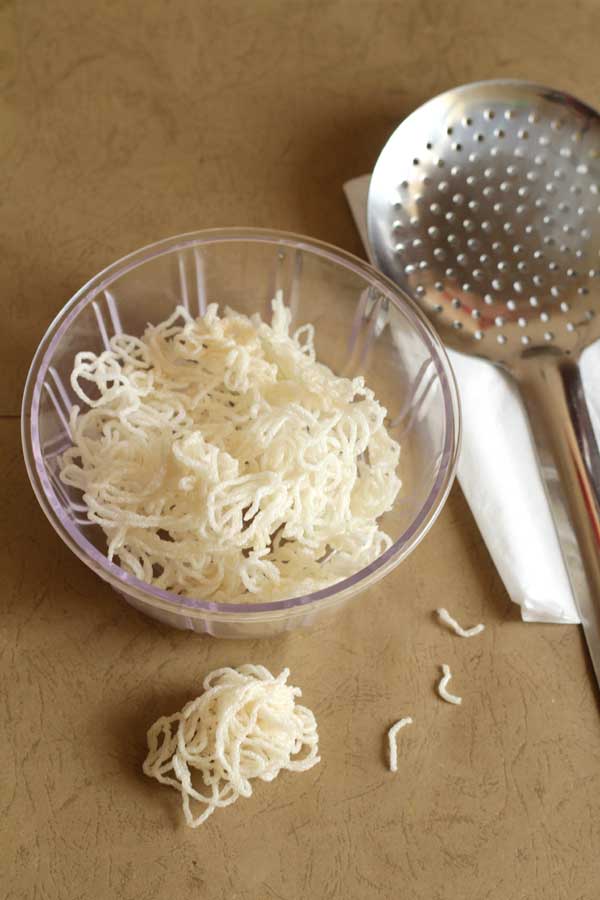 Rice Fryums | Rice Sendige Recipe
Ingredients
Raw Rice- 1 cup
Water- 2 cups
Salt- 1 tsp
Instructions
Preparation

Soak rice in enough water for about 2 to 3 hours.

Method

Drain the water from rice and transfer it in to a mixer jar and grind to smooth batter adding little water.
Transfer the ground rice batter in to thick bottom pan, include 2 cups of water and salt. Cook this batter in medium heat and keep stirring it.The batter turns in to thick dough after some time. Right then turn off the flame.
When the dough is still warm and your hands can bear the heat, put handful of dough in kara sev press. Press this dough in to small swirls on a cotton muslin cloth. Let these rice fryums dry under sun light for at least 3 days.
When they are dry completely, store them in air tight box and deep fry them whenever you want to munch.
Akki sendige / fryums are ready to be relished with rice-rasam.

Notes

The rice to water ratio is 1:2. You need to add water twice the amount of rice.
Do not make big sized swirls which tend to double their volume after deep frying. Let them be small.
Before storing them in box, ensure the fryums are dry, light without any moisture in them.
You can store them for a year and relish.
If you let the fryums rest after deep frying, they may loose crispiness. So it is always better to consume immediately after deep frying.
https://udupi-recipes.com/2015/05/rice-fryums-rice-sendige-recipe.html
All the content in this website are © Copyrighted to – Udupi-Recipes