Lately, I have a new obsession of knowing one's cooking specialties if that person happens to be close enough like this awesome lady Poornima. She is lovely and humorous with her endless punching dialogues. The most important fact that bonds we both is she shares her native place with me. Last weekend I happened to visit her place to witness some memorable moments with the family. That is when this gem of recipe ridge gourd chutney without coconut has been planted in my mind.
This food blog inspired obsession of mine ended up asking Poornima about her unique food that she cooks with passion and love. She narrated this simple rice side dish recipe that eventually got prepared in my kitchen the very next day. Each and every one in my family licked clean the ridge gourd chutney with rice and I forward all appreciation to the recipe source. Thank you.
Ridge gourd chutney with coconut is a very very common rice side dish that most of us known to. But without coconut, this one is really unique. I haven't heard it before. Once known, it's pretty much simpler. The thin slices of ridge gourd are roasted in oil with chillies, tamarind and salt. Without any water, the veggie turns very soft which is then ground and sauteed in seasoning.
While we've been eating this ridge gourd chutney pairing with hot steaming rice and feeling the good feelings, my little son declared it as his new favorite. And I got a new reason to make it happen often.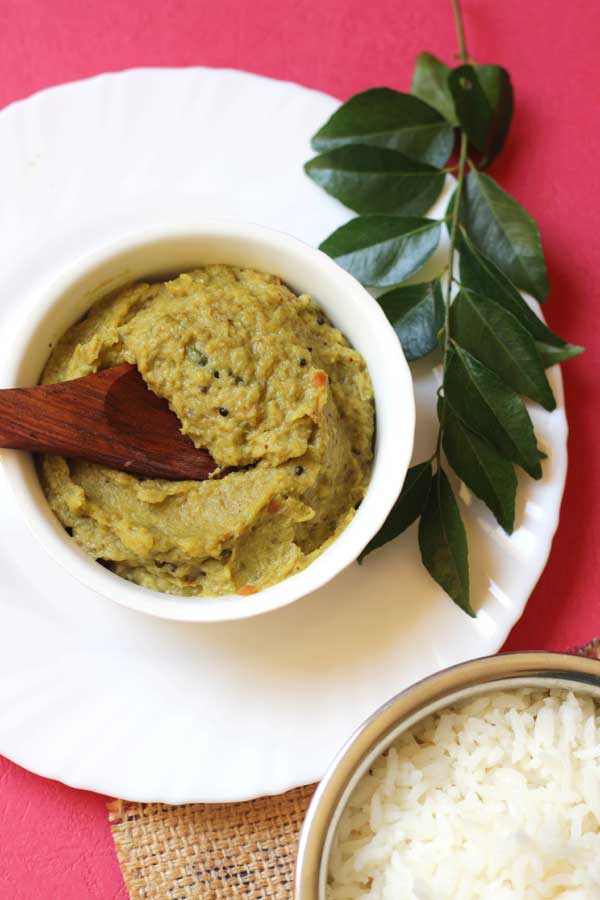 Ridge Gourd Chutney without Coconut
Ingredients
Ridge gourds(medium sized)- 2 no.
Tamarind- big marble sized
Salt- 1 tsp
Green chillies- 2 no.
Cooking oil- 2 tsp

Seasoning ingredients

Cooking oil- 1 tsp
Mustard seeds- 1/2 tsp
Split black gram lentils- 1/2 tsp
Curry leaves- Handful
Instructions
Method

Wash and wipe the ridge gourd dry. Peel the thick ridges using a sharp knife and slice it in to roundels. Heat a pan with oil and add the ridge gourd slices to it.
Saute the veggie for a while and include tamarind, green chillies plus salt. Combine well and let it cook in simmer with lid closed. The slices would turn very soft and pulpy, switch off the flame and let it cool down.
Transfer the oil roasted ingredients in to mixer and grind it either finely or coarsely as per your preferences. Next heat the pan with all the seasoning ingredients added one after the other, as the mustard seeds crackle include ground chutney and saute till it thickens slightly.
No-coconut version of ridge gourd chutney is ready to serve with hot steamed rice.

Notes

Choose the ridge gourds that are tender with seeds being very soft.
While slicing the veggie, taste it and ensure it's not bitter. Some times ridge gourds happen to be bitter which you should discard.
Do not add any water when cooking or grinding the ridge gourd.
As we are not adding coconut the chutney volume wouldn't be more.
https://udupi-recipes.com/2016/02/ridge-gourd-chutney-without-coconut.html
All the content in this website are © Copyrighted to – Udupi-Recipes