Ridge gourd, a fiber rich vegetable helps to overcome constipation and also improves immune system. Ridge gourd palya, Sihi and chutney are popular in Udupi out of all other dishes.Ridge gourd chutney can be prepared in many ways. I have two versions of ridge gourd chutney/heere kayi chutney. Check other version of
ridge gourd chutney
here. Let's see today's version.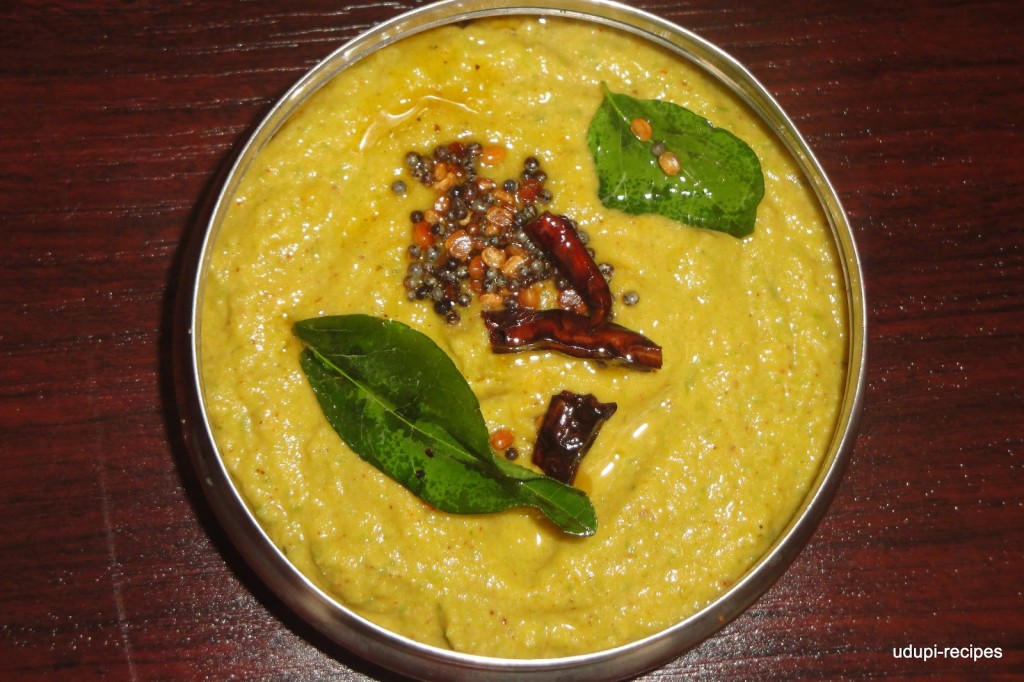 Ridge Gourd Chutney/Heere Kayi Chutney
Ingredients
Ridge courd/heere kayi- 1 medium sized
Grated coconut- 4 to 5 tsp
Red chillies(byadagi)- 2 nos
Urad dal/Split black gram- 1 tsp
Tamarind- A very small gooseberry size
Jaggery- A very small gooseberry size
Salt- 3/4 tsp
Curry leaves- 3 nos
Oil- 1 tsp

Seasoning ingredients

Mustard seeds- 1/2 tsp
Urad dal- 1/2 tsp
Red chilly- 1 no.
Curry leaves- 2 nos
Oil- 1 tsp
Instructions
Preparation

Wash and scrap the ridges from ridge gourd. Cut it in to pieces.

Method

In a vessel add the ridge gourd pieces and little water just to cover pieces. Cook it in medium flame till the ridge gourd becomes tender. Let it cool and keep aside.
In a frying pan add a tea spoon of coconut oil, urad dal, red chillies and curry leaves. Fry all these on medium flame till urad dal turns brown.
In a mixer add grated coconut, tamarind, jaggery, salt, all fried spices from step 2 and grind them finely. Then add cooked ridge gourd to the same and grind it coarsely.
Heat a tampering pan, add a tea spoon of coconut oil, add mustard seeds, urad dal, broken red chilly and curry leaves. When mustard seeds splutter, switch off the flame and tamper on to chutney. Ridge gourd chutney/Heere Kayi chutney is ready to serve. This is simply superb with ghee topped hot rice, Dosa and Idly.

Note:

Ridge gourd must be tender for this dish.
Check the taste while cutting the vegetable, some times tender ridge gourd tastes bitter. Chutney too may taste bitter.
While cooking ridge gourd pieces, do not add too much water as the vegetable too ooze out water.

Other chutney recipes
https://udupi-recipes.com/2012/10/ridge-gourd-chutneyheere-kayi-chutney.html
All the content in this website are © Copyrighted to – Udupi-Recipes
Meet you all with one more interesting Udupi recipe. Till then bye.