When one thing ends, another thing begins. Sometimes ending something hurts, but new beginning is always worth the pain. Soo true.  We can always make a new beginning keeping in mind the lessons that are learnt in the past.  This life is some kind of crazy, it's complicated, hard and busy. When the clouds clear and sun comes out it is pleasant until it swings back to the other way again. But we should never GIVE UP because beauty of life is in motion. Keep moving with your work, relationship, family and friends.
Puzzled!!! Why such philosophy in a food blog???  I love it…Yes.  Such philosophies motivate me towards my destination.
South Indian meals usually include rice as main course along with curries, chutneys, side dishes and stir fries that accompany it. Today it is one such easy rice side dish, tomato chutney that is  getting posted here. Tanginess of tomato, sweet jaggery, salt and spicyness of green chilly blended well, make this finger licking chutney. Let's get back to recipe. You can also check other variation tomato chutney version 1.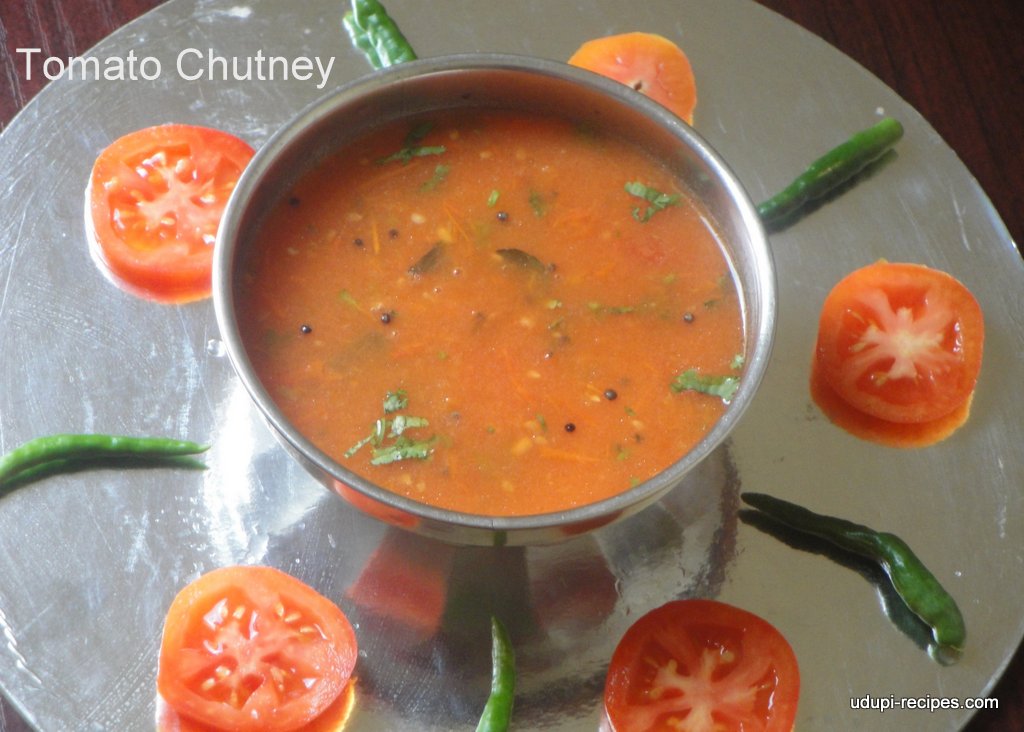 Tomato Chutney Recipe version 2
Ingredients
Ripe tomatoes- 4 nos.
Powdered jaggery- 1 teaspoon
Salt- 1 teaspoon
Green chilly- 1 no.
Asafoetida- chick pea sized
Coriander leaves- few

Seasoning ingredients

Cooking oil- 1 teaspoon
Mustard seeds- 1/2 teaspoon
Split black gram lentil(urad dal)- 1/2 teaspoon
Curry leaves- few
Instructions
Method

Cut tomatoes in to half and cook it in medium flame adding half cup of water.
Add salt, jaggery, green chilly and cook till tomatoes are mushy. Let it cool.
Now add cooked tomatoes to mixer and grind to fine paste. Transfer it to the serving bowl.
Heat a seasoning pan add all the items listed under "seasoning ingredients" list, when mustard seeds splutter add the seasoning to tomato chutney.
Add dissolved asafoetida and finely chopped coriander leaves.
Tomato chutney is ready, serve it with rice or dosa. Best combination for both.

Note:

Due to evaporation of all water, tomatoes may get burnt. Keep checking and add additional water if needed.
Alternatively you can pressure cook tomatoes.
https://udupi-recipes.com/2014/01/tomato-chutney-recipe.html
All the content in this website are © Copyrighted to – Udupi-Recipes
Meet you all with one more interesting recipe till then bye.