How many of you like munching some crispy savory with the plain rice -rasam combo?  I love it, actually I should say without munching murukku or mixture or boondi or kara sev along with rice – rasam, I feel I am lost something.  When your appetite for food is saturated and you get wholesome meal with rice – rasam and kara sev, it is just heaven.  It is truely said "Nothing  other than food can satisfy a human being. "
Kara sev is a easy snack that even beginners can try their hands on. Today I have kara sev recipe that is prepared with besan flour alone, but I have many other versions of it which you can find in this space in coming days. In Udupi feasts this savory is served as side for rice – rasam.  Let's see the recipe.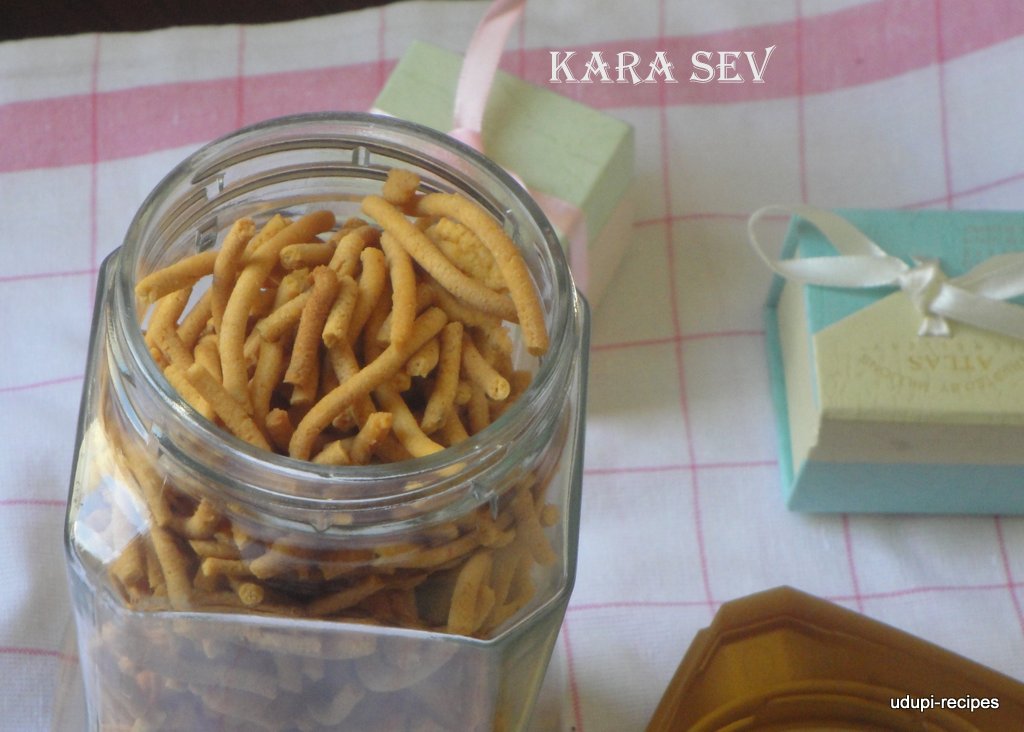 Kara Sev Recipe | Kara Kaddi Recipe | Quick Easy Snacks
Ingredients
Besan flour- 2 cups
Salt- 1 teaspoon
Chilly powder- 1 teaspoon
Ajwain- 1/2 teaspoon
Asafoetida- Chickpea size
Cooking oil - Around 2 cups for deep fry
Instructions
Preparation

Sieve besan flour, crush ajwain coarsely using mortar and pestle.Keep them aside.

Method

In a large bowl add sieved besan flour, salt, red chilly powder, crushed ajwain and dissolved asafoetida. Mix it well first, then adding water little by little make besan flour dough. It will be sticky. The consistency of the dough should be just like chapati dough.
Now keep the murukku press ready, use disc meant for kara sev. The disc will have holes slightly bigger than that of ompudi. There will 15 to 20 holes on this press.Fill the murukku press with kara sev dough.
Heat a pan/Kadai with enough cooking oil for deep frying.When the oil is ready (You can check this by dropping a pinch of dough in to oil, if it raises to the surface immediately, then the oil is ready.) press the kara sev directly in to hot oil. Just press a large circle, do not make layers.
Fry in medium flame till golden brown. Turn over to cook other side too. When bubbles and 'shhh' sound ceases it's done. Remove it from oil and drain on tissue.
Let it be cool, then break it roughly in to pieces. Store it in airtight container.
Kara sev is ready to munch with evening tea.

Note:

If the dough consistency is slightly thinner, then it will drink lots of oil. So the dough consistency is very important.
You can make some variations like adding pepper powder or green chilly paste to the dough. It will make kara sev spicy.
If you are making in large quantity, keep the dough covered with damp cloth to avoid dough getting dried.
https://udupi-recipes.com/2014/01/kara-sev-recipe-kara-kaddi-recipe-easy-snacks.html
All the content in this website are © Copyrighted to – Udupi-Recipes
Catch you with one more interesting recipe. Till then bye.