It's that time of the year when you can witness the golden yellow mangoes at every nook and corner of the fruits section in super markets. Yesterday when I visited a Mall, there were 10+ options of this fruit each labelled with name like Alphonso, Badam, Totapuri with their respective price.  Some brands were already turned yellow, some were still  looking green from outside and some others were already wrinkled and soft.  Closely looking each variety, it's flavor, color and reasonable-ness I had to spend some time choosing the apt one for my recipe and for my taste. It's easy to get puzzled up when tons of choices are in front.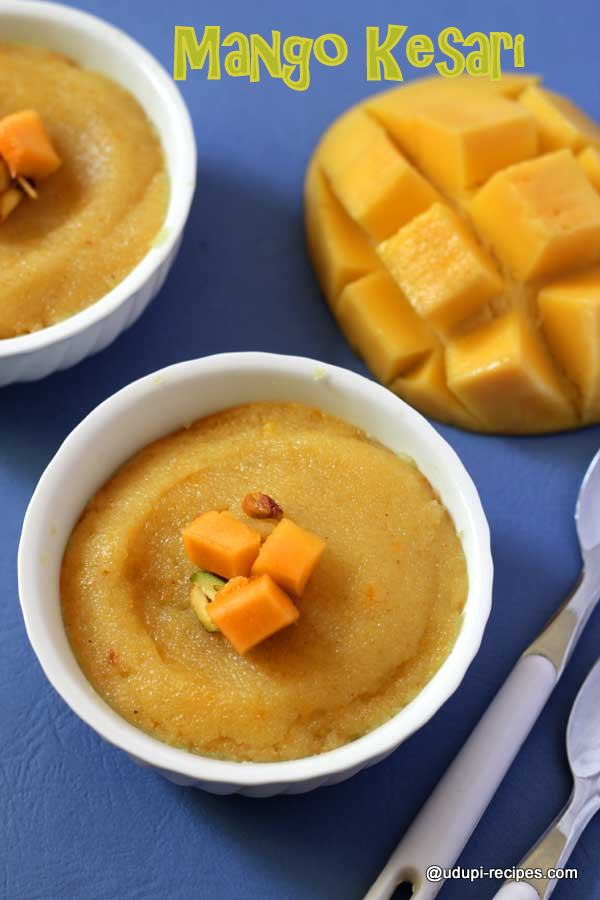 The puzzle didn't stop just there, it continued in choosing a deliciously delicious mango recipe to start this year. Digging deep in my collection, I concluded with mango kesari recipe which is too very simple, fast and yet wonderful to devour. Mango kesari probably known better as mango sheera is a easiest dessert in which semolina (rava) is cooked in mango pulp plus water and then combined with sugar and lots of ghee. Sounds very easy but unless you know the trick, you can easily get messed up in either gooey, sticky Kesari or dry, lumpy one. Let me list down the tricks and tips I have learnt over the years in cooking this awesome dessert.
Mango kesari or any other kesari for that matter requires good amount of ghee.
Roasting the rava to the perfection in low flame is a key, I never leave the pan un-atteneded at this stage.
Unless the rava gets cooked completely in mango+water mixture, you shouldn't add sugar. If you do, sticky kesari is the output.
Mango Kesari | Mango Sheera Recipe
Ingredients
Ripe Mango cubes- 1 cup
Medium rava / semolina - 1/2 cup
Sugar- 1/2 cup
Ghee- 1/4 cup
Water- 1.5 cups
Cardamom powder- 1/2 tsp
Saffron strands- Few(optional)
Dry fruits (Cashews + pistachios)- Handful
Instructions
Preparation

Take mango cubes in a mixer and puree it such that there are no lumps. Soak saffron strands in some water.

Method

Heat half quantity of ghee in a cooking pan and roast cashews in it. When they turn little brown, remove from pan and add rava. Sauteeing constantly roast it till nice aroma wafts out.
Transfer roasted rava from pan and add 1.5 cups of water to it. Include mango puree and soaked saffron strands to the water and bring it to boil. Reduce flame to the lowest and include roasted rava to the boiling water while stirring continuously.
Ensuring no lumps have formed and rava has absorbed all water, add sugar and cardamom powder. Combine well.
As sugar dissolves, the cooked rava turns watery again. Continue cooking till it turns thick. Add remaining ghee and roasted cashews. Combine well. When rava kesari leaves the sides of pan, switch off the flame.
An absolute visual delight mango kesari is ready. Easy dessert and it can make ordinary meal as extra-ordinary.

Notes

Roast rava in low flame taking care it doesn't change in color.
If you like much sweetness in your desserts, add 1/4 cup more sugar. Adjust it as per the sweetness of mango that you are using.
When rava gets cooked well, only then include sugar. Otherwise kesari will turn sticky.
You can also include dry fruits like raisins and almonds to this dessert to make it still delicious.
Choose fiber-less mango for this recipe.
https://udupi-recipes.com/2016/02/mango-kesari-mango-sheera-recipe.html
All the content in this website are © Copyrighted to – Udupi-Recipes