This elephant yam curry (suran curry) has made me walk down the memory lane when I myself used to grow few fresh vegetables at my home garden. Those were the good old days of Mangalore when I had very few square meters of fertile land at the backyard which I turned in to garden to grow vegetables. Though I wasn't very serious and careful in growing, many veggies have been steadily supplied to my kitchen from the so called Garden, to cook wholesome and nutritious meals to my family. It's quite surprising but true.
This idea of growing veggies has begun with curry leaves plant which I found to be mandatory as I used to run out of them while cooking. In my effort to nurture the same, I had to pour kitchen waste along with water which had peels, seeds in it. Eventually these seeds which had to act as compost had begun sprouting, seedling all by themselves. It was a great pleasure watching these tiny creepers, plants growing with flowers and fruits. Very little effort of mine had rewarded me in terms of fresh, organic produce like Mangalore cucumber, elephant yam and  bitter gourd. These were the treasures of my cooking life then.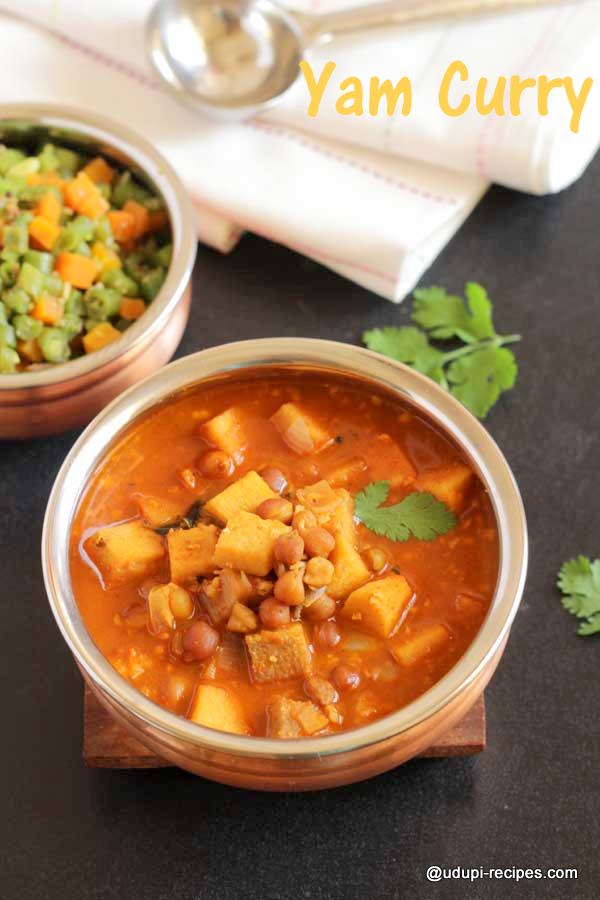 Even here in U.A.E, I try to grow few basic greens and veggies in terrace pots and make my kids to water and nurture them. It gives them a chance to learn an important lesson of life cycle and they  experience a satisfaction that comes from caring for something over a time. Through this,  kids will learn to appreciate the food that is put on their dining table every single day.
Coming back to the recipe, elephant yam curry combined with sprouted chickpeas has no lentils, instead handful of fresh grated coconut is used to thicken the gravy. It's an easy curry where grinding coconut is absent and all veggies are cooked to perfection with tamarind, salt, jaggery and sambar powder.
Less time in kitchen, some leisure time to rest and comfort meal is what you can achieve on the day you cook elephant yam curry.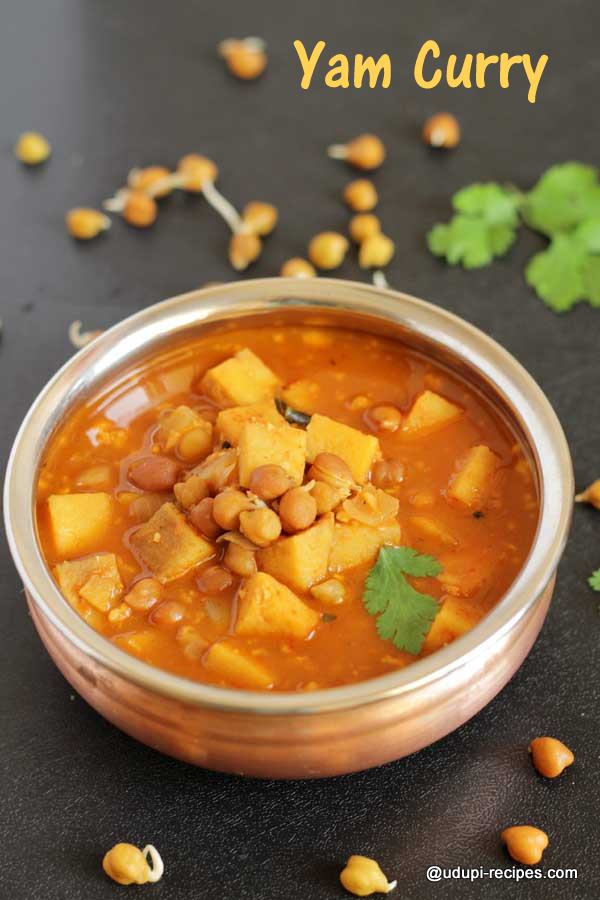 Elephant Yam (Suran) Curry Recipe
Ingredients
Elphant yam (Suran) - Half
Black chickpeas- 3 tsp
Onion- 1 no.
Fresh grated coconut- 1/2 cup
Tamarind- Lemon sized
Jaggery- Gooseberry sized
Sambar powder- 3 tsp
Salt- 1 to 1.5 taste

Seasoning ingredients

Cooking oil- 1 tsp
Mustard seeds- 1/2 tsp
Split black lentils- 1/2 tsp
Curry leaves- Few
Instructions
Preparation

Soak chickpeas for 4 to 5 hours or overnight. Drain water and keep it ready.
Wash and peel off elephant yam, chop it in to medium sized cubes. Similarly peel off onion and chop it in to cubes. Soak tamarind in 1/4 cup of water for 10 minutes, extract it's juice and discard residue.

Method

Heat a pan adding all the seasoning ingredients in the order mentioned, when the mustard seeds sizzle and pop, include onions. Saute them till translucent, then add chopped yam and chickpeas.
Saute the veggie for a while and add a cup of water. Let the yam cubes turn little soft and then include tamarind juice, jaggery and salt. When the yam and chickpeas get cooked to perfection, add sambar powder.
Let the veggie and chickpeas nicely absorb flavors. Finally add fresh grated coconut, adjust consistency of the curry by adding water. Bring it to boil and switch off.
This easy elephant yam curry is wonderful with steamed rice.

Notes

I have used the sprouted chickpeas for extra nutrition. You too can sprout them before using.
This yam curry tastes good being little sour, sweet and spicy.
I haven't added any chillies for spice. You can add one or two green chillies if you prefer.
Fresh coconut is used to make the curry thick, do not skip it.
https://udupi-recipes.com/2016/06/elephant-yam-curry-suran-curry-recipe.html
All the content in this website are © Copyrighted to – Udupi-Recipes