Guys. It's me and my gorgeous mango halwa in a bowl here and we are at your summertime services.
Luscious, amazingly delicious and  melt in mouth dessert is just ahead which is most crazy, creative combination of my summer month's recipes. I guess I am ending the beautiful saga of Mango recipes for this summer with this incredible mango halwa. It's rich in taste, gorgeous looking and sugary sweet while texture being close to buttery soft. I liked the texture which just melts in your mouth leaving the fragrance of mango for long.
It has mangoes as most primary ingredient along with gram flour to give the mango puree a sort of binding. The next most essential thing i.e ghee helps in roasting the flour, subsides the raw smell that the flour authentically has and also brings the actual glow that halwa should have. Last but not the least in the list is sugar to make the SWEET taste sweet. And the optional bites of dry fruit's topping make the dessert visually appealing too.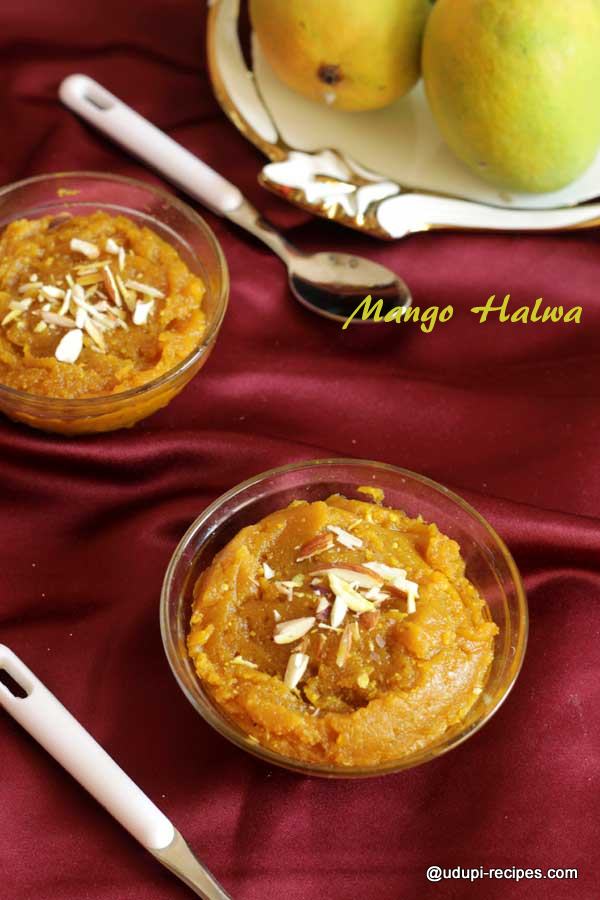 Though I enjoyed spooning halwa from a bowl, you can cut it in to pieces and devour to have count on actual calories in take (if you are calorie conscious). But remember the pieces doesn't come out crisp like burfi but can hold the shape.
I super wish my day and your day to have this mango halwa thing in hand and both of us together rock the weekend eating this yummy yum.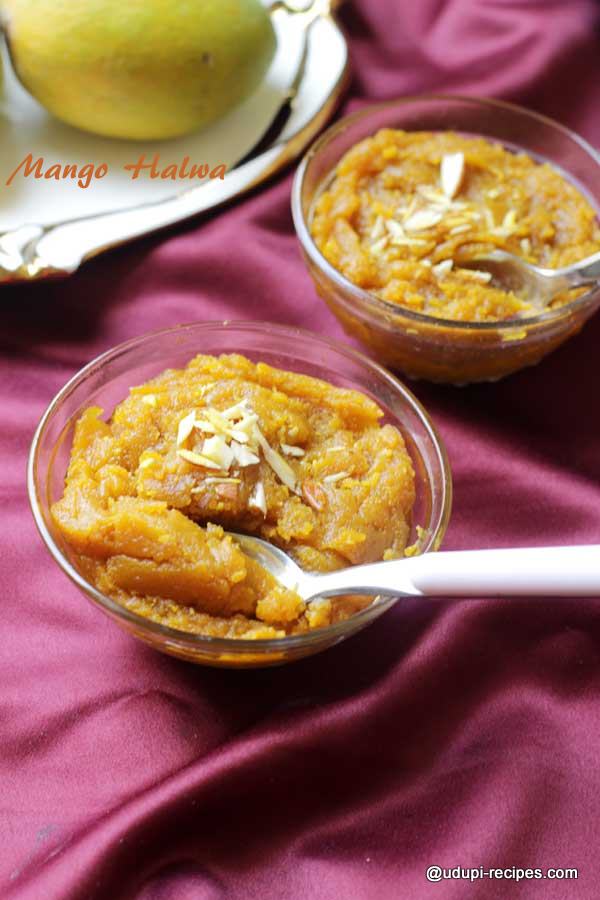 Mango Halwa Recipe | Summer Recipes
Ingredients
Mango Pulp- 1.5 cup
Gram flour- 1 cup
Sugar- 1/2 cup
Ghee- 1/3 cup
Chopped almonds and pistachios- 1/8 cup
Instructions
Preparation

Sieve gram flour using a fine sieve and discard the lumps. Keep it ready.

Method

Heat half of the reserved ghee in a pan, as it melts add gram flour. Stirring constantly roast the flour in medium flame. As the raw smell subsides and aroma of gram flour wafts out, switch off the flame.
The roasted gram flour looks like bread crumbs, transfer it to a container. In the same pan add mango pulp and sugar. In medium flame, cook this mixture with constant stirring which turns thick after some time.
When you notice mango pulp thickening, add roasted gram flour. Stirring the mixture vigorously combine gram flour with cooked pulp. Break the lumps using back of the ladle.
Next add leftover ghee, chopped dry fruits and continue cooking till everything comes together as dough. When it starts to leave the pan, switch of the flame.
Luscious mango halwa is ready to serve as a dessert.

Notes

You can use canned mango pulp or home made one. I have pureed two Alphonso mangoes to obtain 1.5 cup of puree.
While roasting the gram flour, take care it is not burnt.
You can also trasnfer the mixture to a ghee greased tray and cut in to pieces.
https://udupi-recipes.com/2016/06/mango-halwa-recipe-summer-recipes.html
All the content in this website are © Copyrighted to – Udupi-Recipes