This deliciously creamy and fruity mango kulfi is coming right out of freezer in three-two-one. Dairy based creaminess and rich orange mango color : TWO exciting wonderfulness in ONE dessert. Which is why my kids are in summer food heaven eating and drooling for such frozen desserts now a days.
I can no longer be separated from Mango this summer, so it has been incorporated in dairy based kulfi too. It's good that I did use mango because the vibrant color has made the kulfi picture perfect I mean photogenic. Which is what I always look for in any food that I cook.
Mango kulfi doesn't demand heavy sugar as the natural sweetener fruit is already there, you can make nice compromise with sugar.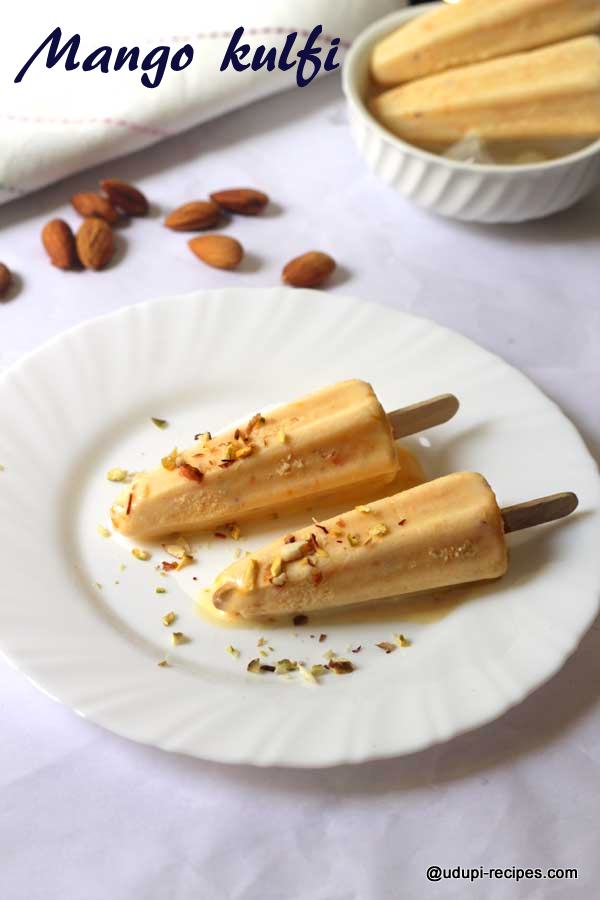 Things you should take care are:
Milk : Kulfi deserves full fat milk as it gets thickened easily after simmering for 30 minutes which would make the creamy texture more prominent.
Mango : The pulpy and less fiber mango is REAL hero of this kulfi. It brings the rich color and feel-good vibes like it always does.
Almond plus pistachio : Super fine chopped almonds and pistachios give a crunchy bite as you eat mango kulfi. If you are like me, you love biting those little nutrients. If you don't, then you can choose to puree them like paste.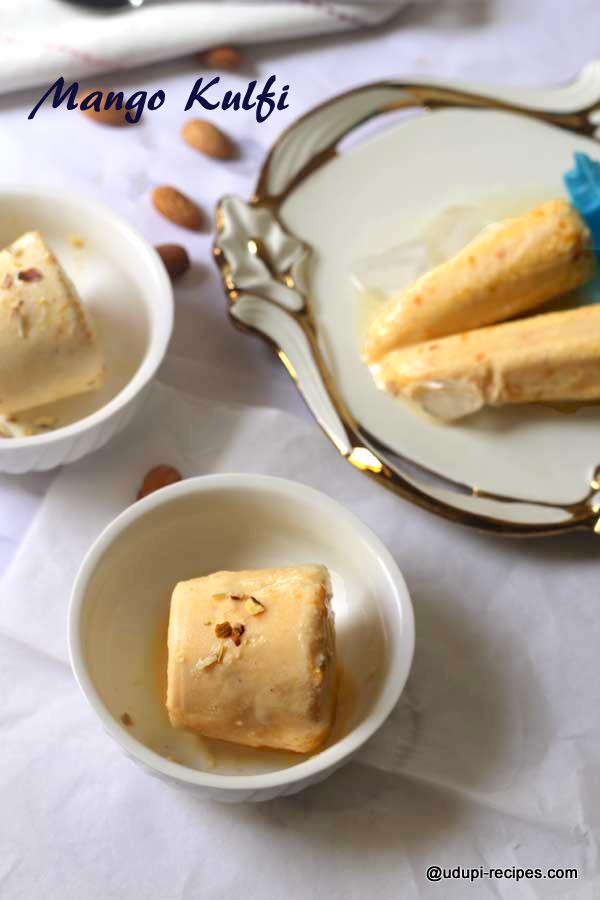 Bottom line: It's just 1st week of June which means it's definitely a kulfi day. Let's order ourselves some Mango as a feel-good-self care gift and be on our way to the lusciousness that is MANGO KULFI.
Mango Kulfi Recipe | Summer Recipes
Ingredients
Milk- 2 cups (500ml)
Sugar- 1/4 cup
Mango pulp- 1/2 cup
Almonds+pistachio- 10 nos.
Instructions
Preparation

Soak almonds and pista in water for about 10 minutes and peel the skin off from almonds. Pulse them together in mixer to a coarse paste. Keep it aside till use.

Method

Pour milk in a pan and get it to rolling boil. Add sugar and in simmer continue boiling till it thickens which may take 20 to 30 minutes. Keep stirring every now and then to avoid burning at the bottom.
When milk reduces to half, add the coarse mixture of almond and pistachio. Continue cooking for few more minutes. Switch off the flame and let it cool down to room temperature.
Next puree the mango pulp such that no chunks have retained, add it to cooled milk. Mix well.
Next pour this kulfi mixture to moulds, insert ice cream stick and freeze for about 6 to 8 hours. Take out from freezer and hold the backside of mould under running water for a while.
Keep it aside for a minute and then carefully de-mould kulfi from moulds. Beautifully orange colored mango kulfi is ready to serve.

Notes

You can grind almond and pistachio finely too if you don't like bites of it while eating the kulfi.
Use full fat milk to get the creamy texture in kulfi.
The milk should boil in simmer for 30 minutes or till it thickens. Otherwise the kulfi will not turn creamy.
Adjust sugar as per the sweetness of mango.
https://udupi-recipes.com/2016/06/mango-kulfi-recipe-summer-recipes.html
All the content in this website are © Copyrighted to – Udupi-Recipes