This creamy tomato onion chutney is a hit. Perfect for idli, dosa or anything else you might want to cover in red creamy deliciousness. Essentially dip or chutney has to accompany my every day breakfast as I act like a true South Indian when it comes to breaking the fast I mean breakfast. Coconut based chutney rules my morning food world in which I tend to make lots of variations, twists to the original recipe which spins my mind right at that instant.
But I often turn towards a veggie based dip like this tomato onion chutney in which tomato and onions are cooked till perfection to get pureed up in the blender/mixer. It begins with roasting red chillies and lentils which are then accompanied by tomato and onion and get perfectly sauteed. The point here is to reduce the raw flavors of both the veggies, otherwise the chutney doesn't taste too awesome.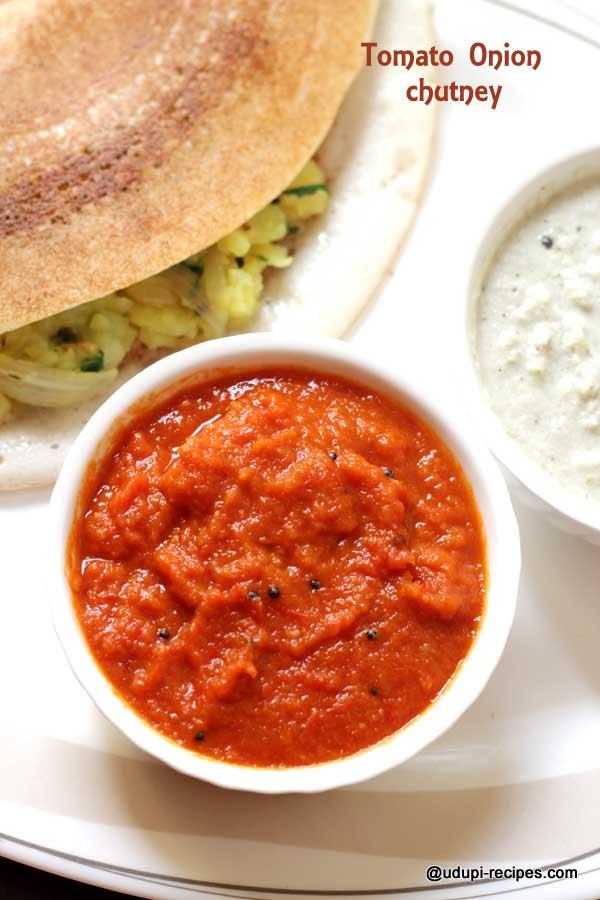 The bright red color of tomato onion chutney is truly dependent on tomatoes that you choose. They must be ripe and red. You can also throw in few curry leaves and coriander leaves with tomatoes while getting cooked, it again gives you a unique taste blast. But remember you have to compromise with color in this case which is green imposed red.
I usually double up the ingredients and make another batch, so that I can save myself a nice jar of it in the refrigerator for an upcoming busy morning breakfast. When time runs out and breakfast needs an actual dip, then this jar of chutney comes very handy. But I make sure I don't stock it for more than two days.
It's an ultra delicious transition from coconut chutney to tomato onion chutney once a while or once a week at least. Try yourself to believe this.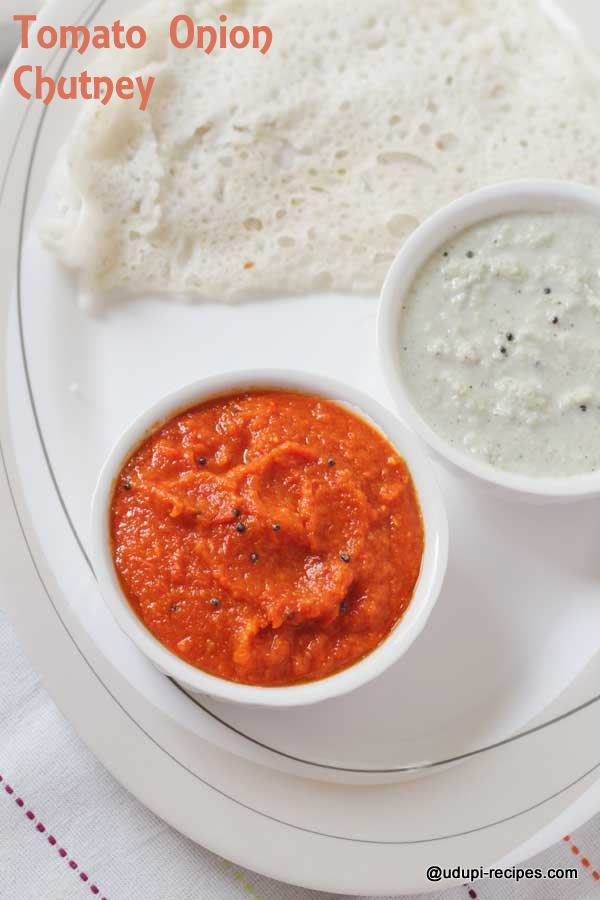 Tomato Onion Chutney | Idli, Dosa Side Dish
Ingredients
Ripe tomato- 3 nos.
Onion- 3 nos.
Split black gram lentils- 1 tsp
Salt- 1 tsp
Red chillies- 2 nos.
Cooking oil- 2 tsp
Instructions
Method

Peel off the onions and chop them in to medium sized chunks. Similarly chop tomatoes in to big cubes and aside. Heat a pan with oil, split black gram lentils and red chillies. Saute them together in medium flame.
When the lentils turn slightly brown, add chopped onions and saute. The onions turn translucent in few minutes, then include chopped tomatoes and salt. Let it cook till mushy. You can add little water too at this stage.
Let the roasted ingredients cool down to room temperature, then transfer it to mixer and blend to little coarse paste.
Beautiful red colored onion tomato chutney is ready. Serve it as side dish with idli and dosa.

Notes

Choose well ripe tomatoes for bright red colored chutney.
Tomatoes should be sauteed till the raw smell subsides and it turns mushy.
You can also add few curry leaves and few coriander leaves while sauteing for taste variation.
Adjust red chillies as per the spice you like your chutney to be.
https://udupi-recipes.com/2016/06/tomato-onion-chutney-idli-dosa-side-dish.html
All the content in this website are © Copyrighted to – Udupi-Recipes