I know that you and I share a lot in common. Like we love food, we love healthy eating and we love home made food too.  Did I say home made?? Yeah. It's home made fryum (sendige) time.  Summer has all up with SUN being more and more a matter of complaint making our lives sweaty. You all wonderful home makers must be busy making mammoth quantity of fryums, papads and pickles to effectively use the scorching heat from SUN. I appreciate you and your love towards good home made food to keep all the family member's health intact.
I had the vision of posting some thing unique, genuine fryum recipe this summer. With that vision in my mind I had brought a jar full of brined jackfruit from my mother which was safely kept in refrigerator till now. Does the word brined sound new? Let me make it clear. When jackfruits are in season, the matured ones are chosen and their pods are separated. Then a jar is filled with layer by layer of jackfruit pods followed by layer by layer of salt. When jackfruit pods are stored like this, you get to use them even during rainy days when the said fruit is unavailable. Preserving  this way, it's technically called BRINED or SALTED.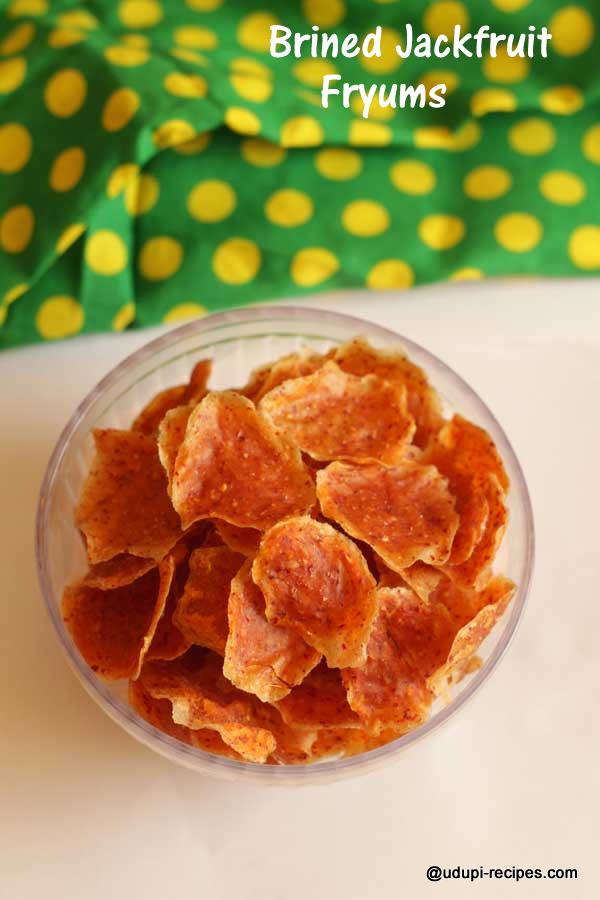 I could make a batch of brined jackfruit fryums this week which are an absolute hit. Meaning the fryums turned exactly the way they had to be. The key aspect or the key area where anyone can go wrong is with brined jackfruit pods itself. Meaning as the pods are preserved in salt, they would have absorbed most salt in them. You need to soak them in water for about 8 to 10 hours with water being changed once or twice in between. This helps in removing all excess water from the fruit. Also don't use SALT in this recipe, whatever salt is retained in the jackfruit pods is enough for the fryums.
In Udupi-Mangalore region these brined jackfruit pods are easily available in most stores which you can use for the purpose. Brined jackfruit fryum is going to be new addition to your collection of summer recipes.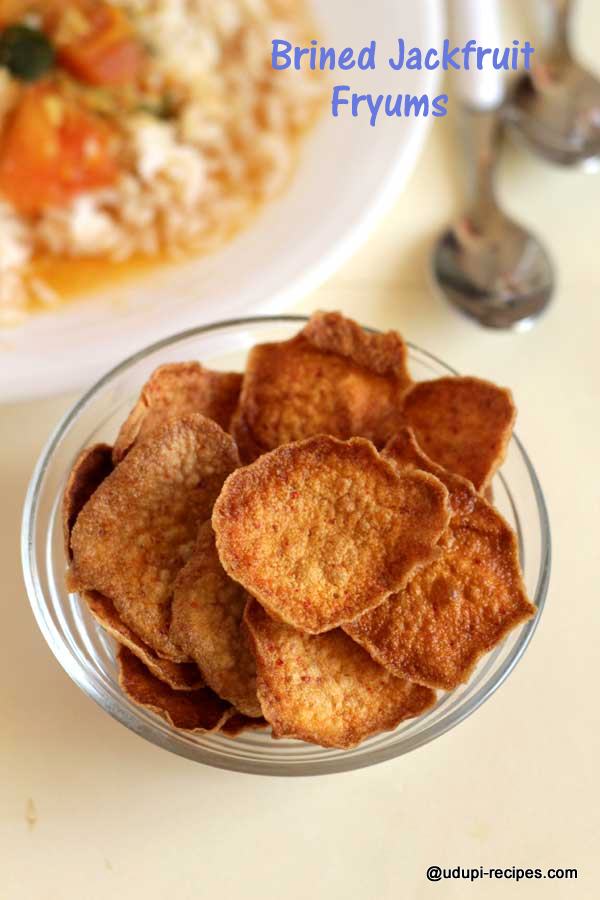 Brined Jackfruit Fryums | Uppalachir Sendige Recipe
Ingredients
Brined jackfruit pods- 1/2 cup
Maida (all purpose flour)- 1/2 cup
Red chillies- 4 nos.
Cumin seeds- 1 tsp
Asafoetida- Chickpea sized
Water- 3.5 cups
Instructions
Preparation

Soak jackfruit pods in water for 6 hours or overnight. Then rinse them with enough water twice or thrice and let the extra salt drain off.
Add red chillies, cumin seeds and asafoetida in to a mixer and powder it coarsely. Include brined jackfruit from above step and grind once again to make puree.
Meanwhile in a big pan take maida, prepare lump-less batter by adding water incrementally. Include brined jackfruit puree in to this batter and mix well. I have used 3.5 cups of water at this stage.
Heat up the pan now. With constant stirring of 10 to 15 minutes you will end up with batter which is thick and easily pour-able.
Next spread a cotton cloth and pour a spoon-ful of batter like fryum at equal distance. Continue this process with all the batter. Sun dry these fryums for a day or two. Once done sprinkle some water at the back of cloth and peel off the fryums from cloth. Get them dried for one more day.
Store the fryums in airtight container and fry them in oil whenever required to relish with rice-rasam.

Notes

The brined jackfruit will have excess salt, you have to remove it by soaking and rinsing itself. Even after this process it does have some salt which is enough for fryum. Do not add extra salt.
When you mix brined jackfruit with maida batter, it should be lump-less. You can use entire water at this stage or add later while heating it up.
Before storing the fryums in container, ensure they are completely dry and moisture less. As you break a fryum it should be crisp.
Sprinkling water at the backside of cloth helps to peel off the sticky fryums from cloth. Alternatively you can use polythene sheets too for spooning and drying the fryums. For health reasons I have used cotton cloth.
If handled properly, these fryums last longer for a year.
https://udupi-recipes.com/2016/04/brined-jackfruit-fryums-uppalachir-sendige-recipe.html
All the content in this website are © Copyrighted to – Udupi-Recipes