Let me be honest, right now as I hunker down facing my PC to put together pineapple rasam recipe, I am actually feeling the wonderful flavors in the breeze. This rasam has been there for lunch and dinner for about 3 days in a row and none of us ever felt that it's reappearing on dining table. Moreover even the leftover rasam has been slurped off clean like a soup. I am wondering where in the world this wonderful pineapple rasam has been for all these years?? How could I overlook such a aromatic, spicy and colorful recipe out of newspaper collection??
Anyways, this delectable pineapple rasam in which pepper, chilly and cumin are harmoniously combined with tangy pineapple puree has got warm welcome at my home. We all being rasam lovers have food heaven atmosphere now.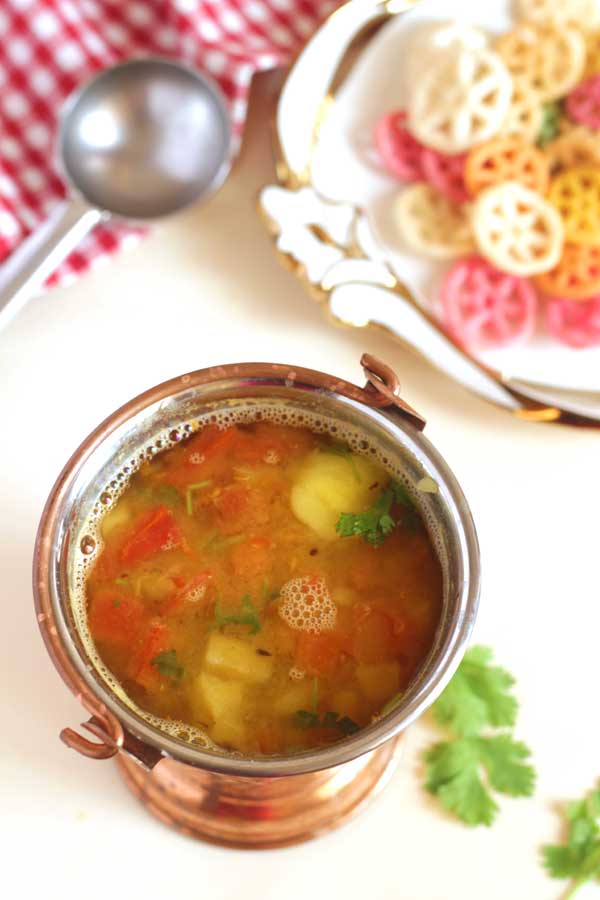 The rasam tastes best when you use a pineapple that has little sour plus sweet note. Because you are not using any additional sweet or sour agents like tamarind or jaggery here, a good pineapple itself  is prominent in taste factor.
You can play around with recipe like adding garlic and rasam powder which would also taste unique. What I love the most in pineapple rasam is it's unique flavor that can drag anyone towards kitchen and act like appetizer.
Ingredients
Round slices of pineapple- 2 no.
Tomatoes- 2 no.
Pigeon pea lentils ( toor daal)- 1/4 cup
Cumin seeds- 1 tsp
Black pepper- 3/4 tsp
Salt- 1 tsp
Turmeric powder- 1/4 tsp
Green chilly- 1 no.

Seasoning ingredients

Cooking oil- 2 tsp
Cumin seeds- 1/2 tsp
Mustard seeds- 1/2 tsp
Asafoetida powder- 1/2 tsp
Curry leaves- Few
Red chilly - 1 no.
Instructions
Preparation

Powder cumin, black pepper and green chilly together in to coarse paste. I used my mortar and pestle for this purpose. Chop a pineapple slice in to big chunks and prepare fine puree using mixer or blender.

Method

Chop single tomato in to medium sized cubes and take them in a cooking vessel. Add pineapple puree, pepper-cumin paste and turmeric powder to it. Mash it well with your fingers. Adding a cup of water, heat it up and cook till raw smell subsides.
Rinse pigeon pea lentils with enough water and pressure cook it till mushy. Once the pressure subsides mash the lentils and keep it ready. Chop the remaining pineapple slice and tomato in to fine cubes. Heat a cooking pan adding oil, mustard seeds, asafoetida, cumin, red chilly and curry leaves. Saute till mustard seeds crackle.
Include chopped tomato and pineapple cubes and continue sauteing till they turn soft. Next add the cooked pineapple puree, tomato and spice mix from step1. Add one more cup of water, salt and cooked lentils. Bring this to boil and switch off.
Very very aromatic and tasty pineapple rasam is ready to serve with steamed rice.

Notes

Pineapple with little sour note is suitable for preparing this rasam.
If you prefer you can include few garlic pods along with green chilly, cumin and pepper paste. I don't like overpowering aroma of garlic in this rasam. So skipped it.
You can try variation by adding a tea spoon of rasam powder too.
Balance the spice from pepper and green chillies. Do not add more than mentioned.
Adjust the consistency by adding water as needed.
https://udupi-recipes.com/2016/02/pineapple-rasam-recipe.html
All the content in this website are © Copyrighted to – Udupi-Recipes