Here comes an awesome dessert!! Sweet and healthy with Iron rich dates !! Scrumptious ever… This dates payasa is going to be spotlight of Yugadi 2017 @ my home. Meaning, it's this delectable dessert that can essentially substitute the traditional moong dal payasam this year. Let me remind you about Yugadi, Hindu NEW YEAR celebration as per solar calendar falls on April 14th i.e tomorrow. So I am all excited with little extra buzz in planning and prepping lunch menu for hassle free cooking. Well, like a super wonderful woman you too must have some plans running at the back of your mind with respect to festival and cooking. And as a food blogger I feel honored if I can assist you in some way. Hence today's post is all about yummy dessert which can satisfy every one in your home.
I am always hungry and/or looking for good ideas of food. And this dates payasa caught my eyes as I flipped open the old cook book randomly. As I went through the ingredients list, it seemed my pantry has it all. If you think Dates are some unusual things of your cooking life, then you may make a trip to grocery. It wasn't the case with me because I do keep a big bag full of dates with me and use it in everyday cooking. You know how? In my most food preparation wherever jaggery is essential like in rasam or curry, I try to replace it with dates. And I have been doing this since many years, trust me there is no taste difference at all.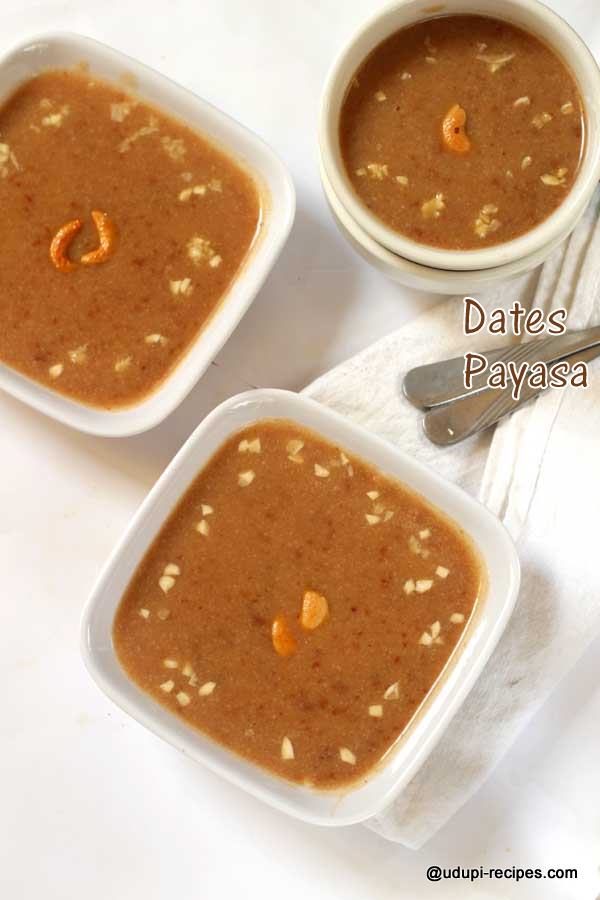 Dates are all natural, nature provided sweeteners and they are best to our health. Like the processed sweeteners, these pretty Dates do no harm to our body. So on a similar note, lets enjoy this dates payasa and it's goodness while welcoming NEW YEAR. What say?
Dates Payasa | Kharjoorada Payasa Recipe
Ingredients
Dates (pitted)- 30 nos.
Jaggery- 1/8 cup
Fresh grated coconut- 1 cup
Cardamom powder- 1/4 tsp
Rice powder- 1.5 tsp
Cashews- Handful
Ghee- 1 tsp
Instructions
Preparation

Take grated coconut in a mixer, add 1/2 cup of water and grind to fine paste. Then squeeze this paste over strainer and extract thick coconut milk.
Again add the squeezed coconut in to mixer along with 1/2 cup of water. Repeat the process of strining to obtain the second extract coconut milk.

Method

Heat ghee in a pan and roast the cashews till they change color slightly. Transfer it over a plate and add jaggery plus half cup of water. Let the jaggery dissolve in water, then strain it to remove the impurities.
Next in a mixer add the soaked dates and ground coarsely. While grinding, you can use the water that is used for soaking.
Heat a pan with dates puree and saute till the raw smell subsides. Then include the jaggery syrup of step 1 and let the dates cook for few more minutes.
Dates paste has cooked well in jaggery now, so add the second extract coconut milk. It will make the payasa very thin.
Mix rice powder in 2 tea spoon of water and make paste. Add this paste to the payasa so that it turns slightly thick. Continue cooking till the rice powder gets cooked. Finally include second extract coconut milk and bring it to boil.
Sprinkle cardamom powder and garnish the payasa with roasted cashews. Dates payasa is ready to serve.

Notes

You can grind the dates finely too, I have kept it coarse as I like bites in my mouth.
I have prepared the coconut milk at home. You can even use store bought one.
Dates have sufficient sweetness, you can skip jaggery. But little jaggery enhances the taste.
Rice powder helps in thickening the payasa otherwise it becomes too thin.
https://udupi-recipes.com/2017/04/dates-payasa-kharjoorada-payasa-recipe.html
All the content in this website are © Copyrighted to – Udupi-Recipes