I guess this would have been a great recipe post just before weekend. Because it's super fun and fabulous to watch TV with a plateful of brinjal pakoda in hand. I realized this fact when I found myself over the couch eating this savory snack yesterday. The brinjal didn't even taste like brinjal, it was all so much delicious with little tang of lemon and spice. Unlike other pakoda recipes, I drizzled over some lemon juice and sprinkled some red chilly powder right over the brinjal pieces. This wonderful twist of the recipe worked pretty well. As I bit the pakoda, the lemony flavor and spice marination of the veggie was felt absolutely wonderful in my mouth.
So I super wish my day and your day would have these extremely yummy savory stuff in the upcoming weekend. So that we both together (virtually) have the fun of eating and watching TV. It really rocks the savory-snack vibes.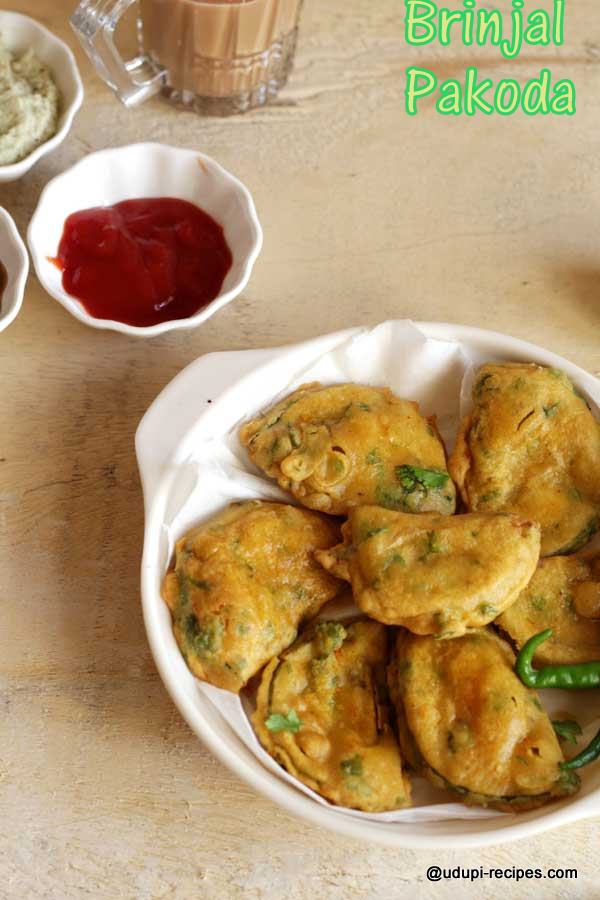 Also, In this recipe I took the liberty of making the basic pakoda fancy by look. Meaning I added some greens like coriander leaves to the gram flour batter. You know what magic it did? The brinjal pakoda was pretty awesome in the eyes of camera. When I started with photo shoot I realized plain pakoda with dotted greens here and there was fabulous to capture. So the little variations and tweaks I worked for this recipe have been absolutely successful. Both taste-wise and appearance-wise brinjal pakoda was incredible.
Having said all this, I can see you searching for some brinjal in your pantry. And you getting ready to put together all the ingredients to whip this awesomeness. Yes it is that good. Yum and Yum. Wish your next weekend with these savory bomb and IPL cricket. Both match super fantastically. Isn't that true??
Brinjal Pakoda | Brinjal Bajji Recipe
Ingredients
Green brinjal (big and round)- 1 nos.
Gram flour- 1 cup
Rice flour- 3 tsp
Lemon (small)- 1 nos.
Salt- 1 tsp
Turmeric powder- 1/2 tsp
Red chilly powder- 1 tsp + 1 tsp
Carom seeds- 1/2 tsp
Coriander leaves- Handful(optional)
Cooking oil- Enough to deep fry
Instructions
Preparation

Wash and wipe the brinjal clean. Then cut it in to thin roundels, further cut each roundel in to half.
Drizzle some lemon juice, sprinkle some salt and a tea spoon of red chilly powder as well over these pieces. Keep it aside till use.

Method

Sieve the gram flour over a wide bowl. Add red chilly powder, turmeric, salt, carom seeds and rice flour. Give a nice mix.
Next include coriander leaves, then adding water in steps make a medium thin batter. The consistency of the batter should be neither too thin nor too thick. When you dip the brinjal piece, the batter should coat it well. That is right the consistency.
Heat oil in a wok. Check the temperature by dropping little batter in to oil. If the batter raises to the surface steadily, the oil is rightly heated. Dip brinjal piece in to the batter, so that it gets coated well on both sides and then drop it in to hot oil. Deep fry them till they turn golden brown. Using slotted ladle remove and drain them over kitchen tissue.
Repeat the process till you finish all the brinjal pieces. Wonderful evening snack is ready to serve with tea.

Notes

The brinjal pieces should be medium thick. Not too thin or too thick.
Drizzling some lemon juice and red chilly powder over the brinjal makes the pakoda very tasty.
Including coriander leaves to the batter is new idea which makes the pakoda look pretty and appetizing. You can skip it too.
Deep fry the pakoda in batches and do not over crowd them.
https://udupi-recipes.com/2017/04/brinjal-pakoda-brinjal-bajji-recipe.html
All the content in this website are © Copyrighted to – Udupi-Recipes