Hello Summer ! you are wide welcome. Not because I love the hot Summer season but because I love the summer-food. Yeah, the summer special pickles, fryums, curd chillies and papad have always been my favorite. Also the frozen food like ice creams, juices and popsicles coming straight out of fridge taste way too delicious only during summer. So it is the appropriate time to recreate such summer food heaven here in my kitchen. I have begun it with this pretty, drool-worthy, mouth watering tender mango pickle.
Tender mangoes heaped up high in vegetable markets urge me to make this awesomeness. And I believe it's no HOME feeling if a Udupi lady don't have a jar full of "midi uppinakayi" preserved safely in her counter. If you ever visit my home, you'll not be surprised to find various jars containing variety of pickles. Star among all the pickles is this tender mango pickle. And this holds absolutely true in my case which is why I call it as "STAR PICKLE".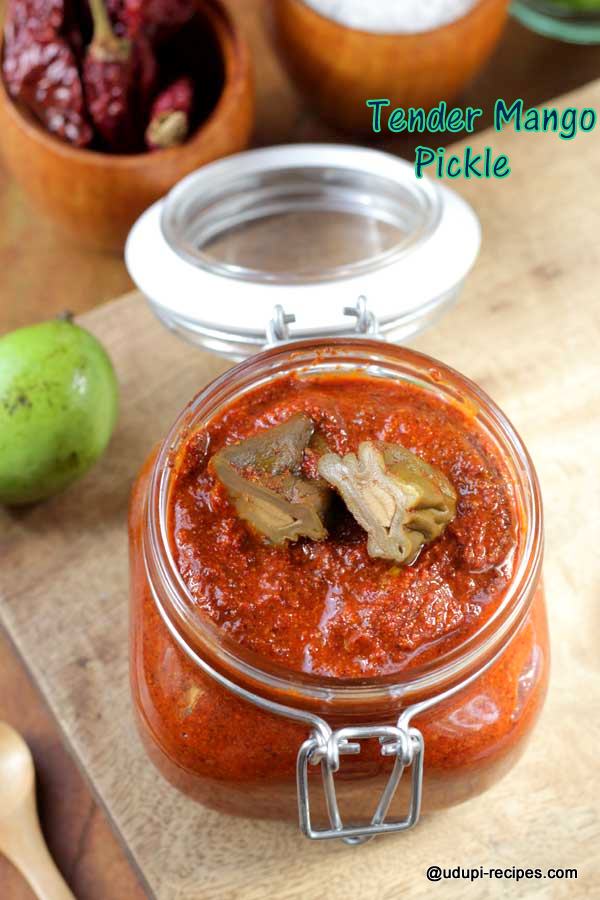 Tender mangoes are the ones which are immature, small and the seeds aren't tough. Such mangoes get in to pickling process integrally as a whole. Meaning you are not cutting the mangoes in to pieces. Though quality of such mangoes is vital in determining the deliciousness of pickle, we have no choice but to buy from markets. Decades back, my grand mother used to pickle the tender mangoes which are from certain tree and of certain quality. The flavor, the sourness and the size are the deciding factors of tender mango pickle.
This amazing pickle has no oil at all but it is incredibly tasty and lip-smacking. On top of this, the pickle can last longer for years provided you handle it carefully. Though the pickling process seems bit lengthy and tedious, the end product is worth the effort.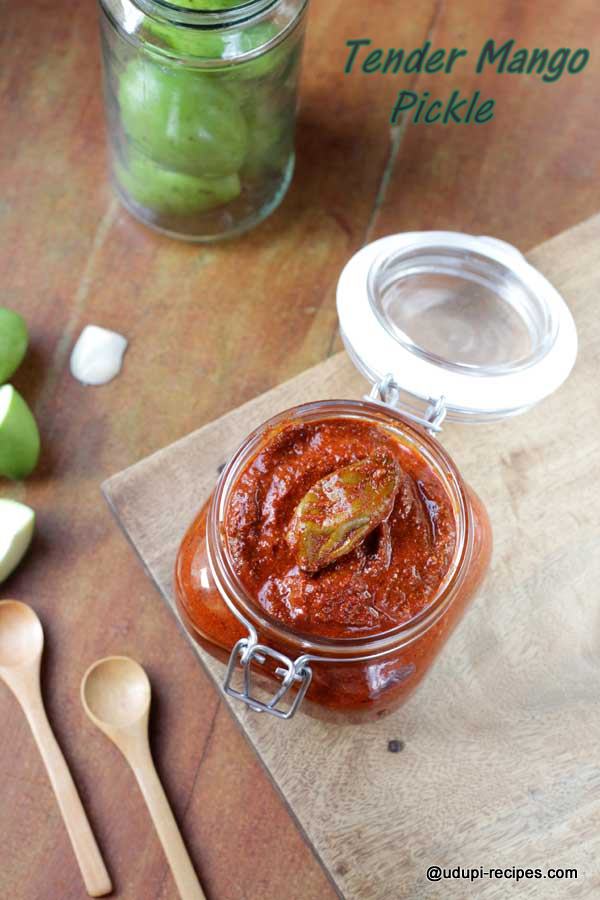 Tender Mango Pickle | Maavina Midi Uppinakayi
Ingredients
Tender mangoes - 100 nos.
Crystal Salt- 1 kg
Red chillies (byadagi variety)- 1/4 kg
Red chillies (guntoor variety)- 100 gm
Mustard seeds- 300 gm
Dry turmeric root- 1 piece
Asafoetida- 1 tsp
* I have pickled 50 tender mangoes and halved all the ingredients.
Instructions
Method

Pickling process starts with cleaning and wiping the immature mangoes. Using a dry cloth wipe each and every mango and do not break off the stalk. If the stalk is long, then just shorten it. Next in a wide vessel put a layer of salt and a layer of mangoes one over the other.
Continue this layering process till all salt and mangoes are done. Cover it with a lid and use a clean muslin cloth to tie around the vessel. This acts kind of air tight packing and helps the mangoes to shrink. Let this rest for 5 days or until all the mangoes get shrunk and reduced.
Meanwhile sun dry all the other spices like chillies(both variety), mustard seeds and turmeric root. You need to keep them outdoors under bright sun for at least 4 to 5 days. Also the mangoes that are in brine have to be opened once every day stirred so that all mangoes evenly get shrunk. After 5 to 6 days you would find all wrinkled mangoes in salt water.
The actual pickling process begins once you find all the mangoes wrinkled. Using a dry ladle remove all the mangoes out from the brine and spread over a dry cotton cloth. Let them dry completely. Meanwhile add some more normal water to the salt water in the vessel and boil over medium heat. Let this brine water reduce to half and then switch it off.
When the brine water has cooled down to room temperature, you can proceed to powder the chillies, mustard seeds, asafoetida and turmeric root. (You can use mortar and pestle to break the root in to pieces before grinding in mixer). You may have to powder the spices in batches.
As it gets powdered, add some brine and grind it to fine paste. Continue the process with all the spices and transfer the pickle paste in a wide vessel. You may or may not end up using all the prepared brine. Just use enough salt water to obtain the thick paste like the one below.
Finally put all the wrinkled mangoes in to this pickle paste. Mix well and store it in an air tight container or traditional ceramic jar. Keep it in warm place and it will be ready to consume after 2 months.
The tempting tender mango pickle is ready to serve after few months. The pickle lasts for a year if handled carefully. This pickle in the picture is actually a year old.

Notes

The first word of caution while preparing pickle is all the utensils, spoon, knife, container, cutting board should be completely dry and moisture free. Even a bit of moisture can spoil the pickle.
Cut short the stalk of tender mango but do not break it completely.
When you spread the mangoes out of brine(salt water), discard the ones that are browned and mushy.
Once you start pickling process, always use dry spoon to transfer mango cubes, pickle paste etc. Do not use your hands in any case.
If handled properly this pickle can last for years.
https://udupi-recipes.com/2017/04/tender-mango-pickle-midi-uppinakayi.html
All the content in this website are © Copyrighted to – Udupi-Recipes