Lets greet this year's summer with this hot hot curd chillies. What say my dear wonderful ladies?? Because officially we have stepped in to SUMMER which means we probably have to indulge ourselves in long-term-storage food preparation. The condiments which can be stored for later use have to be bathed under SUN so that they turn brittle and moisture free. Indian women set out to make such stuff early in the morning so that condiments are ready to dry when the sun comes hot. So it's all papad(remember horsegram papad?), fryum and pickle season. Lets dive in to it.
We Indian women are awesome because we have mastered the art of feeding family with summer food for extended period. Followed by summer, it's the rainy season when we almost crave for after meal snacks to munch on. And the deep fried condiments like papad and fryums are absolutely fun to indulge.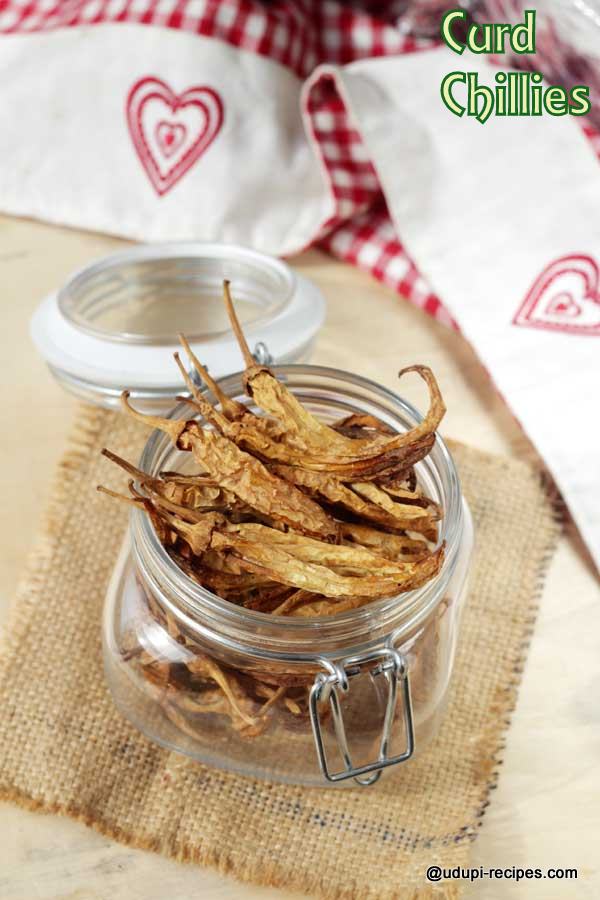 Today I have brought this curd chillies as summer food and it isn't a fryum or papad in true sense. But it finds it's place in this category because it demands absolute bright SUN to dry. If you are spice lover or you look for some hot stuff to top a mild tasting dish, then curd chillies are definitely for you.
The process of making curd chillies is damn simple. Less spicy and plumpy chillies are chosen which are slit from stem till end and then marinated in salted buttermilk. This process alleviates some of their heat and imbues little tangy plus yogurt-y flavor. As the SUN rises up hot these chillies have to be outdoors to dry. And as he recedes they are soaked back in buttermilk. This process of SOAK-and-SUN-dry continues for 3 to 4 days. Finally they are dried up till brittle and preserved for longer use.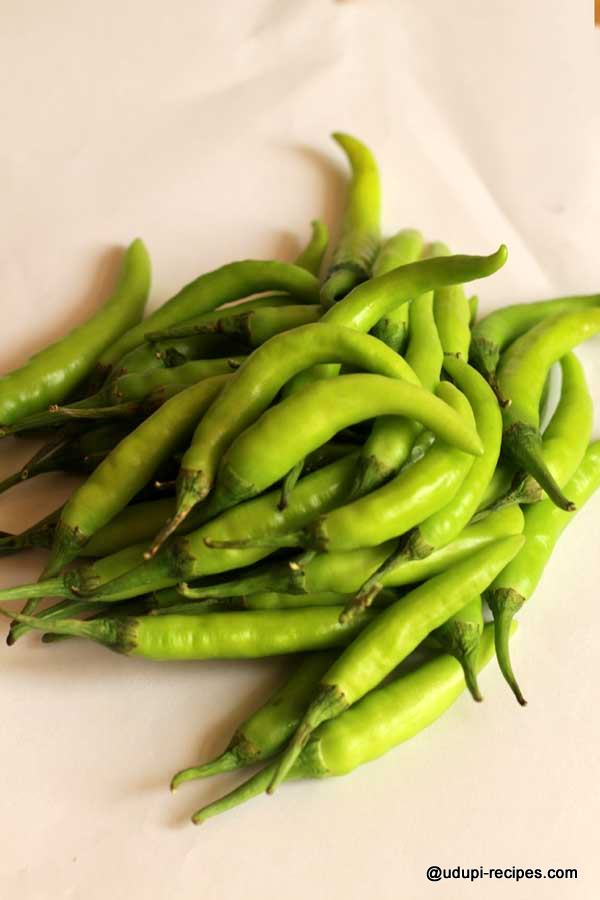 Curd chillies are deep fried before serving and most commonly, they top mild dishes as salty, spicy garnish. They can even substitute red chillies while tempering many recipes.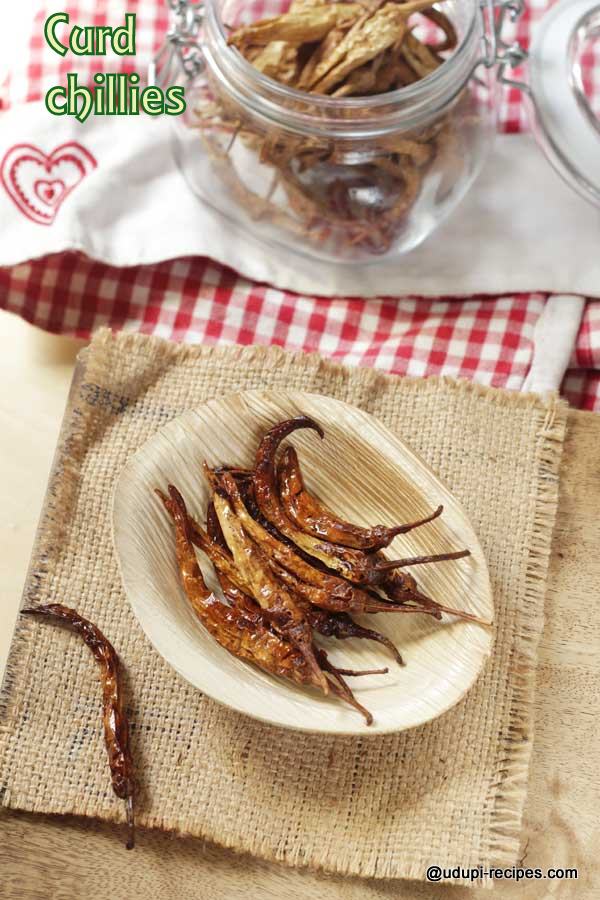 Curd Chillies | Sendige Menasu Recipe
Ingredients
Green chillies- 200 gm
Sour Butter milk- 2 cups
Salt- 4 to 5 tsp
Instructions
Preparation

Choose the chillies that are plumpy and less spicy. Rinse them with enough water and pat them dry on a kitchen towel. Next keeping the stem intact, slit each chilly from stem to end using a sharp knife.
Next take the buttermilk in a wide bowl and mix it with salt. Immerse all the slit chillies in buttermilk and mix thouroughly so that each chilly is well coated with salt and buttermilk. You can taste and adjust salt now. Leave this mixture overnight undisturbed.
Next day take only the chillies out and spread them on a plate. Reserve the buttermilk as is. Sun dry the curd chillies for 5 to 6 hours outdoors under HOT sun. When you take them indoors, put them back in buttermilk which is reserved. Repeat this soak-and-sun-dry process for at least 3 to 4 days.
Next, thouroughly sun dry the curd chillies for about 5 to 10 days or till they turn brittle and crisp.
To serve these curd chillies deep fry them in enough oil. They take just few seconds to get fried, so be cautious to remove early.
Spicy topping curd chillies are ready to pair with mild curd rice. Deep fry them as and when required and serve as accompaniment with mild rice.

Notes

Choose the chillies that are plumpy and less in spice. You can even remove the seeds to keep it less hot.
You can use thick and sour buttermilk or curds that is whisked.
You can enrich the curd chillies taste by adding roasted fenugreek, asafoetida and cumin powder too. Include them in the buttermilk along with salt.
Store them in airtight container and it will last for a year too.
https://udupi-recipes.com/2017/03/curd-chillies-sendige-menasu-recipe.html
All the content in this website are © Copyrighted to – Udupi-Recipes