I was slowing down for the weekend like the nice relaxing kind where I can take long, deep breaths just to comfort my soul and mind. Because right now it's vacation season for kids who stay out of school for few days. And I love to spare some feel-good time with them listening, caring and letting them to do what they wish. They have enough leisure to indulge in the activities in which they are interested in. So I keep myself little off from my blog schedule these days to assist and get the best out of them. Just before hanging out for the weekend, I quickly whipped up this divine tasting sapada bhakshya.
As you scroll down through the post today, you would witness ghee oozing semolina(rava) cooked with milk and sugar. You would feel the pleasant mellow sweetness of banana. And on top of all this is it would just be divine and I cannot bring the deliciousness to words.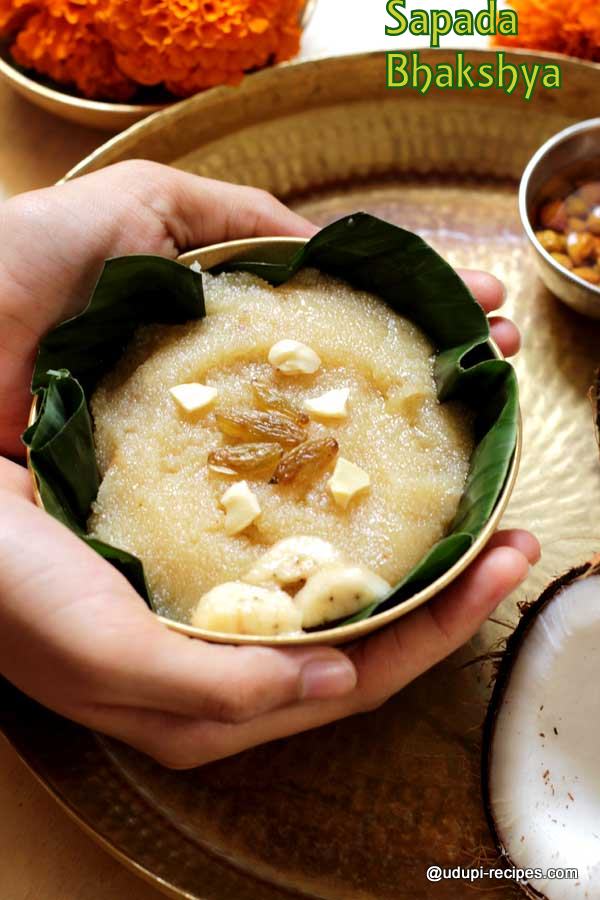 Sapada bhakshya is suppose to happen on the day of Sathynarayana Pooja. And only a spoonful of this prasada is distributed to each for lunch. The deliciousness of this sapada bhakshya is too overwhelming and DIVINE.
Sapada Bhakshya Recipe | Sathyanarayana Pooja Prasada
Ingredients
Medium rava or chiroti rava(fine semolina)- 1/4 cup
Sugar- 1/2 cup
Banana- Few pieces
Boiled milk- 1/2 cup
Ghee- Little less than 1/4 cup
Raisins+Cashews- Handful
Cardamom powder- 1/4 tsp
Instructions
Preparation

Heat a pan with half of the reserved ghee and roast cashews plus raisins. Transfer them to a plate.

Method

Heat the same pan with some more ghee and rava. With constant stirring, roast the rava till it is fragrant. When done, pour in the milk and let the rava get cooked in medium flame.
When rava absorbs milk completely, include sugar and stir in. The mixture turns thin and watery now.
As rava is infusing sugar, throw in banana pieces and combine well. Add in rest of the ghee, cardamom powder and cashews plus raisins too. When the mixture leaves the pan, switch off the stove.
Divine tasting sapada bhakshya is ready to offer. Sathyanarayana Pooja wouldn't be complete without this prasadam.

Notes

The ratio of rava:milk:sugar is 1:2:2. Meaning single cup of rava requires sugar and milk in double quantity.
Rava should get cooked completely in milk itself for the authentic taste.
https://udupi-recipes.com/2017/03/sapada-bhakshya-sathyanarayana-pooja-prasada.html
All the content in this website are © Copyrighted to – Udupi-Recipes