I wonder is there any veggie other than Brinjal which has so many varieties ? We can really count on the excessive diversity this single veggie offers to us. Brinjal or eggplant or aubergine, whatever name we use to identify it, the color, the shades and shape differs from each other so uniquely. It's so fascinating to see this brinjal with all it's species in a row. Because some look pretty round like a bulb in intense purple color with and without white shade in it. Some are long with pale green color and purple both. Some of the brinjals are extra large in size and their purple tone seems almost like black. And some long variety ones are available in exact ivory white.  It's absolutely pleasant to see and choose them from the neat and tidy rack of the vegetable market. Let's see long brinjal curry (dry version) a true inspiration of this veggie.
Though I use up the round and bulb shaped brinjal in most of my cooking, this time I wanted to try using long brinjal. And it was very delicious to pair up with chapati. The long brinjal is a humble veggie and gets cooked up in few minutes.
I haven't used any water to cook the long brinjal pieces in curry because it turns mushy and doesn't pair well with chapati. It's only oil that coats well with long brinjal and makes it pretty delicious to devour. If you are true lover of brinjal and it's species, try this long brinjal curry to know it's worth.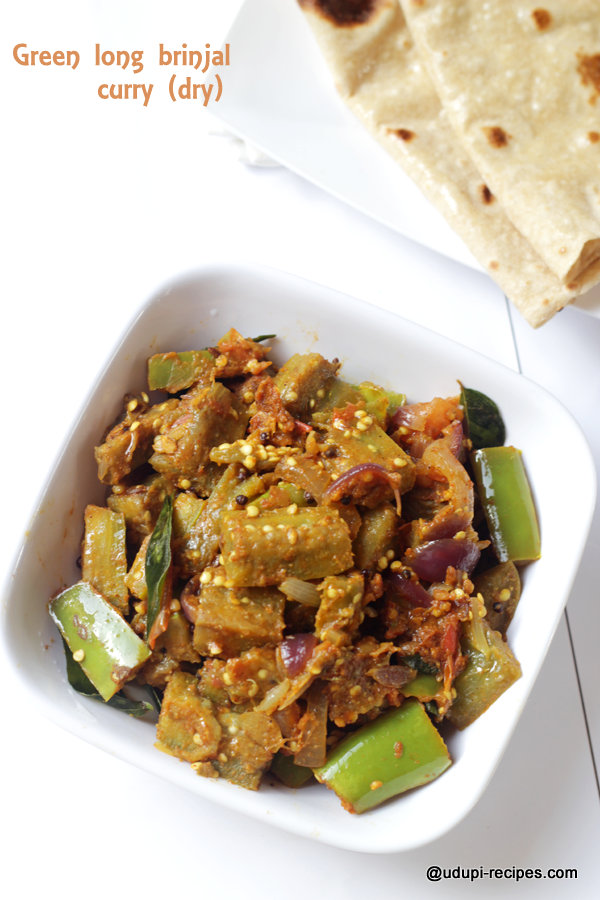 Green Long Brinjal Curry | Easy Chapati Side Dish
Ingredients
Green long brinjal - 3 nos.
Onion- 1 no.
Tomato- 1 no.
Turmeric powder- 1/2 tsp
Red chilly powder- 1 tsp
Coriander powder- 1 tsp
Salt- 1 tsp

To temper

Cooking oil- 4 tsp
Mustard seeds- 1/2 tsp
Split black gram lentils- 1/2 tsp
Curry leaves- Few
Instructions
Preparation

Rinse the long brinjal under tap water and cut them in to 1" long pieces. Soak them in enough water to avoid discoloration.

Method

Peel off the onion and slice it in to 1" long pieces. Also chop the tomato in to big chunks. Next heat a pan and add all the ingredients under the "To temper" list. Saute till the mustard seeds splutter and include onion slices.
Continue sauteing the onions till they turn translucent. Next include tomato chunks followed by turmeric powder. After sauteing for couple of minutes, include the long brinjal pieces draining water completely.
Give a stir and let it cook with lid covered for about few minutes in low flame. If it is too dry, you can sprinkle few tea spoon of water now. Next add the salt, red chilly powder and coriander powder. Combine and cook till the brinjal is cooked soft.
Simple and easy green long brinjal curry is ready to serve with rotti and chapati.

Notes

The brinjal curry tastes yummy when cooked in oil itself. I haven't added any water, if you feel it is too dry you can sprinkle some water.
Soaking the brinjal pieces in water helps in avoiding discoloration and astringent taste of the veggie.
You can spice it up a bit with additional green chilly too.
https://udupi-recipes.com/2017/03/green-long-brinjal-curry-easy-chapati-side-dish.html
All the content in this website are © Copyrighted to – Udupi-Recipes