Hello friends, I am showing up with a healthy beverage today => Fig milkshake.
We have almost rolled over 2.5 months in the new year 2017. It is sounding just yesterday to make plans of New year and new Resolutions. The days, nights, minutes and seconds pass by just like that and we UAE dwellers are facing SUMMER already. The cozy weather with clouds and drizzles bringing in picnic mood in all of us is vanishing. Right now the weather is in transition mode, the SUN is up on our face in all his brightness. So it is high time to tune up the AIR CONDITIONER for the upcoming sweaty Summer.
I do talk lot about weather in this space just because it has direct impact on our life and our food. Consider this weather transition from winter to  summer=> the kids are sick with fever and cough. Yes, my little kindergartner has fallen sick with fever and lost his appetite. Not sounding nice at all. But the best part is schools have been closed for a short vacation and he can relax at home to recover.
When kids are at home, I whip up something nice and interesting so that they can enjoy their stay with food too. Fig milkshake was my idea to fill the kids tummy in between meals boosting their energy and immunity. It was creamy and frothy with mild chocolate color. My daughter enjoyed the beverage to the maximum.
Fig milkshake can be handy, filling your quick hunger pangs. And during summer a scoop of vanilla ice cream can enrich it's taste which will be a real treat to your taste buds.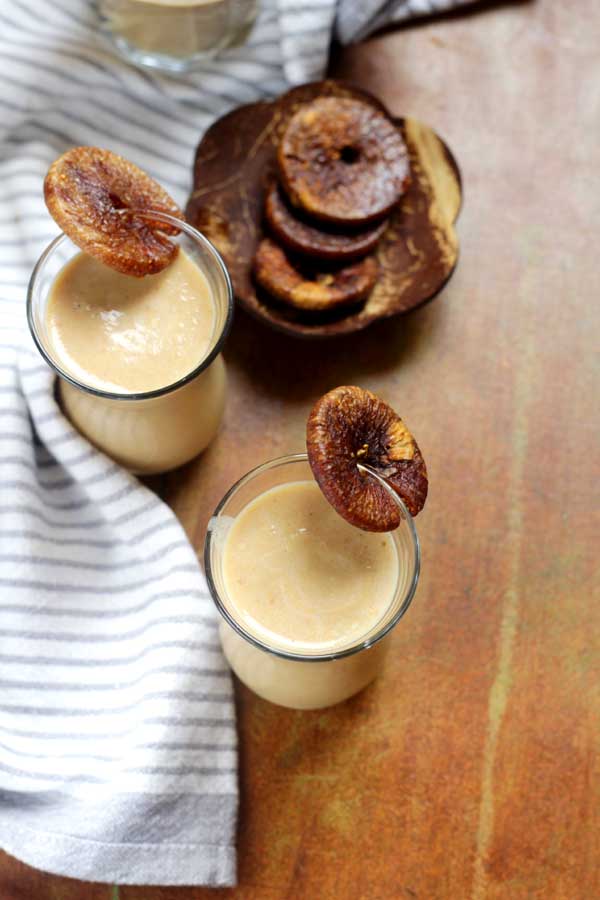 Healthy Fig Milkshake Recipe
Ingredients
Dry figs- 4 nos.
Boiled milk- 2 cups
Sugar- 2 tsp
Instructions
Preparation

Soak the figs in half cup of water for about 15 minutes.

Method

Chop the soaked figs in to bite sized pieces. This is for ease of grinding.
In a mixer take the chopped fig, sugar and half of milk. Pulse it together and ensure the fig pieces have minced well.
Finally include rest of the milk and serve chilled.

Notes

You can make variations like, include a scoop of vanilla ice cream for rich taste.
Include a tea spoon of soaked sabja seeds as healthy alternative.
Based on the sweetness of figs, adjust sugar.
https://udupi-recipes.com/2017/03/healthy-fig-milkshake-recipe.html
All the content in this website are © Copyrighted to – Udupi-Recipes