Here comes a treat for those of you who love pickles. If your tastes are coinciding with me by any chance, then we are twins.  There would be no resistance from my mind when I decide to trial over a pickle recipe. Because, back in my mind I am pretty sure of clearing it clean singlehandedly even it becomes a disaster. Be it a breakfast or lunch or dinner I never forget to get pickle jar on table which can accompany almost all food as per me. Last week I welcomed this gorgeously red tomato pickle in my food life, the house was smelling amazingly cozy. Just loved it.
Pickle simply means a spicy, tangy sauce that can wonderfully accompany zillion variety of food in my plate. My most loving comfort food that warms my body and soul is Curd rice and it never tastes delicious without a pickle. When I say tomato pickle you can easily visualize a deep red and flavor rich sauce like this below.
And how can these deep red tomatoes which seem so fresh and pulpy don't tempt you to make a jar full of pickle? Just like the way they tempted me?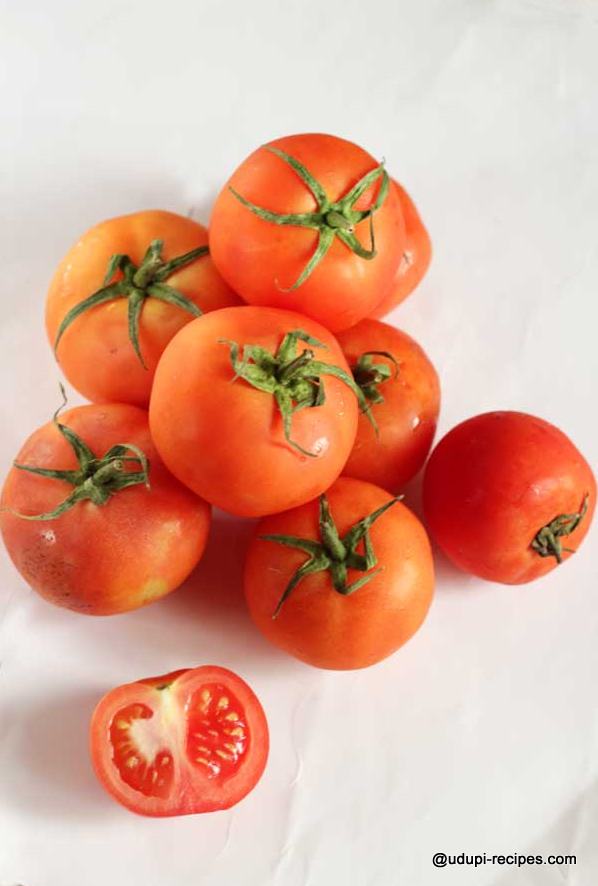 The tomato pickle is very straightforward recipe and has less ingredients. But the cooking time seems bit long as the watery tomato puree has to reduce itself to thick sauce form. As the tomatoes get pureed and simmered in sesame oil tempering, you get to watch the color transitions. From the raw and pale red to dark and intense red pickle is worth watching as you cook.
This pickle has flavors of mustard and fenugreek seeds which happily infuse with tomatoes making it creamy and flavor packed. It's also the mustard oil that absolutely overpowers all flavors. The usual chilly powder, turmeric powder and salt happen to balance all tastes making it a perfect pickle. If you ever wanted to learn a pickle recipe with no oil in it, check this Mango pickle.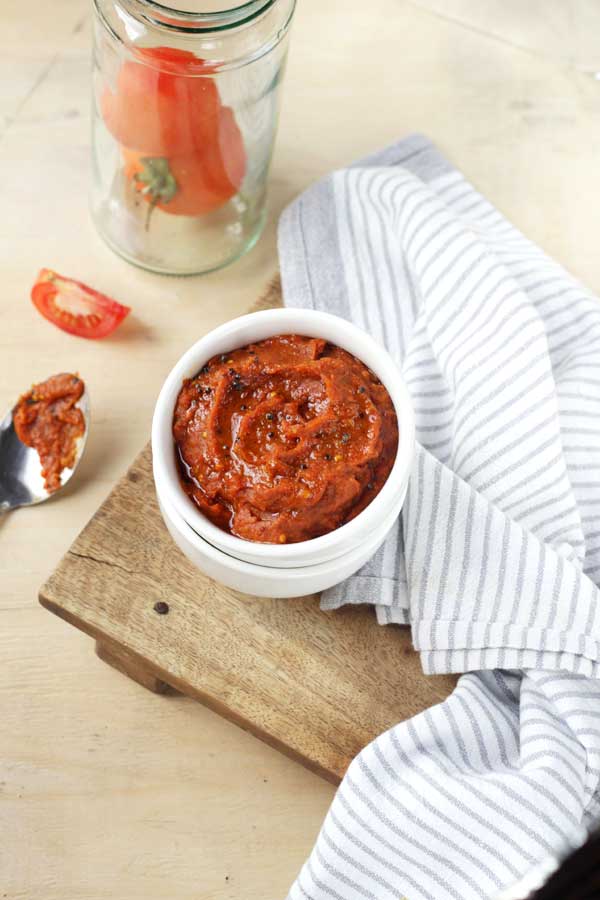 Tomato Pickle Recipe | Spicy and Tangy
Ingredients
Ripe tomatoes- 7 to 8 nos.
Tamarind- Small lemon sized
Mustard seeds- 1 tsp
Fenugreek seeds- 3/4 tsp
Red chilly powder- 1/4 cup
Salt- 2 tsp
Turmeric powder- 3/4 tsp
Jaggery powder- 1 tsp

To temper

Sesame oil- 5 tsp
Mustard seeds- 1 tsp
Asafoetida (hing)- 1/2 tsp
Instructions
Preparation

Rinse the ripe tomatoes under running water, pat them dry using a kitchen towel. Next chop the same in to big chunks.
Soak the tamarind in little water for about 15 minutes.

Method

Take the tomato chunks and soaked tamarind in a mixer, whip them together to fine puree.
Heat a pan adding sesame oil, mustard seeds and hing. As the seeds splutter pour the tomato plus tamarind puree. In medium flame cook it covered for about 10 minutes.
Heat a seasoning pan adding mustard seeds and fenugreek together. Dry roast them with constant stirring till fenugreek turns little brown. Powder them together using mortar and pestle.
Now the tomato puree would have reduced to thick sauce consistency. Add mustard plus fenugreek powder (from above step), red chilly powder, turmeric powder and salt.Combine everything well and continue cooking 15 more minutes or till the pickle thickens. It took almost 40 minutes for me to get the pickle like consistency.
Spicy, tangy tomato pickle is ready to serve with curd rice.
https://udupi-recipes.com/2017/03/tomato-pickle-recipe-spicy-tangy.html
All the content in this website are © Copyrighted to – Udupi-Recipes