Happy breakfasting my dear friends. This appealing hotel style idli sambar can make your breakfasting a happy affair for sure. I just ask myself what an average South Indian look for when he visits a hotel in the morning?  It would be obviously Idli and Dosa according to me. Is it because our roots of taste has close association with such fermented breakfast? I wonder. When I say idli or dosa it can no longer taste delicious without a genuine, best pairing side dish. Idli can taste way long better with a best of best tiffin sambar or with an intense, exceptionally good coconut chutney. This is totally evident with me at least.
Many times my idli breakfast in the hotel wouldn't give any food-joy or zing of food satisfaction in me just because of these side dishes. Am I getting too over board with my love towards idli sambar? Yes, I am. Because idli has been there in my food-heaven list since the day I ate it for the first time I guess. I don't even remember when I ate it initially?? May be my solid food introduction as baby had begun with this yummy, soft idli. (I guess so!!)
Hotel style idli sambar is my latest obsession. I love idli like a crazy folk and can eat this awesomeness as breakfast on daily basis for years together. In reality, in all my schooling days idli was my only breakfast because my father had Hotel business. Right now, I don't miss any opportunity to make my favorite food to taste at it's best. Some how I try to recreate the hotel style idli sambar recipe that my father has owned. Roasting the onion slices with enough oil before including it in the sambar is what he defines his genuine recipe.
If you are like me, you love this kind of breakfast to fill your tummy. Dunking in idli pieces in bowlful of amazing sambar and making it's journey to mouth a true BLISS.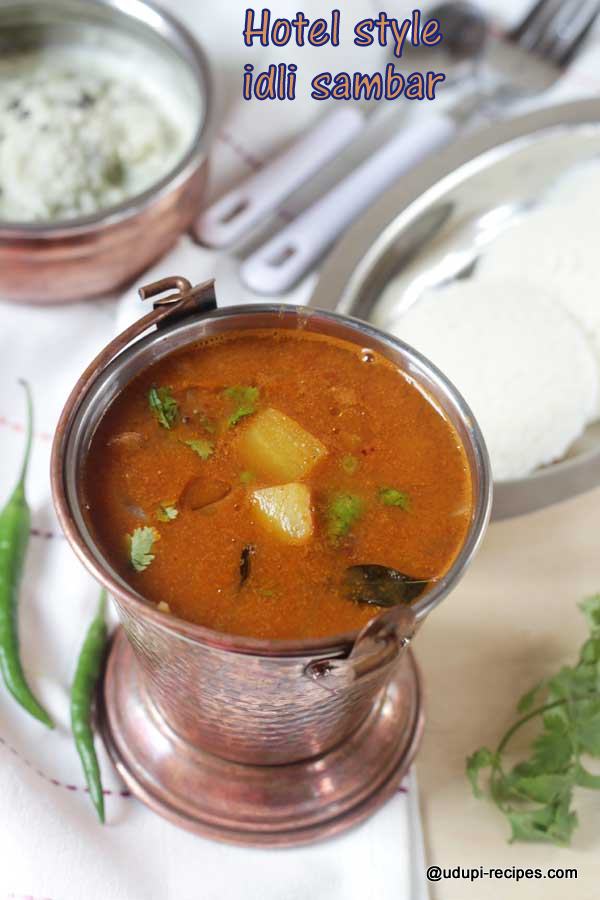 Watch video:
Hotel Style Idli Sambar Recipe | Tiffin Sambar
Ingredients
Potatoes- 2 numbers
Onion- 1 no.
Fresh peas- Handful
Pigeon pea lentils- 1/4 cup
Salt- 1.5 tsp (or to taste)
Turmeric powder- 1/2 tsp
Chopped Coriander leaves- Handful
Jaggery powder- 1 tsp

To roast and grind

Coriander seeds- 2 tsp
Cumin seeds- 3/4 tsp
Split blackgram lentils(urad dal)- 1 tsp
Split chickpea lentils(toor dal)- 1 tsp
Fresh grated coconut- 1/4 cup
Red chillies- 2 nos.
Cinnamon sticks- 3" piece
Cloves- 4 nos.
Tamarind- Marble sized
Cooking oil- 3 tsp
Instructions
Preparation

Wash the potatoes with enough water, chop them in to medium sized dices. Peel off the onion and slice it finely. Get the peas too shelled off.
Pressure cook the pigeon pean lentils with enough water till soft. Mash it up and keep aside.

Method

In a pan or wok add a tsp of cooking oil and roast the onion slices till they become translucent. Transfer the onions. Next in the same pan add 2 tsp of oil, spices like coriander, cumin seeds, both the lentils, red chillies, cloves, cinnamon followed by curry leaves.
With constant sauteing roast all the spices. When the lentils turn little brown, switch off the pan. Throw in the grated coconut and tamarind. Let the coconut warm up a bit. Take everything in a mixer and grind to fine puree adding water as needed.
Next cook the vegetables with enough water, turmeric powder and salt. When the veggies turn soft, pour the ground masala from above step.
Include the cooked lentils, jaggery and water according to desired consistency. Bring it to boil, finally add sauted onions and salt. Switch off after a while.
Hotel style idli sambar is ready. Garnish with coriander leaves and relish with steamed idli, dosa.

Notes

You can use other veggies like carrot and turnip along with potato.
Do not use more coconut than mentioned. The coconut doesn't have to be roasted with spices, include it after switching off the stove.
As per the desired consistency of sambar, you can add water.
This idli sambar is mild in spice, you can increase red chillies if you like spicy sambar.
https://udupi-recipes.com/2017/03/hotel-style-idli-sambar-recipe-tiffin-sambar.html
All the content in this website are © Copyrighted to – Udupi-Recipes