The intense flavors of dill leaves is what makes me crazy enough to buy the green goodness. Having bought bunches of such fresh greens from vegetable vendor, I brainstorm for it's best use. Every time I end up wondering how amazing it tastes in which it gets in. The super aroma of dill leaves wafts a healthy positive vibe all it's way of which I am a great fan. I am crazy enough to put a handful dill in most of my vegetable stir fries to elevate the taste. And trust me this bright greens can really make so much difference in your food-life. The influence of Bangalore and it's people on me is how I remember Dill leaves rotti. Because Bangaloreans have this flatbread on daily basis like it can be present in either or all of their three meals.
My friends and neighbors in Bangalore have profoundly helped me with this recipe and since then it's part of my cooking. The roots of my love towards rotti or flatbread goes back to my childhood. And those who follow my blog since some time would definitely know how much I discussed about this. It's mentioned one zillion times in this space that North Karnataka is my food favorite where my I've been brought up.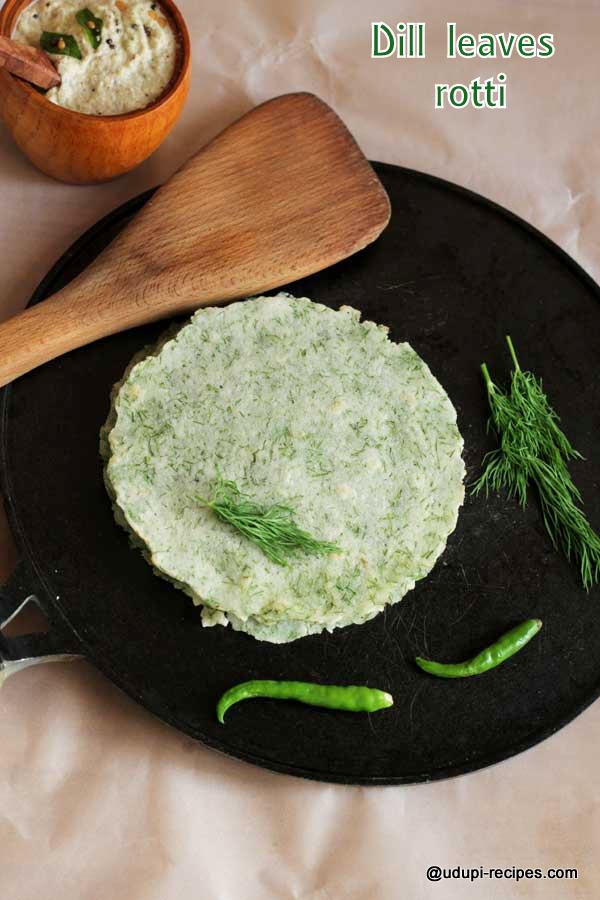 Topping a simple, plain akki rotti with green goodness always kicks the taste and health. In UAE, I do get ample of dill leaves during Winter season and I make this dill leaves rotti often. Pair it with plain coconut chutney or a spicy stir fry, it tastes awesome.
Please note: The rice flakes are included in the recipe to make the flat bread(rotti) soft. Otherwise it may get hard or difficult to chew.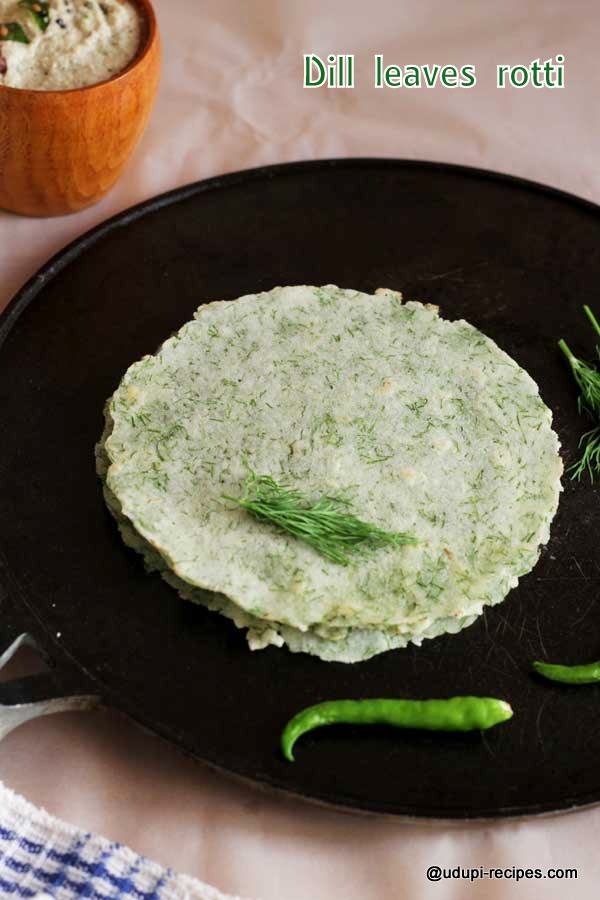 Dill Leaves Rotti | Sabsige Soppina Rotti
Ingredients
Dill leaves- 2 bunches
Rice flour- 1 cup
Rice flakes- 1/2 cup
Cumin seeds- 1 tsp
Salt- 1 tsp
Instructions
Preparation

Wash the greens under running water and let it dry for a while. Chop the leaves finely and discard the stem.

Method

Soak the rice flakes in 1/2 cup water for about 5 minutes. And mash it well using your fingers. Meanwhile boil half cup of water to rolling boil.
Take the rice flour, mashed rice flakes, dill leaves and cumin in a wide bowl. Give a quick mix. You'll end up with crumbled up flour. Now add boiled water in steps and make soft dough.
The dough should neither be stiff nor too loose. Adjust water quantity accordingly. Next divide the dough in 5 equal parts and cover it up with damp cloth for about 10 minutes.
Take a dough ball on a damp cloth and pat it thin using your fingers. You can pat as thin as possible.
Next heat a skillet and transfer the rotti upside down along with damp cloth. Now remove the cloth carefully and let it cook for few minutes. Flip to cook the other side as well and serve. Repeat the process to finsh.
Healthy and tasty breakfast or lunch dill leaves rotti is ready to serve.

Notes

Hot water helps the roti to turn soft, so I wouldn't recommend using normal water to prepare the dough.
Add dill leaves generously that will make the rotti healthier and tastier.
You can pair this rotti with a spicy coconut chutney or stirfry.
The rice flakes are included in the recipe to make the rotti soft. Otherwise it may turn hard to chew.
https://udupi-recipes.com/2017/03/dill-leaves-rotti-sabsige-soppina-rotti.html
All the content in this website are © Copyrighted to – Udupi-Recipes